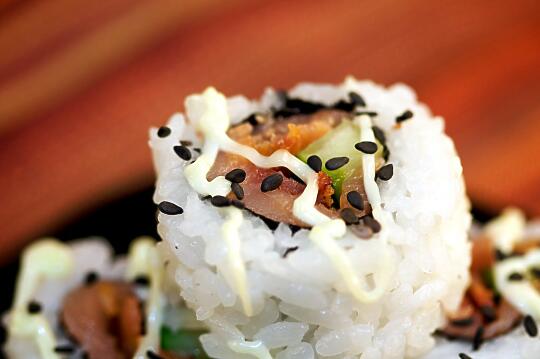 South Wedge Roll – smoked salmon, cucumber, bacon, wasabi mayonnaise

Uninspired. That's how I've felt lately, when it comes to sushi. Or, more specifically, when it comes to writing about sushi. My love of sushi is no less, nor has my desire to share this love with all of you diminished any. But it's been months since I've brought you a recipe here on Sushi Day, and even then posting has been sporadic for nearly a year now.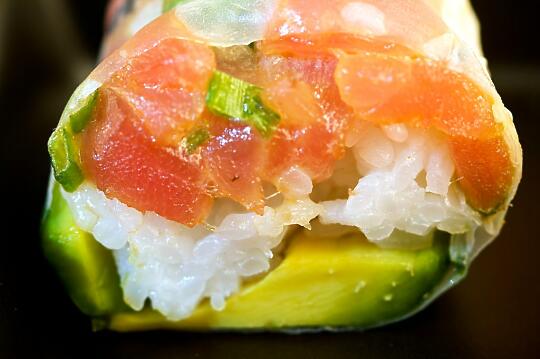 Spicy Tuna Roll – mayonnaise, hot chile paste, hot chile oil, toasted sesame oil, tuna, wasabi paste, green onion, toasted black sesame seeds, in rice paper wrappers

It's not for lack of material – I have pictures of sushi that I made all the way back in March that I never wrote about. Nor is it for lack of time – though I'm incredibly busy with work and play, I could have easily made time to put up a short post. And it certainly isn't a loss of interest in my blog or my readers – there has been an immense amount of guilt as days turned into weeks without a post, which turned into months of near silence here on Sushi Day.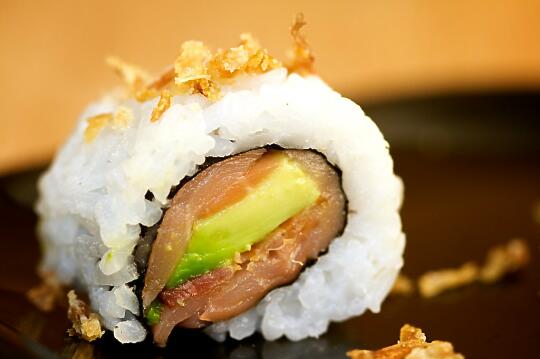 Pacific Ocean Roll- smoked salmon, avocado, bacon

What it all comes down to is that the sushi I had made just didn't excite me. Oh yay, another spicy tuna roll. Whoopidee do dah, more shrimp tempura. Everything felt like something I'd done before – after nearly three years of sushi recipes, another California roll spin-off starts to get pretty damn boring.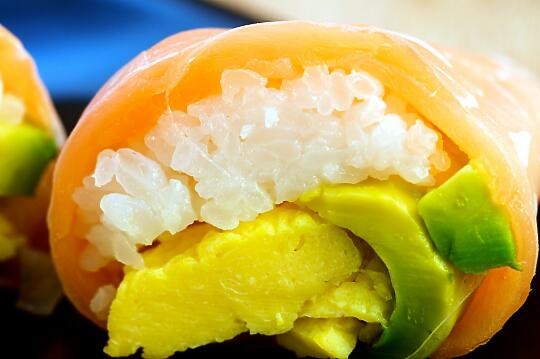 Pink Panther Roll – salmon, avocado, tamago, wrapped in rice paper

So I would procrastinate. I don't want to put you asleep while reading my posts, I want you to hang onto my every word like I do with Shauna's posts, or Keri's, or Helen's. I know, I know, I have a long way to go. But I can't stand blogs that only give you a recipe without any interesting descriptions or anecdotes… and since I couldn't come up with any for sushi that bored me half to death, I just kept putting it off.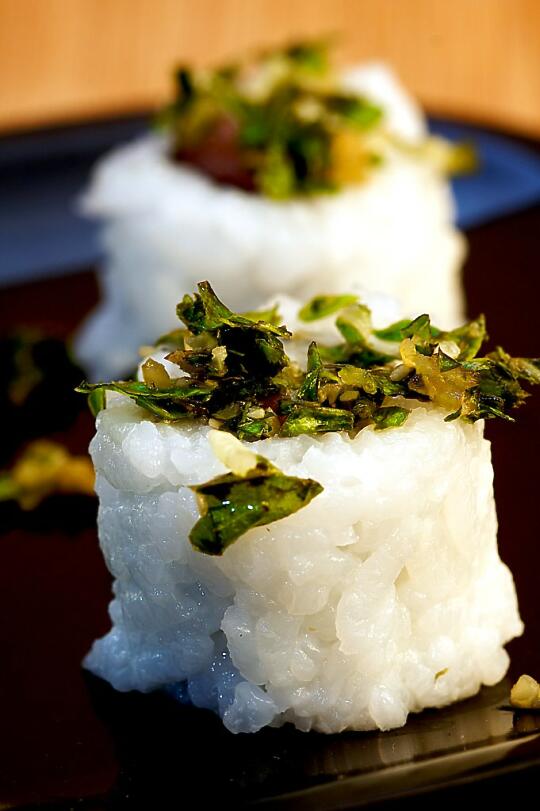 Too Crazy Roll – tuna, pesto

Then I was invited up to Seattle to go to the Sustainable Sushi Dinner at Mashiko. Oh, Mashiko. Did I mention that Hajime and I exchanged shirts (no, not like that!)? I sent him a Sushi Day shirt, and he sent me a sushiwhore.com (Mashiko's website) shirt. Fits perfectly. Anyways. Son and I got to go to this dinner, where we got to meet the very awesome Hajime Sato and the very cool Casson Trenor, and learn all sorts of things that I never knew at all about sushi and sustainability and seafood. Obviously, I loved the trip.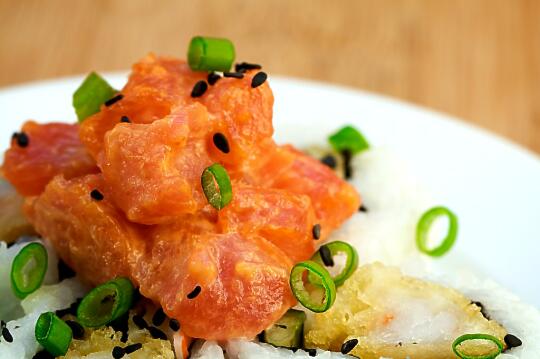 Unicorn Roll – tempura shrimp, cucumber, imitation crab, topped with spicy tuna

But then I come back home, all excited about sustainability and trying all these new types of seafood, and look at the pictures of sushi that I have yet to post. Tuna – not bluefin, of course, but still. Imitation crab – once a great choice, now not so much. *sigh* I just couldn't, in my good conscience, continue a series of posts that used some ingredients that, in terms of sustainability, aren't things I should promote.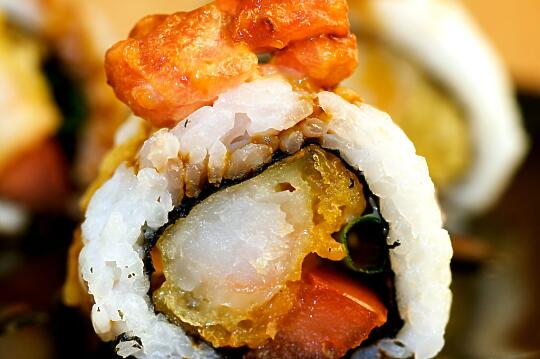 Bam Roll – tempura shrimp, mayonnaise, green onions, tomato, hot chile oil topped with spicy tuna, eel sauce, sesame seeds.

But… I feel terrible depriving you all of the remaining sushi that I've made. Which is why I've posted all the pictures in this post, along with the ingredients that go into each roll. I've told you hundreds of times how to put together a roll of sushi… I'm sure you can figure it out from ingredient lists by now. I've also put up a separate post for each of these rolls with just the recipes (click the pictures to get to the posts), because Son insisted so you could see all the extra beautiful photographs he put so much work into for each roll.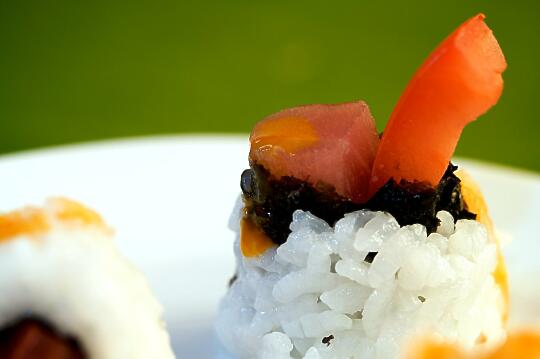 TNT Roll – tuna, tomato, Tabasco sauce

So. What do I intend to do now, since I no longer have a queue of rolls lined up for me to post about? Make more sushi, of course. This time trying to be more sustainable, more inventive, more fun. Will the occasional tuna roll sneak in? My apologies in advance, I'm not (quite!) perfect. Might you see a California roll knock off or two? Perhaps, but they'll have to be really freaking amazing California rolls. But most importantly, what you'll see is me. Having fun. Doing what I do best as a food blogger… bringing you tons of sushi.
So hopefully you haven't gone too far away, because… the sushi girl is back, and ready to roll!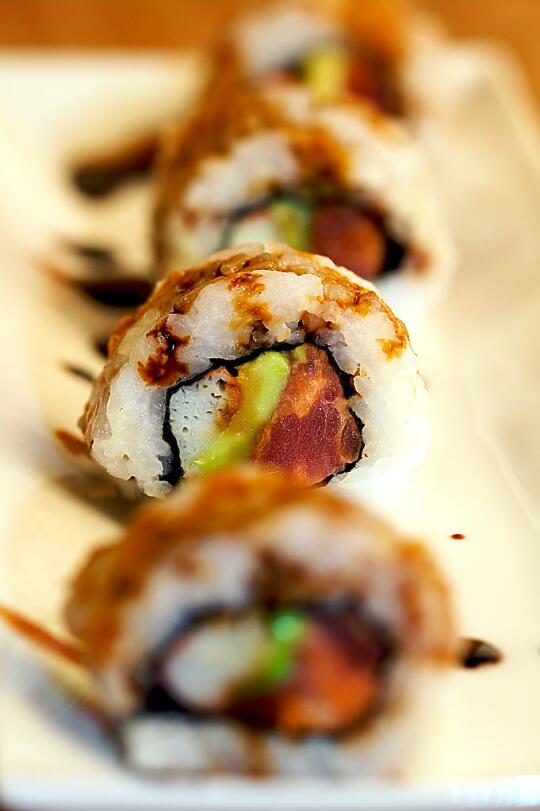 Bling-Bling Roll – imitation crab, mayonnaise, spicy tuna, avocado, drizzled with eel sauce.