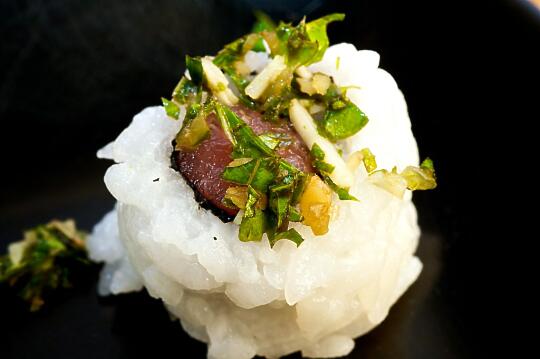 Ingredients
Cooking Directions
Slice the tuna into long strips.
Roll the sushi inside-out, using a strip of tune as your filling.
Top each slice with a dollop of pesto.
Enjoy!
Serving Size: 1 roll Too Crazy Roll
Calories:

254

Fat:

10g, 15% DV

Saturated Fat:

2g, 12% DV

Cholesterol:

15mg, 5% DV

Sodium:

656mg, 27% DV

Total Carbohydrates:

28g, 9% DV

Dietary Fiber:

2g, 9% DV

Sugars:

16g

Protein:

13g, 26% DV

Vitamin A:

49%

Vitamin C:

15%

Calcium:

9%

Iron:

5%

Magnesium:

17%

Potassium:

3%
Percent Daily Values are based on a 2000 calorie diet. These values are only estimates based on the individual ingredients, and not meant to replace the advice of a medical professional.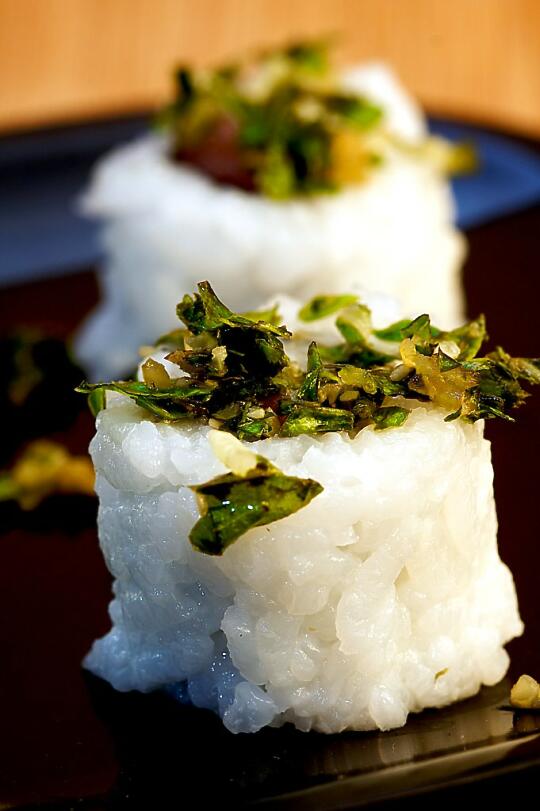 You also might like...
---
---
Comments
michell says: November 11th, 2009 at 8:36 am

Oh I love this! And I'm glad to see you're back posting rolls for us! I did make a modification, only because my personal idea of pesto stems from my Hungarian grandmother's version. She would make tubs of what she called pesto for us to slather on crisp hearty bread. The pesto was only made of olive oil, basil, garlic, and a little salt. It was bright green and very finely minced, and she put so much basil it was almost like a paste with a little layer of oil floating on top. After growing up eating her version, the pestos containing cheese and nuts just taste "wrong" but hey, that's just me =) So i put a little of my grandma's pesto on this roll and it was amazing! I'm going to try to subsitute other herbs like sage or parsely and change the taste of the roll, too. Thanks so much, I really enjoy your site.

Shiki Sushi says: October 1st, 2015 at 6:12 am

I never tried the crazy roll but it does look like a fresh tasting roll with the pesto inside. I'm going to try to make this roll and will let you know what I think about the taste! Thank you for the article and inspiration.
Leave a Reply