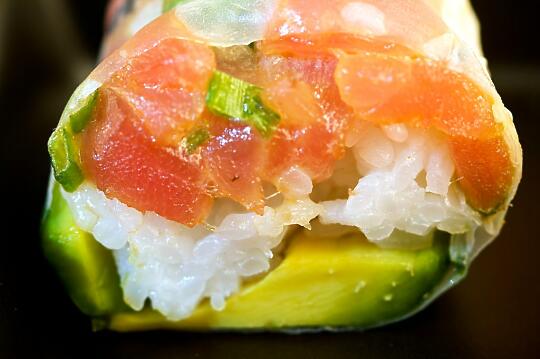 Inspired by Emeril's Inside-Out Spicy Tuna Roll with Special Sauce.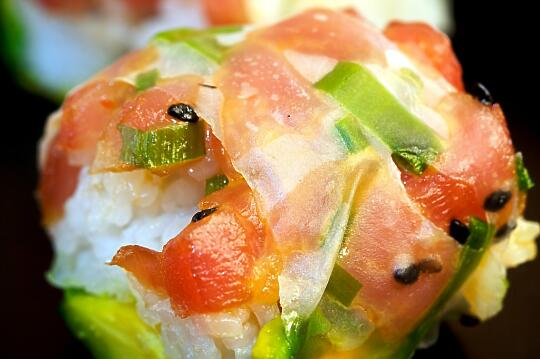 Ingredients
6 circular rice paper sheets
2 cups sumeshi
1 small avocado
1/2 lb sashimi-grade tuna
1/3 c mayonnaise
2 tbsp Sriracha sauce
1 tsp hot chile oil
1/2 tsp sesame oil
2 tbsp chopped green onions
3 tbsp toasted black sesame seeds
Cooking Directions
Cut the avocado in half, discarding the pit.
Use a large spoon to scoop the avocado out of the hard skin, being careful to keep the avocado half as whole as possible.
Slice the avocado into slices.
Chop the tuna into 1/2-inch pieces
Mix the tuna, mayonnaise, Sriracha sauce, hot chile oil, sesame oil, green onions, and sesame seeds.
Wet the spring roll wrapper with warm water, making sure to cover every last spot on both sides of the wrapper.
Lay the wrapper flat on your workspace.
Put about 1/3 cup spicy tuna in the middle of the wrapper, leaving about 2 inches uncovered on either end.
Scoop about 1/3 cup sumeshi onto the avocado, patting it into an oblong shape with either end pointing towards the sides of the wrapper.
Top with a slice or two of avocado.
Fold both sides of the wrapper in, over the fillings.
Fold the bottom of the wrapper tightly up over the fillings.
Roll the sushi away from you, until you reach the top of the wrapper, and seal it shut. (The wrapper should be sticky enough to stick to itself. If not, dampen the end with a little water.)
Using a sharp knife, slice into 4 pieces.
Enjoy!
Serving Size: 1 roll Emeril's Spicy Tuna Roll
Calories:

270

Fat:

15g, 23% DV

Saturated Fat:

2g, 12% DV

Cholesterol:

14mg, 5% DV

Sodium:

450mg, 19% DV

Total Carbohydrates:

26g, 9% DV

Dietary Fiber:

1g, 5% DV

Sugars:

9g

Protein:

9g, 18% DV

Vitamin A:

23%

Vitamin C:

15%

Calcium:

6%

Iron:

7%

Magnesium:

10%

Potassium:

8%
Percent Daily Values are based on a 2000 calorie diet. These values are only estimates based on the individual ingredients, and not meant to replace the advice of a medical professional.