Archive
For the month of November, 2008
---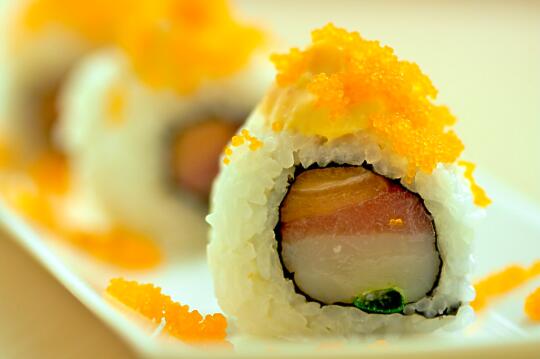 Quite often readers email me with questions relating to sushi. Usually they're easy to respond to, or if I don't know the answer a quick search will help me out. But every once in a while, I'm completely stumped by a question. Such was the case with a recent email. A reader asked me five questions relating design to sushi, and since I'm at a loss for how to answer these questions really well, I'd like your help.
Here are the five questions. If you can answer even just one of them, I'd really appreciate it. Then later this week, I'll combine all your thoughts to come up with a final list of answers that I can send back to the reader, and of course I'll post them here for those who are interested. Thank you so much in advance!
What are the basic principles of sushi?
What are the higher principles of sushi?
Where does inspiration come from?
How does one measure "balance" in sushi?
Is there such a thing as the perfect roll? If so, what makes it perfect?
As for this sushi roll, wouldn't you agree that it's designed quite beautifully? I'd say a nice balance is found between the ingredients – just try it, and you'll see what I mean. For lovers of sashimi, it's really fantastic.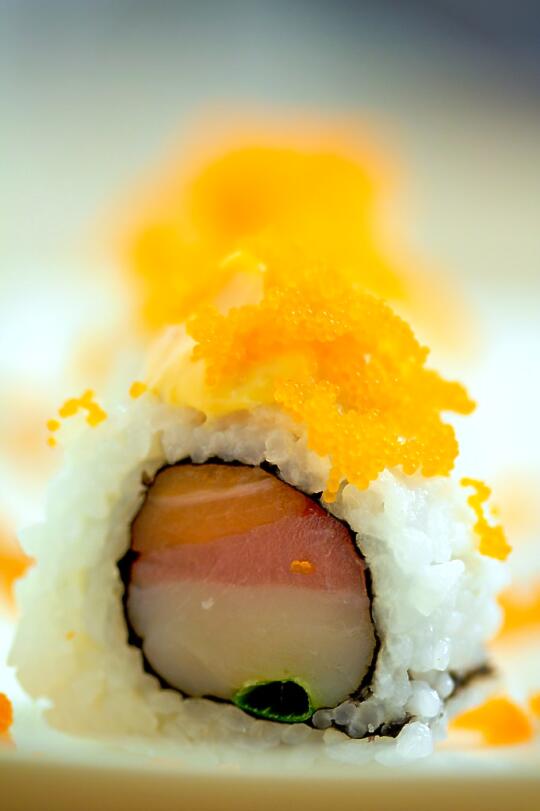 P.S. Check out my awesome new RSS button, made for me by Harry of the Men with Pens. Isn't it beautiful? 🙂
P.P.S. Sushi Day was the victim of a Drive-By Shooting! Hop on over there to see what they said about Sushi Day… but don't worry, their critique is great, and any shooting, exploding, burning down, or otherwise murdering of my blog is all in good fun.
Continue Reading
---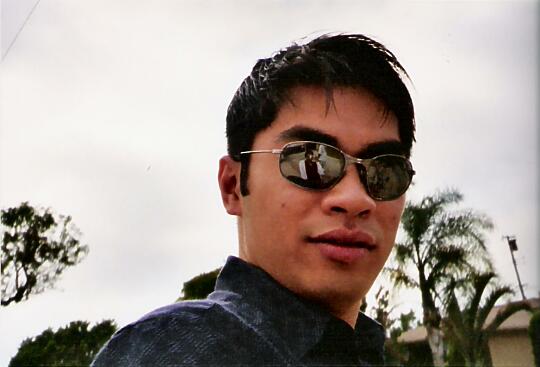 Like I mentioned two weeks ago, it has been two wonderful years of sushi since I launched Sushi Day. However, in those two years I've rarely, except in passing, told you anything about my dear boyfriend, Son. Unfair, really, because without him Sushi Day would have never come into existence. I've mentioned many times that the amazing design and coding for Sushi Day were all done by Son. What you didn't know is that the entire idea for Sushi Day was his as well.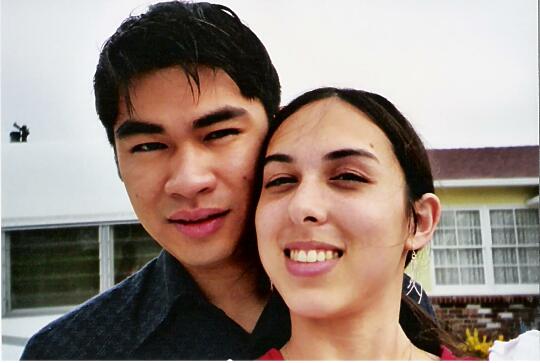 Son and I met in January, 2005, when we both were accepted onto a ballroom dance team at our university. He was in his first year of grad school for his Master's in Computer Science; I was a freshman dance major. Very handsome and obviously far too cool for dorky, nerdy little me, I always saw him as out of my league. Still, I made an effort to dance with him as much as I could – possibly as a subconscious effort to flirt with him, but mostly because he was the best male dancer there. I never imagined he would be interested in me – not until several months later, when we began chatting frequently both online and on the phone. On May 15, 2005, we went on our first date.
Now, exactly three and a half years later, we're still as enamored with each other as we were when we first started dating. Sure, we've matured quite a bit and gotten to know each other incredibly well – he can predict my actions and reactions perfectly almost 100% of the time, and I can do the same for him. Though we no longer take dance lessons together, we've found we share other passions – we both love programming and food.
This led to the creation of Sushi Day. Back in 2006, Son decided we should create a blog for me. Of course, we didn't want to be just another blog in a sea of sameness – we wanted to be unique. He came up with the idea to blog about sushi – at the time, there were several sushi websites, but no sushi blogs. Thanks to Son being the absolute best designer and programmer I know, (Me? Biased? Of course not!) I was lucky enough to get this beautiful blog you now read.
Almost everything I do nowadays, I do because of him. I cook because of him, I blog because of him, I code because of him. I've found you, all my wonderful friends all over the world, because of him. The best part is when I do something great, and he gives me that special smile – that smile that shows me just how proud of me he is, and how incredibly much he loves me. I'd do darn near anything for that smile.
So today, on the 15th day of November, 2008, my dearest turns 27 years old. Happy birthday, my love, and here's to so many more.
Don't worry, I got all the sappy love story out of my system for now. Sushi will be back tomorrow, I promise! Be sure to subscribe to the feed so you don't miss a single sushi recipe.
Continue Reading
---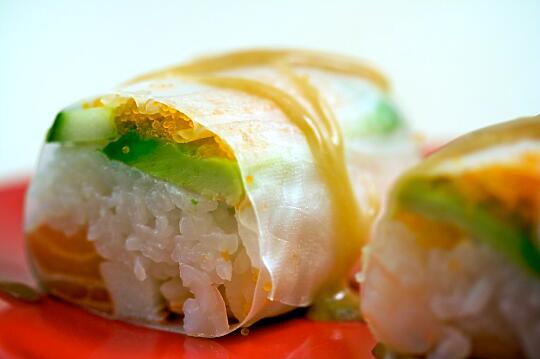 So what do you do if you run out of nori in the middle of making sushi? Well, after the initial "oh crud" moment, you find a way to replace it. Lucky for me, I have a TON of spring roll wrappers laying around, which turn out to be the perfect replacement for nori. Not only are they sturdy enough to roll sushi in without falling apart, they are also fairly bland, so they're great for people who don't like the taste of nori in the first place.
Since the name "sushi" refers to the seasoned rice that is used rather than the way the roll is made, these rolls that are reminiscent of spring rolls can still be considered sushi. But if you are making them at home, don't feel like you have to eat them just like sushi. You're free to skip slicing them into several pieces, and instead eat them with your hands and dip them into a sauce just like you might a spring roll.
Oh, and before I give you the recipe, I must say something about the sauce. This sauce is amazing. Sure the combination sounds a little weird – not often would you mix mayonnaise, shoyu, Sriracha sauce, and brown sugar – but the result is sweet, salty, creamy, and just a little spicy. It's seriously addictive – not only did we drench this roll with it, but we ended up dipping several other rolls in the sauce as well.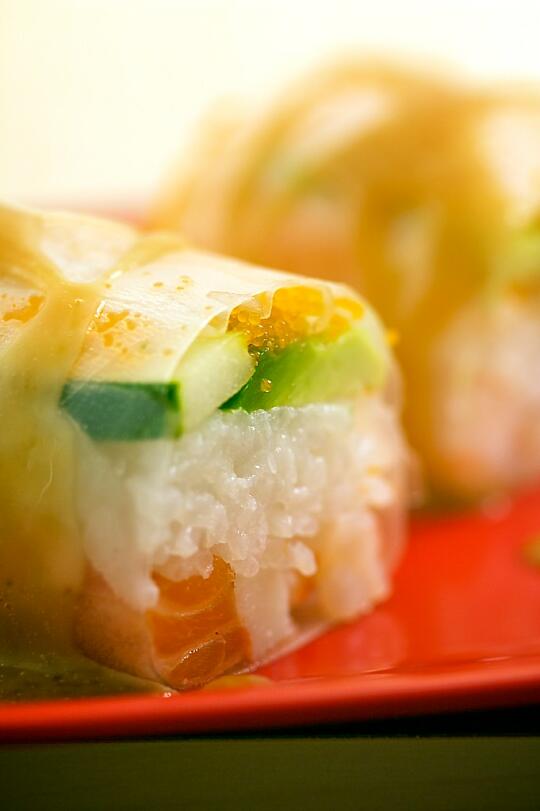 Continue Reading
---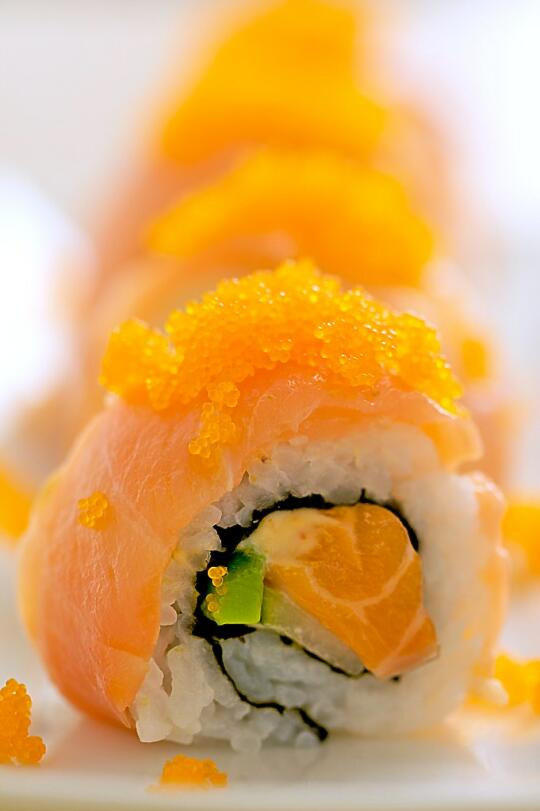 Ever since I was very young, I have been an avid reader. In first grade, I began reading the Boxcar Children series (we must have at least 100 of those books!) and Little House on the Prairie. (Although my all-time favorite book when I was young was Norma Jean, Jumping Bean.) In middle school, I graduated to the Wheel of Time series, the Golden Compass trilogy, and Harry Potter. Later, it was the Sword of Truth series, and of course, Twilight.
I've always loved escaping into the worlds in my books, but what I didn't know is that there was an even better way to get my, uh, "high".
It's been almost a year since I discovered two amazing men. Their blog has the most amazing community I've ever seen online, but they are so much more than just a blogging duo. For the longest time I was intimidated by both of them – James is super confident, and quite the go-getter; Harry is mysterious, but the kind of guy that everyone and their mother wants to be friends with. And me, well, I'm easily intimidated.
Just over five months ago, I began to get to know the both of them much better when I joined their RPG – Escaping Reality. Like I said before, it's an even cooler way to get the escape I get from reading – I get to have my very own character who I get to write into the story. It's very awesome.
So I've gotten to know these two men to the point where I would consider them to both be good friends. And, well, I've found out certain things about them. Like how James has never had sushi. And won't eat raw fish. And for the longest time refused to even consider eating sushi, because he thought it was all raw fish. (But it definitely isn't!) (Don't worry, I'll convert him someday. Somehow.) On the other hand, I've found out that Harry loves sushi. Specifically that of the salmon variety. If it includes some sort of roe… even better.
When I discover that someone I find incredibly awesome loves sushi, well, I like to create a sushi specifically for them. Thus I present you with the Refugee from Reality Roll. It involves not only salmon sashimi, but also smoked salmon, and obviously roe. Added to that is some cucumber and avocado, and a bit of spicy mayonnaise to add a little kick. I've got to say… my dear friend Harry is apparently a bit of a sushi genius, because this roll was amazingly good. I'm not kidding, you have to try it. (And if I can ever convince James to try sushi, don't worry, I'll make him a roll too!)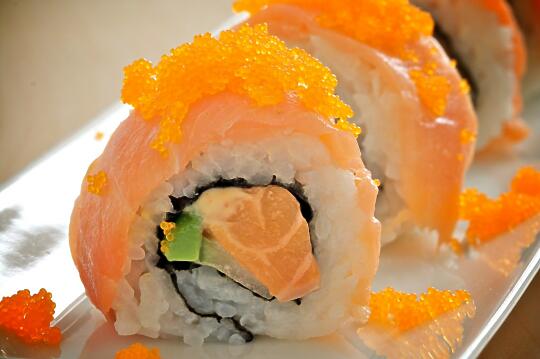 Continue Reading
---
A couple of weeks ago, Son and I decided we were in the mood for Japanese… but not sushi. (I know, blasphemy! Really, people. I eat many foods aside from sushi.) A quick search on Yelp found a cute little Japanese Izakaya called Musha.
The first dish that came out was the Spicy Tuna Dip. I had heard great things about the spicy tuna dip accompanied by rice crackers, but it failed to impress. The rice crackers were large and difficult to eat, and made the whole dish seem dry. I wouldn't get this again if I revisited Musha.
The Cheese Tofu, on the other hand, was amazing. One of my favorite dishes of the night. Silky smooth tofu was mixed with some sort of cheese – perhaps a cream cheese, or something similar? Crackers and slices of bread come on the side – definitely go for the crackers. The bread… not so good. But the crackers, topped with a scoop of the cheese tofu and drizzled with a bit of honey… I could eat this all day. Indulgent, and my hips would not thank me if I did, but man this dip was good! My only complaint would be about the pink peppercorns sprinkled on top of the dip. They added an unpleasant sharpness to the otherwise amazing dip.
And then, the Scallop Dynamite. These were… amazing. If you've been a reader of the blog for a bit, you'll know that I love scallops. These were incredibly fresh (probably sushi-grade) scallops, topped with a rich, spicy dynamite sauce. Of all the dishes we tried that evening, this was Son's favorite. He even used this sauce to dip several of the other foods in.
The Kabocha (pumpkin) Croquettes may seem like a somewhat odd dish, until you try them. These hot, fried triangles of pumpkin puree covered in panko crumbs are perfect for a cold wintery night. The sauce that came with it was slightly spicy, but incredibly addictive. Sadly, there wasn't quite enough sauce, although I blame that on Son – he was using it quite liberally. (Just kidding, Son!)
The last dish of the night was the Kakuni Pork Belly. The pork was amazing melt-in-your-mouth delicious. It reminded me of the chashu in the Kakuni Paitan Ramen we had in Hawaii. The potato and egg that came with it… nothing special. I just wish there had been more of the pork belly to go around.
Overall, it was a nice meal. The place can get very crowded (luckily we went on a Monday, before the dinner rush) and the tables are very close together – so don't expect a private romantic meal unless you go for one of the private rooms in the back. However, it was worth it. The entire meal came out to only about $50, including tax and tip (we both got water).
Continue Reading
---
Two years ago today, Sushi Day was introduced to the world. On only our second day live, we got a very warm welcoming, and significantly more traffic than we had ever expected. From there, things only got better. A year ago, we began selling shirts, and just a month ago I introduced you to my new food blog.
In celebration of two years of fun, crazy, delicious sushi, I decided that I would highlight some of my favorite sushi I've made in the last couple of years. These are all must-try recipes that I've made and loved. Do you have a favorite roll on Sushi Day? Or maybe your own creation that you love to make at home? Tell me all about it in the comments!
Of all the rolls I have ever made on Sushi Day, the Crunchy Shrimp Roll is the most popular. Not only is it incredibly simple to make, it's also quite difficult to find anyone who doesn't like these ingredients! This roll has made an appearance at my family's New Years celebration ever since I launched Sushi Day, and probably will for many years to come!
For me, Inari Sushi is a classic. This was the first sushi I ever ate, and I've loved it since I was a small child. It's a little sweet and a little salty, and even picky kids will eat it – believe me, I was among the pickiest as a child!
The Caterpillar Roll was the first inside-out roll with some sort of topping that I ever made, and I was surprised at how nicely it turned out! Sure, sushi topped with avocado or other toppings seem intimidating to make, but they're really not very difficult at all.
Dear Yvo, one of the first commenters on Sushi Day and definitely the one who has stuck around the longest, came up with the idea for Monkey Maki. This was my first time ever tempura-frying anything… who knew you could tempura-fry a banana? And who knew it would be so yummy?
Tuna Salad Sushi is another of my favorites. I had tried tuna salad sushi from Bristol Farms before, so I already knew it would be a winner. Making it at home – just as amazing. Plus, you can make the tuna salad however you like it.
Living with Son, it's hard to completely avoid spicy foods, so it wasn't long before spice began to make it's way into my sushi. Hence the Spicy Tuna Salad Roll – so similar to the non-spicy one, but with the extra kick of Sriracha sauce.
The Crazy California Roll was a roll I had first tried on my eighteenth birthday, when Son took me to a local sushi restaurant. Ever since then I would always get this roll whenever we went back, and I was happily surprised when it tasted just as great when I made it at home.
Throughout college, I lived only a few minutes away from a banh mi (Vietnamese sandwiches) restaurant. Inspired by those sandwiches I love so much (and crave so often), the Banh Mi Sushi became another favorite of mine. It takes a lot of work, but oh my goodness is it worth it.
Oh, SPAM. What a poor, misunderstood product. So many people bash it just on principle, but if only they had one taste of Spam Musubi, I'm certain they would change their mind. Although my favorite way to eat SPAM is still scrambled in eggs, Spam Musubi comes in at a close second.
I know I have many vegetarian or vegan readers, who just can't eat most of the sushi I post because, well, fish? Yeah, not so much. Lucky for them, I have made quite a few vegetarian and even completely vegan (I think) sushi. Take my "Beef" and Broccoli Maki, for example. It's not really made with beef – the "beef" is actually fried tofu, marinated in a teriyaki sauce, then sauteéd with broccoli. Inspired by my favorite vegetarian Thai restaurant, this sushi is vegetarian-friendly, and amazingly delicious.
The Mango Salsa Sushi is, in my opinion, one of the most beautiful rolls on Sushi Day. The alternating yellow and green of the mango and avocado, not to mention the purple and pink from the red onion and shrimp, result in a very beautiful (and delicious) roll.
Stuffed Somen Salad is another beloved dish from my childhood. My great-aunts used to make stuffed somen salad every year for our family Christmas party, and my grandmother would sometimes stuff inari packets with the somen salad. Amazingly delicious. And, if you leave out the imitation crab (which we do because my mom is allergic), vegetarian!
My sister has been a great source of ideas for sushi. Every now and then she'll message me with, "hey, I'm coming home… want to make me sushi? I think you should make me sushi with these ingredients…" Since she came up with this amazingly delicious (unorthodox, yes, but delicious nonetheless) roll, I thought it only fitting to name it after her. Thus, the Kristen Maki.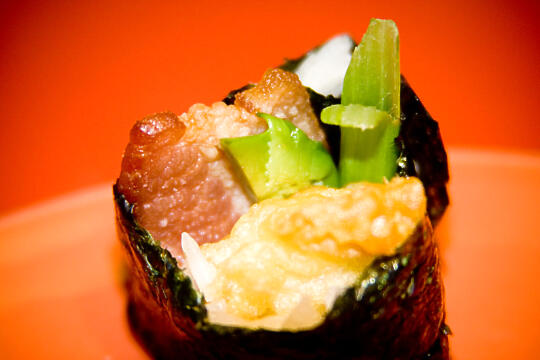 The Bacon Crunchy Shrimp Roll. Because bacon makes everything better, and this was no exception.
Unagi = yum. California Roll = yum. Unagi + California Roll = Super California Roll = yum².
The Maguro Karakuchi Spicy Tuna is another favorite of mine. The sauce in this roll is nothing short of amazing. In fact, I use it not only for sushi, but also as a spread, mixed into tuna and egg salad, and to dip sashimi in. Seriously. Amazing.
What? I told you I love this sauce. Of course I had to use it for my Spicy Hamachi Gunkan.
Sometimes, simplicity can be amazing. Such was the case for the Mango Tuna Tango. Nothing more than tuna, mango, and a little Sriracha sauce go into this roll, but they all combine to create an explosion of flavor in your mouth.
When I first tried Spicy Shrimp Inari from Whole Foods, I knew I had to recreate it at home. I didn't think anything could make my classic favorite any better, but man was I wrong. This is probably the sushi that Son and I eat the most – any time we feel like sushi I make this because heck, it's so dang easy!
Hotate (scallop) has quickly become my favorite type of sashimi, as was in evidence on my Hawaii trip. My first attempt at using hotate in a roll was when I made the Santa Barbara Roll, and my goodness was this a success. Amazing, amazing, amazing all around.
My first encounter with hotate was in Sunnyvale, when I tried the Hotate Special. This was one of those rolls that I knew I would have to recreate at home, and it didn't fail to live up to my expectations when I made it at home.
My last must-try recipe is not a sushi recipe, but it's amazing just the same. Cheese Age are wontons filled with cheese and jalapeño, then deep fried until crispy. They are incredibly addictive, and although quite spicy, it's hard to stop at just one.
So thank you for sharing two years of sushi with me, and here's to many more!
Continue Reading