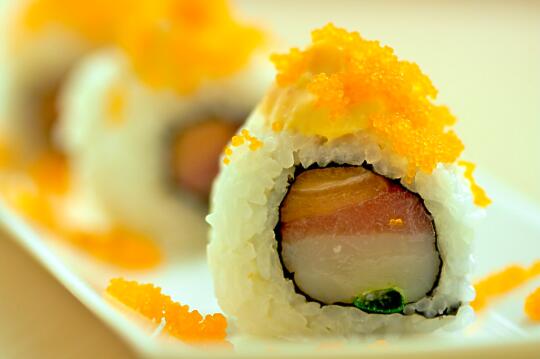 Quite often readers email me with questions relating to sushi. Usually they're easy to respond to, or if I don't know the answer a quick search will help me out. But every once in a while, I'm completely stumped by a question. Such was the case with a recent email. A reader asked me five questions relating design to sushi, and since I'm at a loss for how to answer these questions really well, I'd like your help.
Here are the five questions. If you can answer even just one of them, I'd really appreciate it. Then later this week, I'll combine all your thoughts to come up with a final list of answers that I can send back to the reader, and of course I'll post them here for those who are interested. Thank you so much in advance!
What are the basic principles of sushi?
What are the higher principles of sushi?
Where does inspiration come from?
How does one measure "balance" in sushi?
Is there such a thing as the perfect roll? If so, what makes it perfect?
As for this sushi roll, wouldn't you agree that it's designed quite beautifully? I'd say a nice balance is found between the ingredients – just try it, and you'll see what I mean. For lovers of sashimi, it's really fantastic.
P.S. Check out my awesome new RSS button, made for me by Deb of Sirius Graphix. Isn't it beautiful? 🙂
P.P.S. Sushi Day was the victim of a Drive-By Shooting! Hop on over there to see what they said about Sushi Day… but don't worry, their critique is great, and any shooting, exploding, burning down, or otherwise murdering of my blog is all in good fun.
Ingredients
6 sheets nori
3 cups sumeshi
6 oz sashimi-grade tuna
6 oz sashimi-grade salmon
12 large sashimi-grade scallops
6 stalks green onion
3/4 cup mayonnaise
1/4 cup Sriracha sauce
3 oz tobiko
Cooking Directions
Slice each piece of sashimi into long strips, about 1 cm in diameter.
Slice each scallop in half.
Remove the white bulbs from the green onion stalks.
Wash the stalks both inside and out.
Mix the mayonnaise and Sriracha sauce.
Roll the sushi inside-out, using a slice of tuna, a slice of salmon, four scallop halves, and a stalk of green onion as your fillings.
Drizzle the spicy mayonnaise on top of the sushi.
Top each piece with a small pile of tobiko.
Serving Size: 1 roll Dynamite Roll
Calories:

271

Fat:

10g, 15% DV

Saturated Fat:

2g, 9% DV

Cholesterol:

35mg, 12% DV

Sodium:

659mg, 27% DV

Total Carbohydrates:

28g, 9% DV

Dietary Fiber:

1g, 5% DV

Sugars:

17g

Protein:

17g, 33% DV

Vitamin A:

28%

Vitamin C:

16%

Calcium:

2%

Iron:

6%

Magnesium:

9%

Potassium:

8%
Percent Daily Values are based on a 2000 calorie diet. These values are only estimates based on the individual ingredients, and not meant to replace the advice of a medical professional.