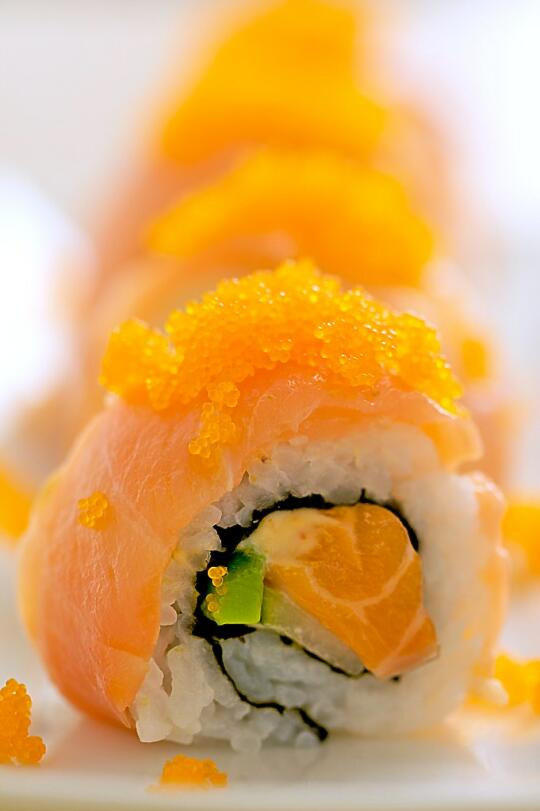 Ever since I was very young, I have been an avid reader. In first grade, I began reading the Boxcar Children series (we must have at least 100 of those books!) and Little House on the Prairie. (Although my all-time favorite book when I was young was Norma Jean, Jumping Bean.) In middle school, I graduated to the Wheel of Time series, the Golden Compass trilogy, and Harry Potter. Later, it was the Sword of Truth series, and of course, Twilight.
I've always loved escaping into the worlds in my books, but what I didn't know is that there was an even better way to get my, uh, "high".
It's been almost a year since I discovered two amazing men. Their blog has the most amazing community I've ever seen online, but they are so much more than just a blogging duo. For the longest time I was intimidated by both of them – James is super confident, and quite the go-getter; Harry is mysterious, but the kind of guy that everyone and their mother wants to be friends with. And me, well, I'm easily intimidated.
Just over five months ago, I began to get to know the both of them much better when I joined their RPG – Escaping Reality. Like I said before, it's an even cooler way to get the escape I get from reading – I get to have my very own character who I get to write into the story. It's very awesome.
So I've gotten to know these two men to the point where I would consider them to both be good friends. And, well, I've found out certain things about them. Like how James has never had sushi. And won't eat raw fish. And for the longest time refused to even consider eating sushi, because he thought it was all raw fish. (But it definitely isn't!) (Don't worry, I'll convert him someday. Somehow.) On the other hand, I've found out that Harry loves sushi. Specifically that of the salmon variety. If it includes some sort of roe… even better.
When I discover that someone I find incredibly awesome loves sushi, well, I like to create a sushi specifically for them. Thus I present you with the Refugee from Reality Roll. It involves not only salmon sashimi, but also smoked salmon, and obviously roe. Added to that is some cucumber and avocado, and a bit of spicy mayonnaise to add a little kick. I've got to say… my dear friend Harry is apparently a bit of a sushi genius, because this roll was amazingly good. I'm not kidding, you have to try it. (And if I can ever convince James to try sushi, don't worry, I'll make him a roll too!)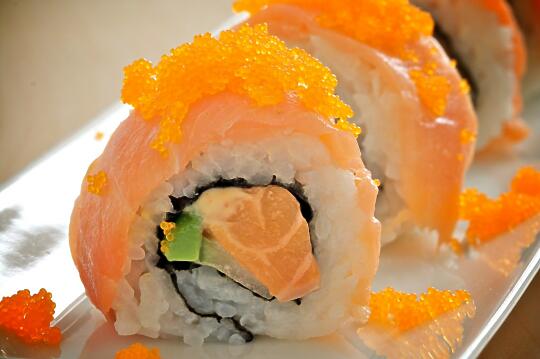 Ingredients
6 sheets nori
3 cups sumeshi
1 small cucumber
1/2 large avocado
6 oz salmon
3 tbsp mayonnaise
1 tbsp Sriracha sauce
3 oz thinly sliced smoked salmon
1 oz tobiko
Cooking Directions
Slice the cucumber into long, thin sticks.
Cut the avocado in half, discarding the pit.
Use a large spoon to scoop the avocado out of the hard skin, being careful to keep the avocado half as whole as possible.
Slice the avocado into slices.
Slice the salmon into sticks 1 cm in diameter, and the length of a piece of nori.
Mix the mayonnaise and Sriracha sauce.
Roll the sushi inside-out, using cucumber, avocado, salmon, and the spicy mayonnaise as your fillings.
Drape the smoked salmon slices over the roll, and use a piece of plastic wrap to press the smoked salmon into the sushi.
Slice the sushi into 6-8 pieces, using a sharp knife.
Carefully scoop a little pile of tobiko onto the top of each roll.
Enjoy!
Serving Size: 1 roll Refugee from Reality Roll
Calories:

274

Fat:

12g, 18% DV

Saturated Fat:

2g, 9% DV

Cholesterol:

50mg, 17% DV

Sodium:

813mg, 34% DV

Total Carbohydrates:

29g, 10% DV

Dietary Fiber:

1g, 4% DV

Sugars:

17g

Protein:

12g, 24% DV

Vitamin A:

7%

Vitamin C:

11%

Calcium:

1%

Iron:

6%

Magnesium:

5%

Potassium:

7%
Percent Daily Values are based on a 2000 calorie diet. These values are only estimates based on the individual ingredients, and not meant to replace the advice of a medical professional.