I've lived in Southern California all my life. So you would think that I might have driven a few hours south to go party it up at Tiajuana or something. Nope. Never ever in my entire life have I crossed an international border! Kind of sad, if you think about it… all the different regional foods I'm missing out on. I rarely even go out of California! 🙁 Time for a road trip!
I have always wanted to travel, but even more so now that I have fallen in love with food! Vietnam, France, Japan, Italy, Mexico… those are just a few of the places I would love to visit! Of course, now that I have found out there is one of these in Baja California, all the more reason to visit! It might be a while before that happens, so meanwhile I'll just live vicariously through my food. 😀
The California Roll is arguably one of the most popular types of sushi known to man. Both fish-lovers and people who are more than a little "ick" at the thought of eating raw fish love the California Roll. But if that's the only type of roll you like, eating it all the time can get an itty bit boring. Taking the flavor a little bit south and adding Sriracha sauce to the roll really livens it up, and may just be my new favorite way to eat California Rolls! Or, if you want a different twist to your California Roll, you can try one of the four other types of California Rolls I have on Sushi Day: the New Zealand Roll, the American Roll, the Crazy California Roll and the Super California Roll.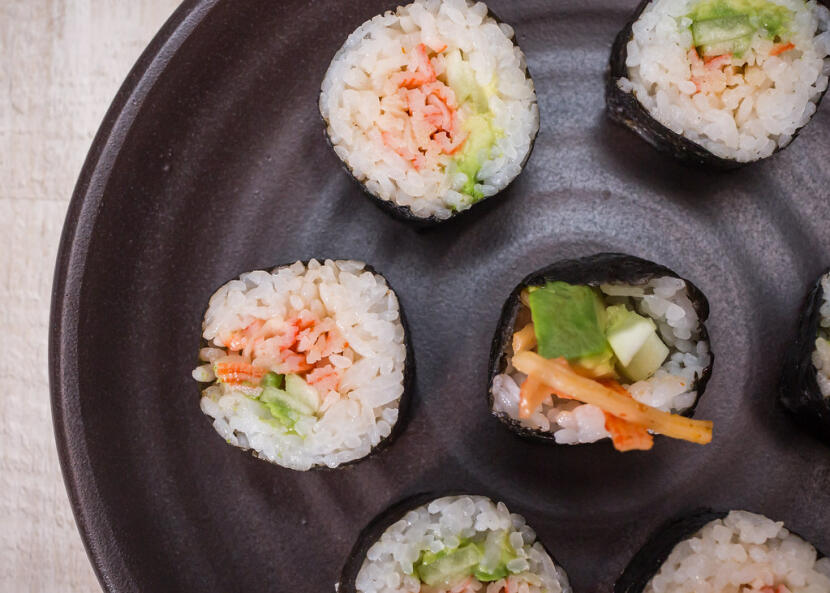 Ingredients
6 sheets nori
3 cups sumeshi
1 cup imitation crab
1 avocado
1 cucumber
1/2 cup mayonnaise
2 tsp Sriracha sauce
Cooking Directions
Cut the avocado in half, discarding the pit.
Cut off the hard skin and discard.
Slice the avocado into thin sticks.
Mix the imitation crab, mayonnaise and Sriracha sauce.
Cut cucumber into sticks.
Roll the sushi, using the imitation crab mix, avocado and cucumber as your fillings.
Enjoy!