I haven't the slightest idea how this roll got it's name. I did a search for "Queen of the Tom Tom", and the only results I got were my pictures of the roll on flickr, and the restaurant menu where the roll originated. To me, it sounds like the name of either a ship or a rock n' roll band, but neither of those came up in my search so for all I know, it's a made-up name! Not that I'm complaining. The roll is delicious!
We all know I love tempura shrimp, seeing how many tempura shrimp sushi recipes I have! And I have recently developed a slight (okay, more than slight) addiction to spicy mayonnaise (where have you been all my life?!?!) So put them together, add some cream cheese, avocado, cucumber, and tobiko, and oh baby you have got an awesome roll! Whoever thought this one up is a genius. 😀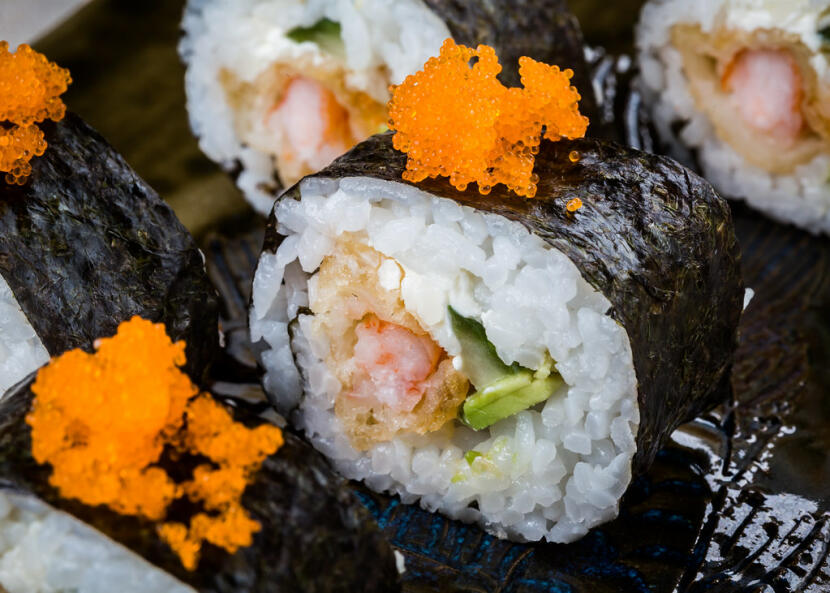 This roll is originally from Tex Wasabi's, a sushi and BBQ restaurant found in Northern California.
Ingredients
6 sheets nori
3 cups sumeshi
12 tempura shrimp
3 oz cream cheese
1 avocado
1 small cucumber
1 oz tobiko
1/2 cup mayonnaise
2 tbsp Sriracha sauce
Cooking Directions
Bake or fry tempura shrimp, according to instructions on the package.
Cut the avocado in half, discarding the pit.
Cut off the hard skin and discard.
Slice the avocado into thin sticks.
Mix the mayonnaise and Sriracha sauce.
Cut cucumber into sticks.
Roll the sushi, using a couple of tempura shrimp, cream cheese, avocado, cucumber, and the spicy mayo as your fillings.
Sprinkle some tobiko on top of each slice.
Enjoy!