Mega Cat Studios reached out to me about their new video game that was coming out, called Bite the Bullet!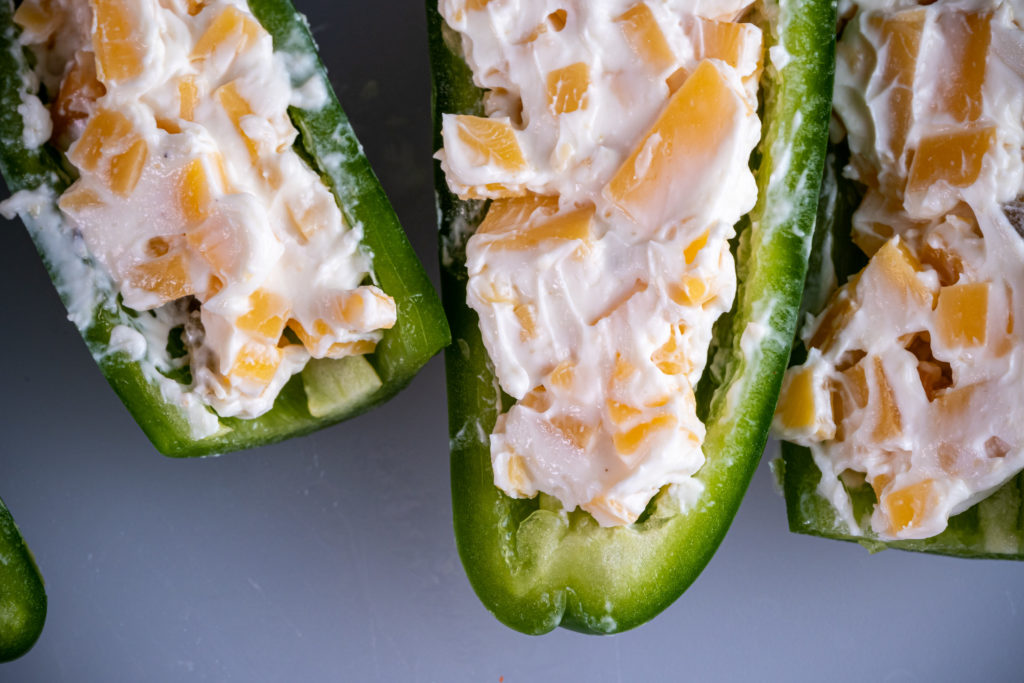 If you follow our SushiCodes channel, you'll know that Son and I are game devs, and also gamers. So we know how much work goes into launching a game, and therefore we are all about doing what we can to support indie game studios!
Plus, if we can help them support a good cause at the same time – it's a double win for us!
Bite the Bullet is a roguelike RPG shooter where you choose your character's strengths by eating! In this game, you are what you eat – literally.
And Mega Cat Studios is partnering with Feeding America to raise money to help ensure everybody has enough food on their plates. If you want to donate, and help support Feeding America, you can donate here!
When Mega Cat Studios reached out to us about a partnership to help promote their game, I knew I had to cook something from the game. So when I saw that they have a weapon called Incendiary Jalapeño Poppers… it was an obvious choice.
But how do you take jalapeño poppers… and make them embody the term "incendiary"?
Add more spice.
Add some smokiness.
And most importantly, make 'em delicious!
We're going to start by parbaking some candied bacon.
Cut your bacon in half, crosswise.
Then mix some brown sugar and cayenne pepper.
The sweetness of the brown sugar will help cut the overall spice, and add an extra dimension to the poppers, while the cayenne will add to the heat.
Coat the bacon slices in the sugar mixture, and place them on a foil-lined, rimmed baking sheet.
Bake at 325F for 10 minutes. You don't want them fully cooked, just parbaked enough that the sugar starts to bubble and adhere to the bacon better.
Set that aside to cool while you prep your jalapeños.
Ordinarily, you'd use plain cream cheese for jalapeño poppers, but we're using jalapeño cream cheese for more spice. Use whichever you can get.
Then, mix in your grated cheese. I wanted to use the cheese to add to the complexity of flavor, so I tested a few different options.
The bacon and horseradish cheddar was really tasty on its own, but the flavors got lost in the popper and it was far too rich.
I adore smoked cheddar with crackers, but while tasty in the poppers, it didn't add much to the overall flavor.
The smoked black pepper white cheddar was the surprise winner of the day. By itself, I honestly wasn't a huge fan. But in the poppers, it added an extra dimension of both spice and smokiness that really took the poppers from average to "incendiary".
However, if you can't get smoked black pepper white cheddar, any cheddar-style cheese should do just fine!
Mix your cream cheese and your grated cheese until well-combined.
Slice the jalapeños in half lengthwise, and remove the seeds and ribs. I'd highly recommend using gloves for this part.
Then, stuff your poppers with the cheese mixture.
Wrap each popper with a half-slice of the candied bacon. If you'd like, you can secure the bacon with toothpicks, but I found simply wrapping it worked just fine.
Bake at 400F for 20 minutes. You want the sugars on the bacon to caramelize nicely – a little blackening is fine.
Serve warm, and enjoy!
Incendiary Jalapeño Poppers
inspired by Dinner at the Zoo and Bite the Bullet
Ingredients
1 lb applewood smoked bacon
1/2 cup brown sugar
1 tbsp cayenne pepper
8 oz jalapeño cream cheese
8 oz grated cheese – we preferred the smoked black pepper cheddar, but a nice smoked or sharp cheddar would work great as well
14 jalapeños
Cooking Directions
Preheat the oven to 325F.
Slice the bacon in half crosswise. Combine the brown sugar and cayenne. Coat each slice of bacon in the sugar, and place on an aluminum foil-lined rimmed baking sheet, making sure none of the slices touch.
Bake the bacon for 10 minutes, or until just starting to bubble. Set aside.
Turn the oven up to 400F.
Combine the jalapeño cream cheese and shredded cheddar.
Wearing protective food-safe plastic gloves, slice the jalapeños in half lengthwise. Remove the seeds and ribs from the jalapeños and discard.
Fill each jalapeño half with the cream cheese mixture, and wrap with a half-slice of candied bacon.
Bake at 400F for 20 minutes, or until bacon is crispy and caramelized.
Serve warm. Enjoy!
Sub to my YouTube channel to get notified whenever we have new videos!
Links in this post may be affiliate posts. If you buy an item through an affiliate link, I get a small fee, which helps support this blog!