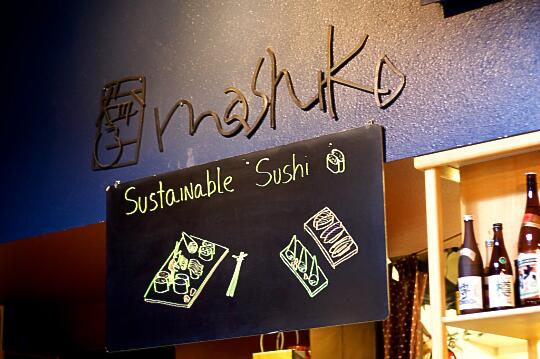 About a month ago, I was hanging out on twitter, and got a tweet from Casson Trenor (you may remember I've written about him when I had a contest to give away several copies of his book and wrote about some bluefin tuna protests happening in Los Angeles): "any chance you can be in seattle mid-aug? Opening a new sustainable sushi restaurant, would lovelovelove to have you there."
Ordinarily, I'm not one to make spur of the moment plans, especially when they involve significant travel (as in, more than an hour away from me). But a new sustainable sushi restaurant… how could I resist? I just had to see how a restaurant would ditch all the non-sustainable fish (No bluefin tuna! No unagi! No tako (octopus)! No ankimo (monkfish liver)!). Luckily it didn't take too much to convince Son that we had to go to Seattle for this (we were due for a vacation anyways), so within a few days we had our plane tickets and our hotel room booked.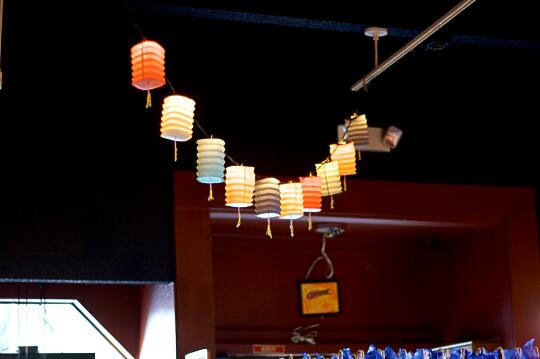 The weeks seemed to fly by, until finally we were in Seattle! (And subsequently getting lost in Seattle. Let me say, never have I been more thankful for Son's iPhone…) It wasn't long before we were walking through the front door of Mashiko – the established Seattle sushi restaurant making a complete change to only serve sustainable sushi. Soon after arriving we were greeted by Casson and Hajime Sato, the sushi chef, both of whom are a pleasure to know. Traca Savadogo came and introduced herself to me (she's a very sweet woman who seems to know everybody!), then took me around the restaurant, introducing me to everyone else – including, but not limited to, Jon Rowley and Viv. Soon I went back to my seat between Son and a very nice couple (whose names I unfortunately do not remember). From our seats at the sushi bar, we had an excellent view of the two sushi chefs, Mariah and John, creating the dishes we were to eat that evening, and of the rest of the small restaurant (almost everyone else sat at tables.)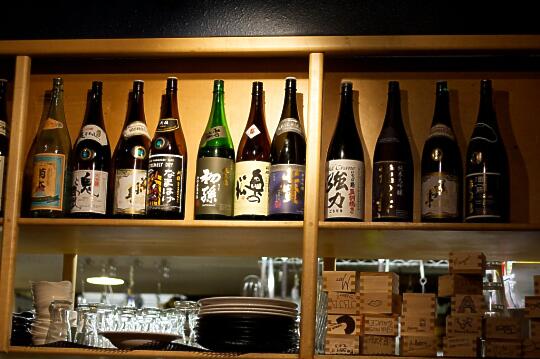 Then, time to eat. We each got a menu that listed each of the nine courses, as well as a sheet of paper describing the sake pairings (neither Son nor I drink alcohol, so we did not partake). For each course, Hajime would explain what we were eating, Casson would discuss the sustainability of the seafood, and Eric Verne, the sake specialist, would talk about the sake he paired with each dish.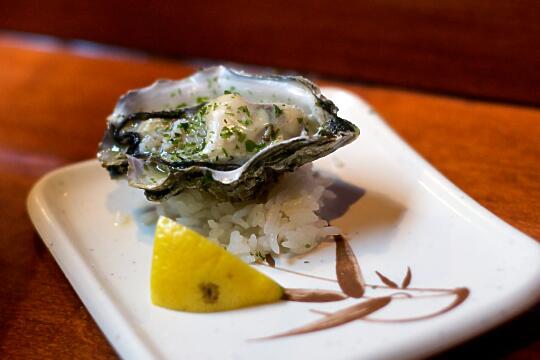 First, oysters on the half shell. There were two oysters – a grilled small Pacific oyster with sake butter (above picture) and a kumamoto oyster with yuzu ponzu (below picture). Both were farmed in Washington state.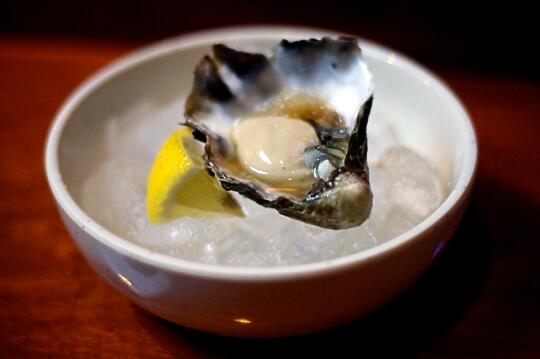 Believe it or not… this was my first time eating oysters. Ever. The verdict? I enjoyed them both. The small Pacific oyster was slightly chewy and a little fishy – a taste I'm still getting used to. (Two years ago I would barely eat fish at all, so I'm getting there.) But that kumamoto oyster… I absolutely loved that one. It was quite tender, and very buttery. Delicious.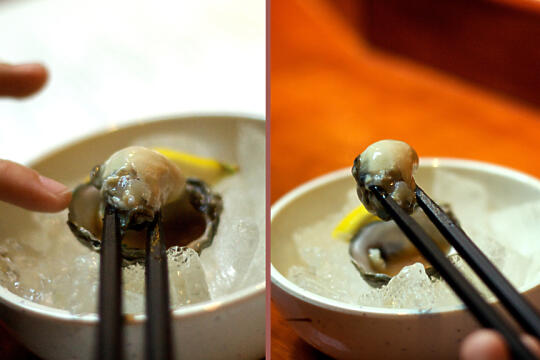 The next course was rainbow trout with sunomono, ponzu shoyu, and shiso infused grapeseed oil. Mashiko gets the rainbow trout from Select Fish – the supplier for and owned by Whole Foods. The trout was farm raised in Idaho, in a way that produces very clean trout that is up to health and sustainability standards.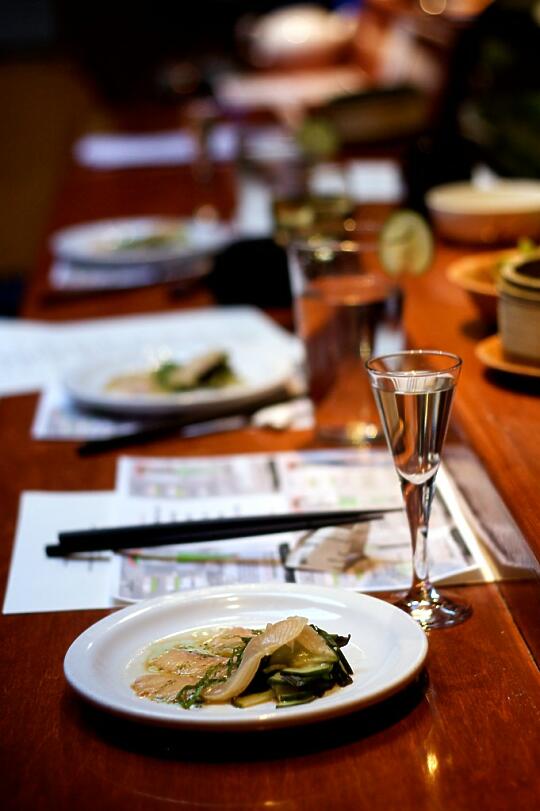 Though I'm not sure whether I've eaten cooked rainbow trout or not, I'm absolutely certain I've never had rainbow trout sashimi before. But I'm positive I'll be looking to have it again. Rich, decadent, with a flavor reminiscent of pork fat, it melted in my mouth and left me wishing I could have more. The tart sunomono accompanying it was just like the one my grandmother makes – thinly sliced cucumbers, with a slightly sour vinegar taste to them. A perfect complement to the sumptuous rainbow trout.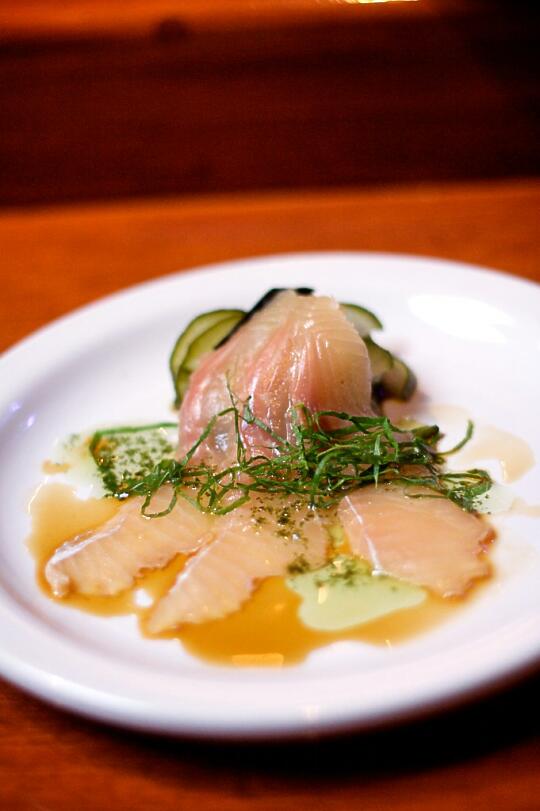 Next, Tombo poki with roasted macadamia nuts – Hajime's interpretation of the traditional Hawaiian fish salad. The albacore was hand line caught in Hawaii. Hajime commented that he's been using this albacore for several years now – it's quite delicious indeed – but somehow it hasn't yet caught on in the sushi industry. But the really great thing about the albacore is that unlike some of the larger, more popular tunas, this is sustainable. Casson went on to explain that sustainability encompasses much more than how the fish are caught or whether they're overfished, though that's certainly a significant part of it. If a fish makes you sick, it is not sustainable. But so many of the larger carnivorous fish, like bluefin, yellowfin, or bigeye, have such high levels of mercury in their bodies that has built up over their lifetime – not good for us humans eating them. Albacore, on the other hand, is a small tuna… therefore has a low level of mercury in its body.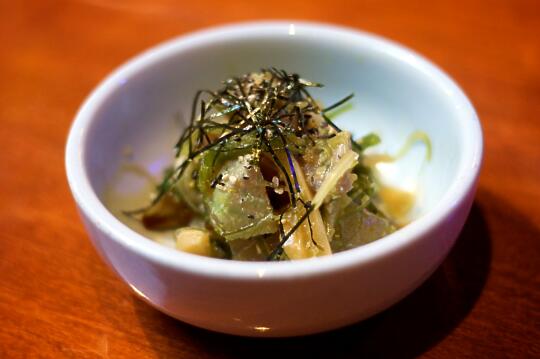 I have tried poke several times in the past year – at a restaurant when we visited Hawaii last year, and a recipe that a reader emailed to me. Maybe not enough to say I know poke, but I'm not completely ignorant when it comes to poke either. The one I had in Hawaii… meh, it was alright. Not my favorite. The one I made at home… really freaking good, although a little spicy for my tastes. The one I had at Mashiko… perfect. Just enough sauce to flavor the seared albacore without being overwhelming or drowning the rest of the ingredients. A beautiful crunch from the macadamia nuts and wakame seaweed. Perfectly seared albacore that simply melted in your mouth. Delicious. Absolutely delicious.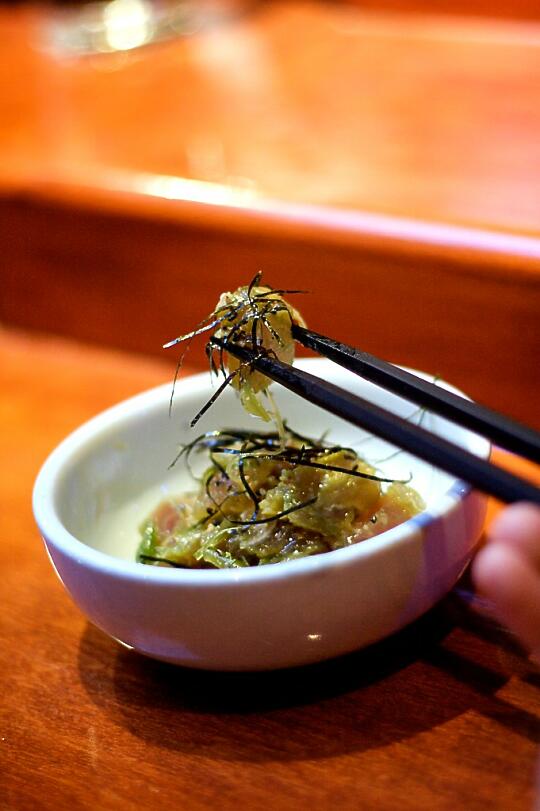 The fourth course (out of nine!) was a scallop and Dungeness crab salad wrapped in prosciutto with lumpfish caviar and avocado. This has been a signature item at Mashiko for quite a while – and once you try it, it's obvious why. The scallops are farm raised in Hokkaido, a northern island in Japan. The prosciutto is from Italy (I agree with what Hajime said – "I don't even know if it's sustainable or not, actually, but it tastes good.") Inside is the Dungeness crab which was grown locally, with a little garlic mayo mixed in. On top is lumpfish caviar which is definitely more sustainable than beluga caviar, a more popular alternative.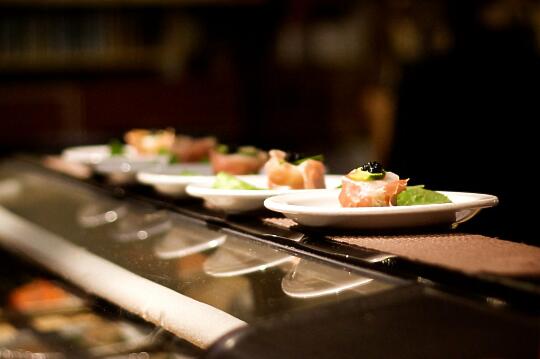 Then Casson took the floor, and explained how sustainability relates to seasonality. These days, so many people are trying to eat local and seasonal produce by frequenting their local farmer's markets. So why wouldn't you do the same for seafood? Traditionally, you can't have every fish any time you want it – in Japan there are even holidays celebrating the arrival of certain fish. It makes so much more sense to only eat certain seafood – like the Dungeness crab – when it's naturally available. The practice of trying to grow or import fish so they're available year-round is a large part of why we have these sustainability issues today.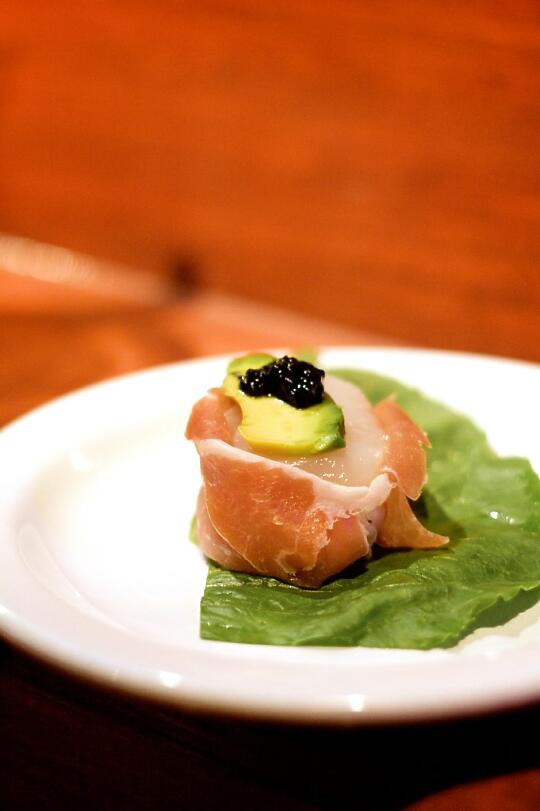 Out of all nine courses, this was by far my absolute favorite. The slightly spicy Dungeness crab salad was sandwiched between two slices of creamy scallop, then wrapped in a thin slice of salty prosciutto. All the different flavors played wonderfully off of each other, topped with the smooth avocado and salty lumpfish caviar. This is one of those dishes that the moment you bite into it, you just know you're going to have to find some way make something similar on your own… because sadly for me, Seattle is quite far away. Just thinking about it makes my mouth water.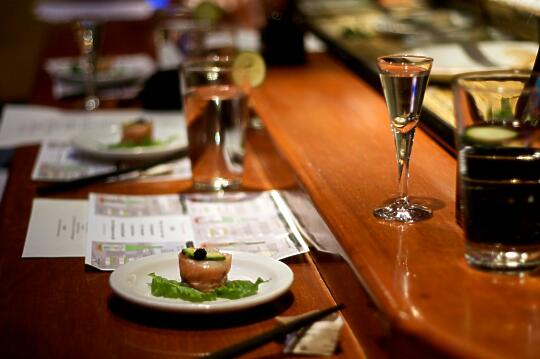 The next course was something called "Charlie's Angel" – a roll of salmon, grilled asparagus, shiso, and masago, all tempura fried and accompanied by some buckwheat soba noodles. Believe it or not, we were eating farmed salmon. Now, anyone who knows enough about sustainability of seafood is probably thinking, "Bad! Bad! Bad!" And ordinarily, Casson and Hajime would have agreed with you. But if you'll let me quote Casson for a moment…
"This is a big moment for me. If you would have told me two years ago, two months ago, two weeks ago… that I was gonna be standing up in front of a crowd and telling you to eat farmed salmon… I would have told you you were absolutely crazy. I have spent years fighting farmed salmon. I have given so many speeches against it. I don't like farmed salmon. I don't like what they're doing to the salmon … I don't like the human rights issues, I don't like all the nonsense, branding going on… I don't. Like. Farmed. Salmon. So I'm gonna tell you guys all to eat it."
The reason why Casson and Hajime can, in good faith, tell us to eat this farmed salmon they were feeding us is because this is very different from the normal farmed salmon you hear about. This salmon comes from a company called SweetSpring – a salmon farm in Rochester, Washington, about 80 miles south of Seattle. If you look at Rochester on a map, you'll notice that it's not a beach city – it's actually inland. This is a huge part of what makes the farms sustainable. They took the salmon farm out of the ocean, and put it on land. To quote Casson once again (because he says it far better than I ever could), "All the problems with salmon farms – parasite issues, genetic pervertation of local stocks, waste going up and down and around, seals getting their brains blown out by people who don't want them in the salmon farms… all these horrible problems, they don't exist with this. This is a closed, contained salmon farm – salmon farming on land… This is innovation. And this is the way to sustainability."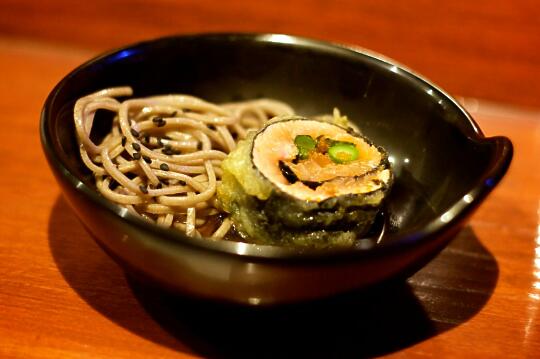 As for the dish itself… delicious, of course. By now I wouldn't expect anything less from Hajime. The salmon was silky, with a crunch from the asparagus and the tempura. Perfectly fried, and not too oily or heavy. The soba noodles… there was something very familiar about them. Although the noodle used was different, it tasted very similar to the somen salad that my family has made for as long as I can remember. The soba noodles went very well with the salmon roll.
Then came the sautéed Geoduck with mushrooms, sautéed with aonori butter and bonito flakes. Geoduck is caught or dug up along the Washington coast, so something very local to Mashiko. Casson discussed "edomae" sushi – a term often taken to mean "traditional sushi", but that actually translates to "in front of Tokyo"… meaning it's made from the fish that came from the waters in front of Tokyo. So it's actually silly for us to use most of the seafood that we eat in sushi here… they're natural to Tokyo, not to Seattle or Los Angeles or cities elsewhere. It makes much more sense to use that seafood which is local – which for Seattle, includes geoduck.
Son loved this dish. I, sadly, was not a fan, though I found the mushrooms to be delicious. The problem for me wasn't with the taste, but more with the texture of the geoduck. It was chewy, similar to octopus… which, surprise surprise, I don't particularly like and Son absolutely loves. So I suppose it comes down to this – if you like octopus or other similarly chewy seafood, you'll love this. Because aside from the texture, I found the dish to be fantastic. (I know, I know… I'm working on getting over my texture issues. In a year, maybe, I'll have no problem eating it.)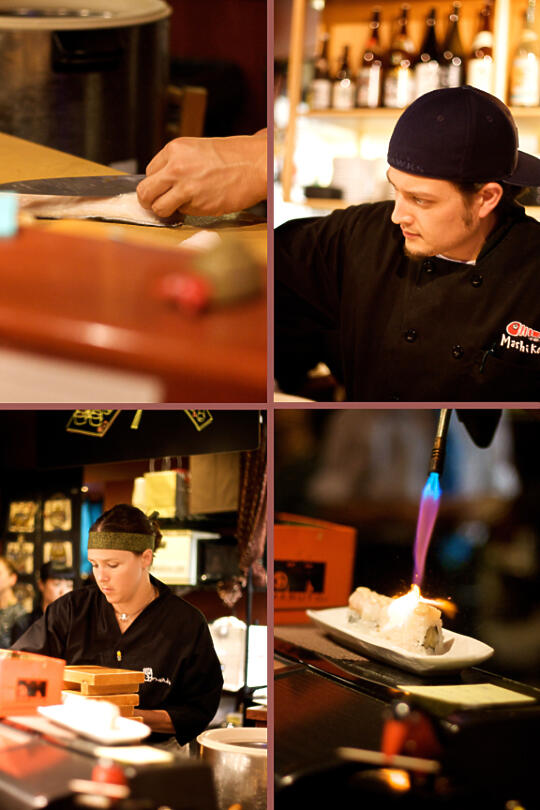 After the geoduck were two rolls. The first was namagi, tempura sweet potato, and avocado, rolled maki style in a white soy paper speckled with black sesame seeds and drizzled with a sweet sauce. The second was tempura onion rolled uramaki style, topped with black cod and tarako infused aioli then seared with a blowtorch. Unagi is not sustainable – but an American favorite. Unfortunately, it's one of the absolute worst things you can eat, in terms of sustainability. So these two rolls were conceived as a sustainable way to mimic the dark, sultry, sweet unagi experience that the American palate has fallen in love with. The black cod is from a farm in British Columbia, on the northwest side of Vancouver Island… a more sustainable alternative to wild black cod. (Speaking of sustainable alternatives, don't let me forget to tell you about the black cod liver we got to try when I later interviewed Hajime and Casson… both interviews will be posted in the upcoming days.)
The other roll uses namagi as a replacement – catfish. Although I've never understood it (and never had a problem eating and enjoying catfish), it seems that a lot of people have a huge aversion to catfish because of the muddy flavor and the texture. And because it's a "bottom feeder", which some people seem to find disgusting (though really, unagi – eel – is just the same, is it not?) This catfish comes from a North Carolina-based producer called Carolina Classics Catfish. It's farm-raised with no herbicides, hormones, or antibiotics, and the water that they grow in is managed to the point that the catfish doesn't eat any algae or anything to give it that muddy taste people normally associate with it. Then to get the sweet sauce that gives it a taste more like unagi… in the spirit of using every part of the fish, Hajime made a stock out of the remainder of the black cod, simmered it for a week, and ended up with this very rich sauce that he used for the namagi roll.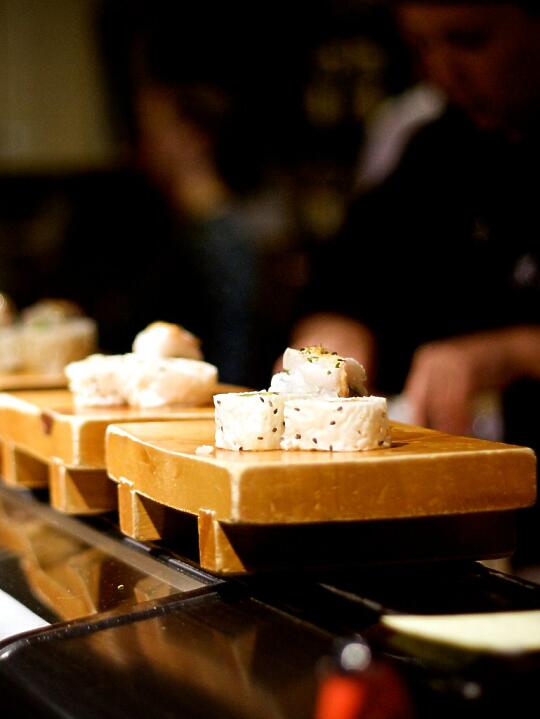 I found both rolls to be absolutely delicious, though the namagi roll pulled ahead as my favorite. The sauce on the namagi roll seemed very familiar – almost like something my mother used to make when I was younger. Although I could see how they taste similar to unagi, the replacement seemed unnecessary to me – while I do enjoy unagi and have used it quite often in my own sushi making in the past, I don't feel a need to try to mimic it. I would rather have the fish shine on its own rather than trying to be something else, and I felt that both rolls did just that.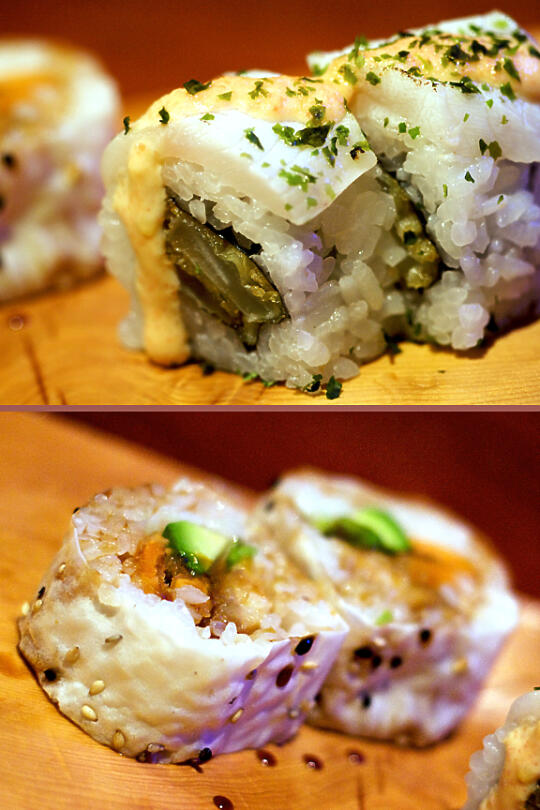 The eighth course was a sanma oshizushi topped with fresh ikura. Samna are pacific saury – a small, silver fish related to the mackerel and the sardine. The great thing about these fish is that they are small – far less mercury – and at the bottom of the food chain. It takes 25 pounds of sardines to get one pound of bluefin tuna… so Casson argues, why not just eat these and feed twenty-five times more common people, rather than feeding just a few very rich who can actually afford bluefin tuna?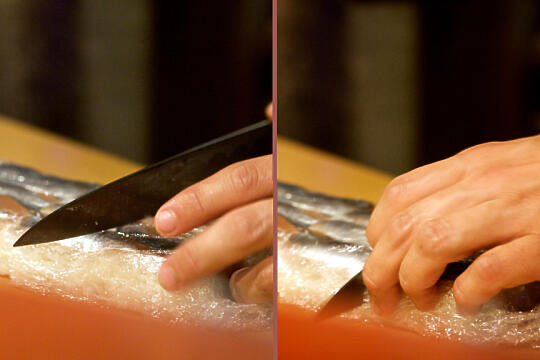 The small silver fish was very… fishy. It tasted much more of the sea than any of the other seafood we ate that evening. For that reason, (and yes, this is another one of those things that I'm working to learn to enjoy) I wasn't so fond of it. But Son loved it.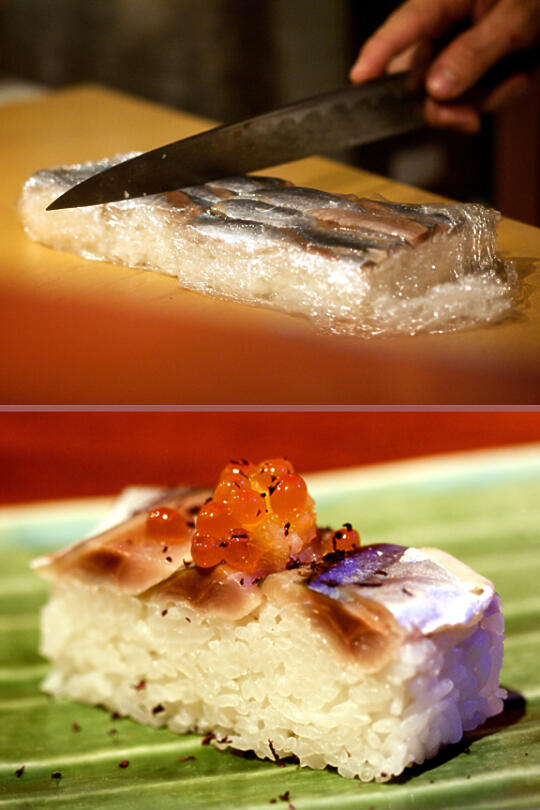 The last course was a small bowl of organic jasmine pearl crème brulée. This dessert involved no seafood, so there was no discussion of sustainability with it. It was delicious, though it did have a strong jasmine flavor – so if you're not a fan of jasmine, it's probably better to try a different dessert.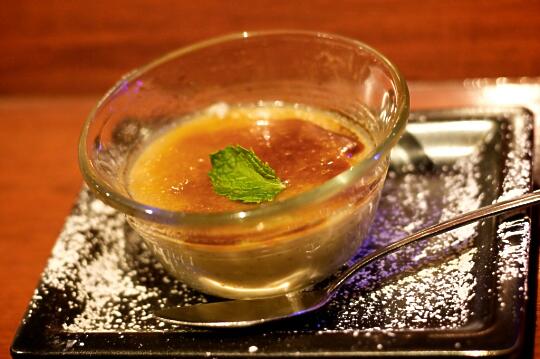 So after that meal of only sustainable seafood, did I feel like I was missing out on anything? Not at all. In fact, that was easily among the most enjoyable sushi meals I have ever eaten. Not once did I find myself pining for bluefin tuna, or hamachi, or unagi, or any of the less sustainable sushi that you would normally find at a sushi restaurant.
So what can you do if you want to be sustainable? Keep an open mind. Be willing to try all sorts of new seafood that you might not normally find at a sushi bar. Ask your sushi chef, your fishmonger where the fish comes from, if it's sustainable. Educate yourself and your friends about the issue. Keep these "Four S's" in mind when you're choosing seafood to eat: small, seasonal, silver, and shellfish. And stay tuned for my next two posts, where I have an opportunity to interview both Hajime and Casson about sustainability and the process of changing Mashiko into a sustainable sushi restaurant.