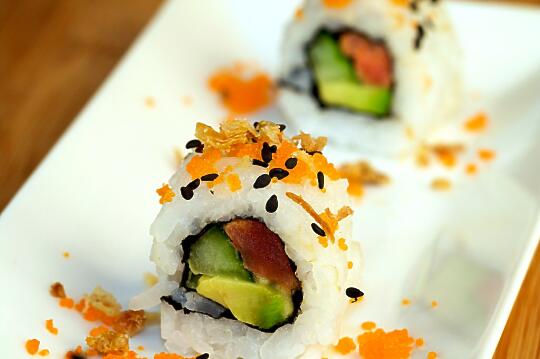 Supposedly today, June 18, is the "1st International Sushi Day". I say supposedly, because November 1, 2006 (coincidentally the day we launched Sushi Day) was also the "1st" International Sushi Day. And it really wouldn't surprise me if there have been others. Seems to me everyone claiming that today is International Sushi Day is referring to a group on facebook… so it seems to be a pretty arbitrary declaration of this new "international holiday". But who am I to complain? Goodness knows I welcome multiple International Sushi Days every year… I'm down with celebrating sushi as often as possible. 😀
So in honor of this "1st" International Sushi Day, of course I have to bring you all a sushi recipe. Because though I know most of you will celebrate by going out for sushi (anyone want to help me convince Son to take me out for sushi tonight? ;)), I'm sure there are at least a few of you who might want to try making sushi at home. So for you, the Red Dragon Roll – my favorite combination of tuna and avocado, with the added coolness of the cucumber to counteract the burning spice of the Sriracha sauce, and the crunchy combination of nutty sesame seeds, salty tobiko, and added umami from the fried onions on top.
Have a wonderful 2nd 1st International Sushi Day!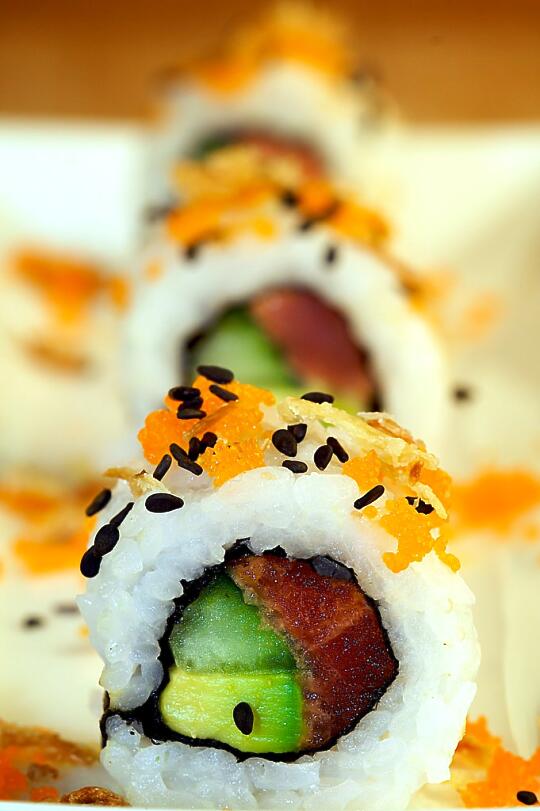 Ingredients
6 sheets nori
3 cups sumeshi
6 oz sashimi-grade tuna
1 small avocado
1/2 small cucumber
1 tbsp Sriracha sauce
1/4 cup tobiko
1/4 cup fried onions
1 tbsp black sesame seeds
Cooking Directions
Slice the tuna into 1 cm square sticks.
Cut the avocado in half, discarding the pit.
Use a large spoon to scoop the avocado out of the hard skin, being careful to keep the avocado half as whole as possible.
Slice the avocado into slices.
Slice the cucumber into long, thin sticks.
Roll the sushi inside-out, using some tuna, avocado, cucumber, and a thin line of Sriracha sauce as your fillings.
Sprinkle the tobiko, fried onions, and black sesame seeds on top.
Enjoy!
Serving Size: 1 roll Red Dragon Roll
Calories:

249

Fat:

9g, 14% DV

Saturated Fat:

1g, 7% DV

Cholesterol:

31mg, 10% DV

Sodium:

613mg, 26% DV

Total Carbohydrates:

32g, 11% DV

Dietary Fiber:

2g, 7% DV

Sugars:

18g

Protein:

11g, 21% DV

Vitamin A:

20%

Vitamin C:

12%

Calcium:

6%

Iron:

11%

Magnesium:

11%

Potassium:

9%
Percent Daily Values are based on a 2000 calorie diet. These values are only estimates based on the individual ingredients, and not meant to replace the advice of a medical professional.