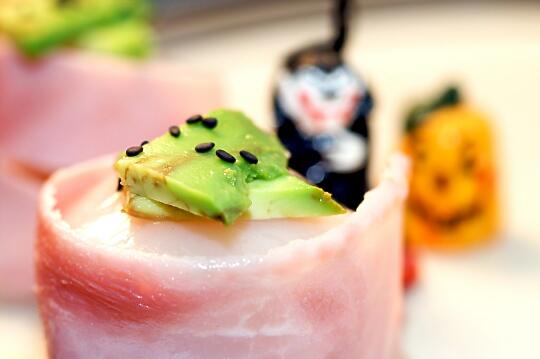 Three years. 200 posts. 2000+ comments. 500,000 visitors. 1.5 million pageviews. It's been quite a ride, here on Sushi Day. There have been some great posts and some complete and total flops (that still get angry comments!), we've all learned a lot and there have been some amazing opportunities that have come from this blog. Such as that dinner at Mashiko, where this creation comes from. Technically it's not sushi, as there's no sumeshi involved… but it's easily one of my favorite sashimi creations I've ever had. Obviously, I had to share it with you.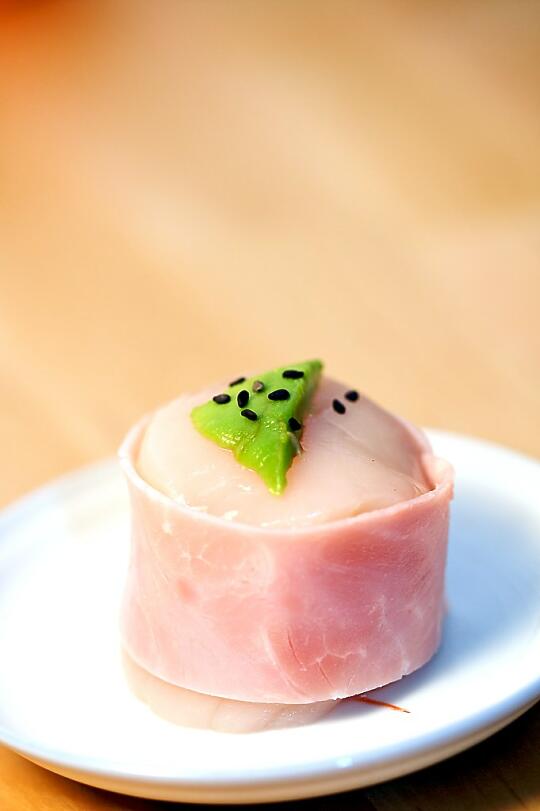 But when it all comes down to it, it's really you guys who make Sushi Day what it is. I could post every day, but if nobody read, nobody commented… I'd be nowhere. So today, on Sushi Day's third birthday, I want to give back to you guys, with a contest.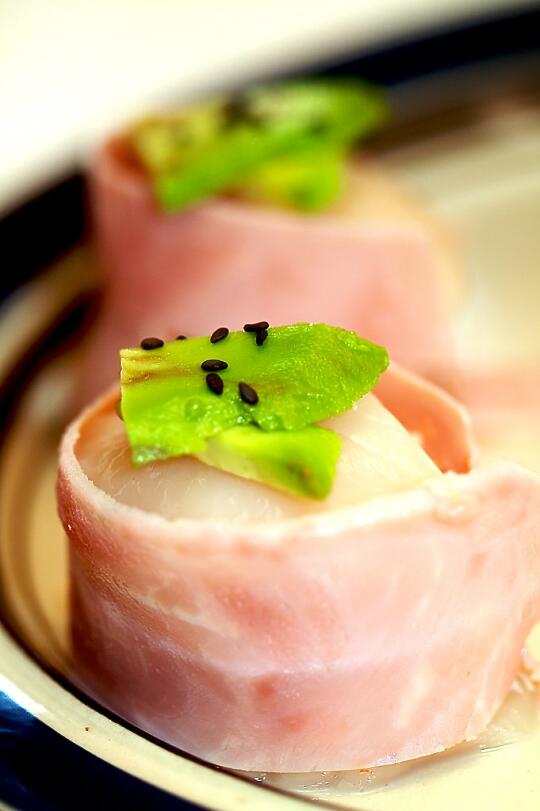 I'm giving away 3 sushi kits – each includes a rolling mat, a package of nori, a bottle of sushi vinegar, a bottle of shoyu, and a tube of wasabi. (Actual items may be slightly different from those pictured.) Everything you need to make sushi at home… all you need to provide is the rice, the fillings, and a few sushi lovers. And heck, I'll even throw in a Sushi Day shirt – any size you want – for the winners.
All you have to do to enter the contest is leave a comment on this post by 11:59pm PST on November 7th, 2009. That's a week from now. And if you want a second entry, just tweet about this contest with a link to this post, then come back here and leave a link to your tweet in a second comment. Then I'll randomly pick the winners, and announce them a week from today.
And if you don't win? I'll put the sushi kits in our store a week from today, so you can purchase one for yourself.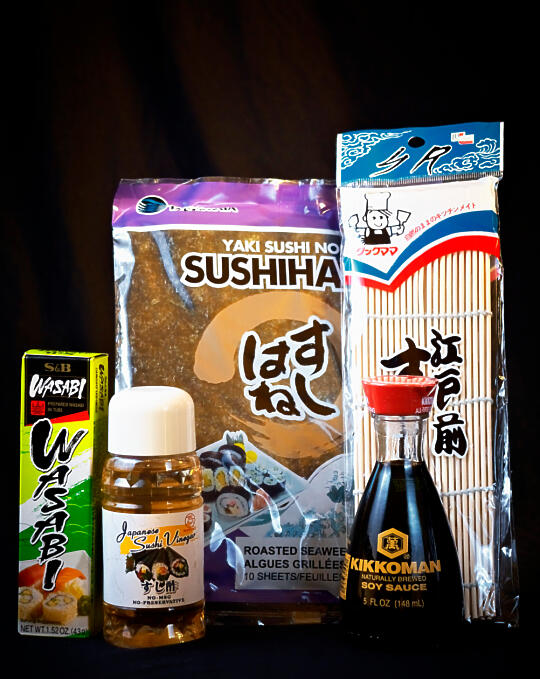 Ingredients
6 sashimi-grade scallops
1 cup crab
1 tbsp mayonnaise
1 tsp Sriracha sauce
2 slices ham
1/2 avocado
a small handful of black sesame seeds
Cooking Directions
Slice each scallop in half, like you're cutting open a sandwich roll.
Mix the crab, mayonnaise, and Sriracha sauce.
Slice each piece of ham into thirds, lengthwise.
Cut the avocado in half, discarding the pit.
Use a large spoon to scoop the avocado out of the hard skin, being careful to keep the avocado half as whole as possible.
Slice the avocado into slices, and then in half width-wise.
Place one half of each scallop on a plate.
Pile a small scoop of the crab mix on the scallop half.
Top with the second half of the scallop.
Wrap a slice of ham around the circumference of the scallop/crab sandwich.
Top with two half-slices of avocado. Sprinkle with black sesame seeds.
Enjoy!
Serving Size: 1 piece Hajime's Hotate
Calories:

88

Fat:

5g, 8% DV

Saturated Fat:

1g, 4% DV

Cholesterol:

10mg, 3% DV

Sodium:

274mg, 11% DV

Total Carbohydrates:

5g, 2% DV

Dietary Fiber:

0g, 1% DV

Sugars:

1g

Protein:

5g, 11% DV

Vitamin A:

1%

Vitamin C:

4%

Calcium:

2%

Iron:

2%

Magnesium:

6%

Potassium:

5%
Percent Daily Values are based on a 2000 calorie diet. These values are only estimates based on the individual ingredients, and not meant to replace the advice of a medical professional.