Our first and only Hawaii trip, over a decade ago, really opened our eyes to all the amazing foods of Hawaii. We were little baby foodies back then, so this was the first time we ever had Japanese curry, the first time we had real, non-instant ramen, the first time we had poke – this was back in 2008, before the poke craze hit the mainland.
But the one thing we somehow missed on that trip, and I've never managed to try since… loco moco.
A burger patty, gravy, and a fried egg over rice? Sounds pretty amazing to me. But we must have inadvertently avoided going to any restaurants that served it… and remember, beginner foodies. We had no clue what we were doing back then, when it came to planning a trip around food!
I may not have known what I was missing at the time, but when I saw loco moco in the Aloha Kitchen cookbook (and Son immediately was pulled to that page!), I knew it was time to fix this grave omission in our lives!
Shrimpy made the gravy in our previous video, so all we gotta do is make the patties and fry up some eggs. Let's get cooking!
Shrimpy already took care of the loco moco gravy for us, but if you're making both on the same day, then you can start the gravy first, and make the patties when you're waiting for the onions to caramelize.
For the patties, we're going to start with some ground beef. I tend to prefer the slightly fattier 80/20 ground beef – that's 80% meat to 20% fat. But a leaner grind is fine as well.
Add in a bit of salt, and freshly ground pepper.
We'll add a bit of worcestershire sauce for a tangy umami.
And some chopped sweet maui onion.
A couple of cloves of grated garlic, and you're ready to mix!
Combine that all thoroughly – without overmixing – and then form your meat into 4 patties. Aim for about 1/2″ thick.
Refrigerate your patties for 20 minutes or so.
When you're ready to cook, add a little oil to a skillet and heat it over a medium heat. Once the oil is hot, cook the patties about 4 minutes on each side, until nicely browned.
When your patties are done, it's time to stack your loco moco!
A layer of rice.
One of your patties.
A bit of the gravy Shrimpy made.
A fried egg.
And a sprinkle of green onions for garnish.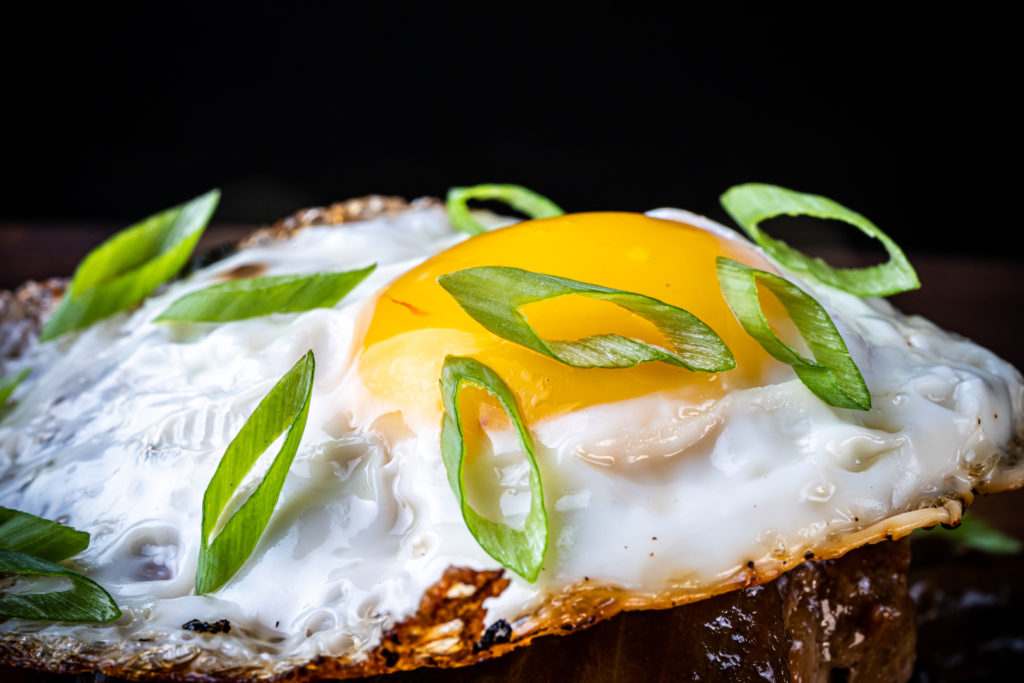 Loco Moco
from the Aloha Kitchen cookbook
Ingredients
1 lb 80/20 ground beef
1 tsp kosher salt, plus more as needed
1/2 tsp freshly ground black pepper, plus more as needed
1 1/2 tsp worcestershire sauce
1/4 medium maui or yellow onion, chopped
2 garlic cloves, peeled and finely grated
1 tbsp neutral oil
4 cups steamed white rice
1 batch loco moco gravy
4 large eggs, fried sunny side up or over easy
2 chopped green onions, green parts only, for garnish
Cooking Directions
In a bowl combine the ground beef, salt, pepper, worcestershire sauce, onion, and garlic. Gently mix with your hands or a wooden spoon until just combined, being careful not to overmix. Form into four equal-size patties about 1/2″ thick. Place the patties on a plate, cover with plastic wrap, and transfer to the refrigerator to rest for 20 minutes.
After the patties have rested, add the oil to the skillet and set it over medium heat. When the oil is hot, swirl the pan around to evenly coat it, then gently place the patties in the pan, leaving room around each one. Cook until browned, about 4 minutes on each side. Using a spatula, remove the patties and transfer to a clean plate to rest.
Place 1 cup steamed rice on each plate and top (in this order) with 1 patty, some gravy, 1 fried egg, and chopped green onions before serving.
Sub to my YouTube channel to get notified whenever we have new videos!
Links in this post may be affiliate posts. If you buy an item through an affiliate link, I get a small fee, which helps support this blog!