Today we've got another cookbook redemption from busdriv3r!
This time, he requested that we cook something from I Am A Filipino (and this is how we cook).
There were a lot of things I wanted to make (I've made the sisig from this cookbook before and it's AMAZING) but these days, we're limited by the ingredients we can easily get or already have on hand.
Luckily, we had some pork belly in the freezer… chicken and pork belly adobo? YES PLEASE.
If you have the ingredients, this is a fairly easy recipe. Marinate it overnight, cook it the next day, done!
We'll start with the marinade.
White sugarcane vinegar is used in a lot of Filipino dishes, but most of us don't tend to to have it on hand. Luckily, it's easy to order white sugarcane vinegar online.
This will add that sour tang that's fairly common to Filipino cooking.
Then, a good bit of soy sauce, for that salty umami.
A BUNCH of minced garlic.
And some whole black peppercorns, for a mild bite.
Blueberry or fig jelly – I'm using my mom's homemade blueberry jam from last year – for a tiny bit of fruity sweetness.
A few bay leaves.
And then we add in our meat.
The recipe calls for bone-in, skin-on chicken, but I accidentally bought boneless skinless thighs. They'll work fine, though.
Then, cube some pork belly. I left the skin on, but skinless should be okay too.
Mix that all together, and then marinate in the fridge overnight.
The next day, dump that all in a dutch oven or large pot.
Add a bunch of water, and simmer until the meat is cooked through.
Then remove everything, add some oil, and brown the meat.
Add a splash of sauce back in, and cook until the liquid has evaporated.
Serve with white rice, and that cucumber tomato relish that shrimpy made!
Even though the recipe didn't call for it, I also reduced the sauce down and drizzled it over rice.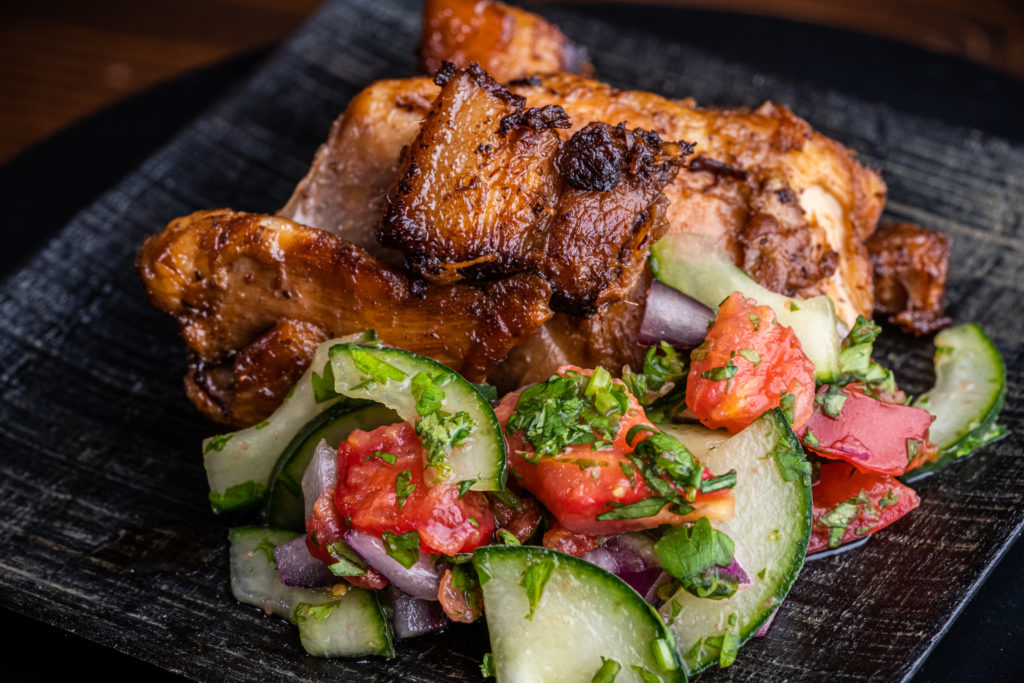 We were expecting the pork belly to be the star of the show, but the chicken really soaked up the marinade and ended up super flavorful. Pork belly is never a bad idea, but if all you have is chicken, this recipe is absolutely still worth making!
Definitely make the cucumber and tomato relish as well – the bright freshness of the veggies really cuts through the richness of this dish. Without some sort of fresh veggies, this recipe would be seriously heavy. Yu
All in all, we're huge fans of this adobo.
Adobong Manok At Baboy (Classic Adobo)
from I Am A Filipino (and this is how we cook)
Ingredients
1 cup white sugarcane vinegar
1 cup soy sauce
10 garlic cloves, minced
2 tsp whole black peppercorns
3 tbsp fruit preserves, jam, or jelly, such as blueberry or fig
3 bay leaves
2 bone-in, skin-on chicken thighs
2 bone-in, skin-on chicken legs
1 lb fresh pork belly, cut into 1″ cubes
2 tbsp vegetable oil
4 to 6 cups cooked white rice, for serving
Cooking Directions
In a large ziplock bag or nonreactive container, stir together the vinegar, soy sauce, garlic, peppercorns, fruit preserves, and bay leaves until the preserves are thoroughly combined. Add the chicken and pork belly, seal the bag or container, and marinate in the refrigerator at least 6 hours, or preferably overnight.
Transfer the chicken, pork, and marinade to a large dutch oven or heavy-bottomed pot with 4 cups water and bring the liquid to a boil over high heat. Immediately reduce the heat to medium and simmer for 30 minutes, or until the chicken is cooked through. Turn off the heat and transfer the meat to a bowl.
In a dutch oven or heavy-bottomed deep-sided pot, heat the vegetable oil over medium heat. Remove the pork belly from the cooking liquid (do not discard the liquid) and add them to the pot. (Be careful, the oil may spatter.) Cook, stirring frequently, until the pork belly is brown on all sides and crispy, about 7 minutes.
Add the chicken pieces to the pan and cook, flipping them occasionally, until they are browned, about 5 minutes.
Add 1/2 cup of the cooking liquid to the pan and cook until all the liquid has evaporated and the only thing left in the bottom of the pan is the fat from the chicken and pork, about 10 minutes.
Serve hot, with plenty of white rice and relish, if using, making sure to pour a little bit of fat from the bottom of the pan over each serving of rice.
Sub to my YouTube channel to get notified whenever we have new videos!
Links in this post may be affiliate posts. If you buy an item through an affiliate link, I get a small fee, which helps support this blog!