This recipe came as a result of a cookbook redemption on our Twitch stream – LelioTaru chose The Breath of a Wok, so we had to cook something from it!
We wanted to do something a little different, since we've done stir-fries many times before. This stuffed tofu looked interesting, and holy cow was it a good choice.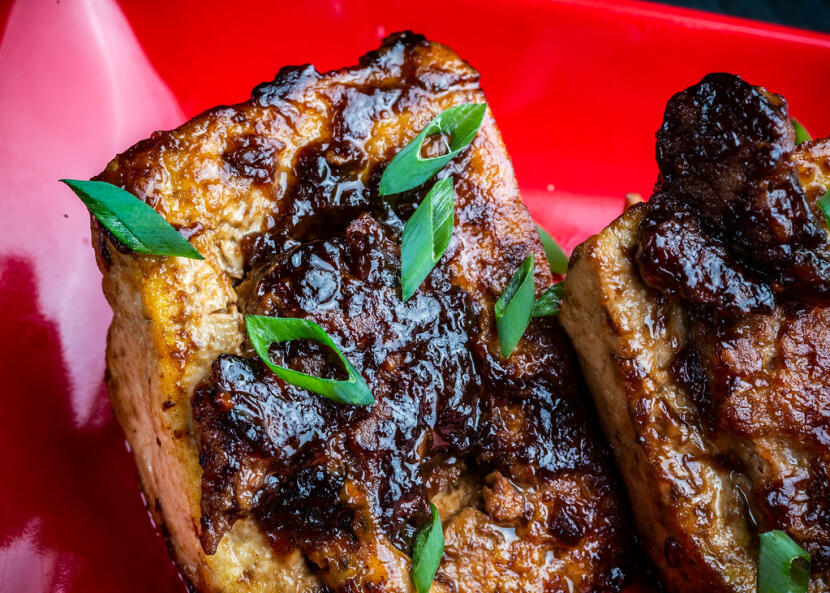 Flavorful, filling, satisfying deliciousness! The sauce is that same sticky-sweet sauce that you see in many stir-fries, the pork is super flavorful, and the tofu ends up firm, meaty, and oh so tasty thanks to the frying. I don't think I'd ever had stuffed tofu before, so I wasn't quite sure what to expect – but I absolutely loved it!
See the full video on Twitch, and follow our SushiDay Twitch channel to get notified when we're live!
Today's Question of the Day: What is your favorite planet, and why?
Cantonese Stuffed Tofu
from The Breath of a Wok
Ingredients
1 tbsp dried shrimp
4 squares firm tofu (about 14 oz), rinsed
3/4 tsp salt
4 oz ground pork
2 tsp cornstarch
1/4 tsp sugar
1/8 tsp ground white pepper
1 tsp sesame oil
1/4 cup minced scallions
2 tbsp canola oil
1 garlic clove, thinly sliced
3/4 cup chicken broth
2 tsp soy sauce
1 tsp black soy sauce
1 tbsp oyster sauce
cilantro sprigs, optional
Cooking Directions
In a small saucepan, bring 1/2 cup water to a boil over high heat. Add the shrimp, reduce the heat to low, and simmer 1 minute. Drain, reserving the water. Finely mince the shrimp. Set aside.
Put the tofu squares on several sheets of paper towels. Sprinkle 1/2 tsp of the salt evenly over the tofu and set aside. In a medium bowl, combine the pork, 1 tsp of the cornstarch, the sugar, pepper, remaining 1/4 tsp salt, and minced shrimp. Stir in 1/2 tsp of the sesame oil, the scallions, and 1 tbsp of the reserved shrimp liquid with 1 tbsp cold water.
Cut each tofu square diagonally into 2 triangles. Using a paring knife, cut a shallow pocket laterally along the cut edge, removing some of the bean curd. The pocket should be about 2 1/2 inches long and 1/2 inch deep. Discard the excess tofu. Stuff each triangle with about 1 tbsp of the filling, packing it to extend beyond the pocket.
Heat a 14″ flat-bottomed wok over high heat until a bead of water vaporizes within 1 to 2 seconds of contact. Swirl in the canola oil and add each tofu triangle pork side down. Reduce the heat to medium and pan-fry about 2 minutes. Scatter the garlic in the pan and cook 1 minute. Swirl in the broth with 1/4 cup cold water and bring to a boil over high heat. Cover, reduce the heat to medium-low, and simmer about 3 minutes. Then, using a metal spatula, carefully loosen each triangle and turn onto its side. Swirl in the soy sauce, cover, and continue simmering about 4 minutes, turning midway. Stir in the black soy sauce, oyster sauce, and remaining 1/2 tsp sesame oil.
In a small bowl, combine the remaining 1 tsp cornstarch with 1 tbsp cold water. Increase the heat to high, swirl the cornstarch mixture into the wok, and cook, gently stirring, 30 seconds or until the sauce is slightly thickened and the pork is cooked through. Garnish with cilantro if desired.
Sub to my YouTube channel to get notified whenever we have new videos!
Links in this post may be affiliate posts. If you buy an item through an affiliate link, I get a small fee, which helps support this blog!