What better to go with stew than freshly-baked biscuits?
In the spirit of using things up, I have a ton of cake flour that needs to be used… so this cake flour biscuit recipe seemed like the perfect choice!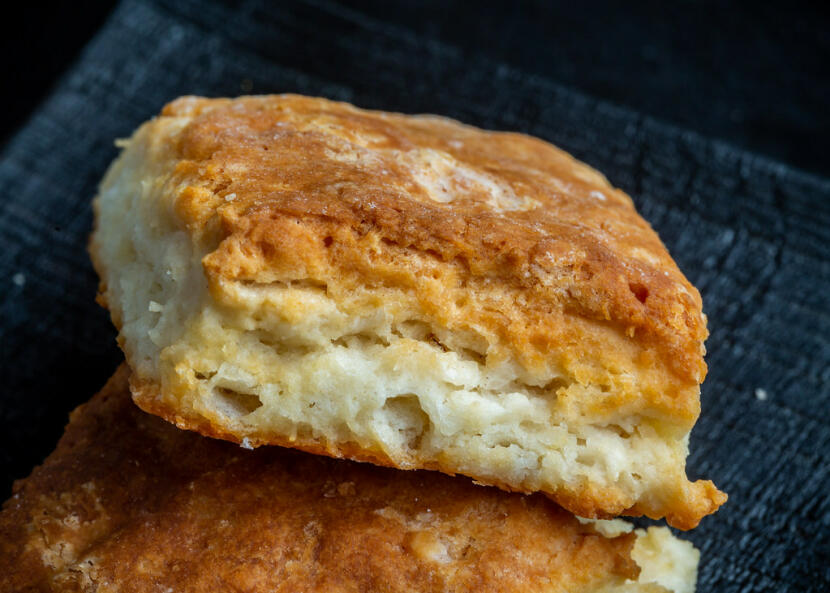 The biscuits were super easy to make, and turned out light and flaky and wonderful. And they make for excellent breakfast sandwiches if you have any leftovers!
A note: The recipe called for half butter, half lard, but all I had was butter. It turned out great using all butter, but if you have access to lard, then by all means use that!
See the full video on Twitch, and follow our SushiDay Twitch channel to get notified when we're live!
Today's Question of the Day: If you could be an astronaut, would you?
Cake-Flour Biscuits
recipe adapted from Sam Sifton's recipe in the NY Times
Ingredients
2 1/4 cups cake flour, plus more for dusting
1 tbsp baking powder
1 tbsp sugar
1 tsp salt
6 tbsp cold unsalted butter
3/4 cup whole milk
Cooking Directions
Preheat oven to 425F. Sift flour, baking powder, sugar, and salt into a food processor. Cut butter into pats and add to flour, then pulse 5 or 6 times until the mixture resembles rough crumbs. Transfer dough to bowl, add milk, and stir with a fork until it forms a rough ball.
Turn the dough out onto a well-floured surface and pat it down into a rough rectangle, about an inch thick. Fold it over and pat it down again, as gently as you can. Repeat. Now gently pat out the dough some more, so that the rectangle is roughly 10 inches by 6 inches. Gently cut dough into squares.
Place biscuits on a parchment-lined cookie sheet and bake until golden brown, approximately 10 to 15 minutes.
Sub to my YouTube channel to get notified whenever we have new videos!
Links in this post may be affiliate posts. If you buy an item through an affiliate link, I get a small fee, which helps support this blog!