I'm always looking for recipes that are:
– tasty
– satisfying
– and use up ingredients we already have.
I made this chili crisp recipe on stream a while ago, but it's SO SPICY that we hardly use it. This chili crisp bean stew recipe looked like the perfect way to use it up that wouldn't be overwhelmingly spicy!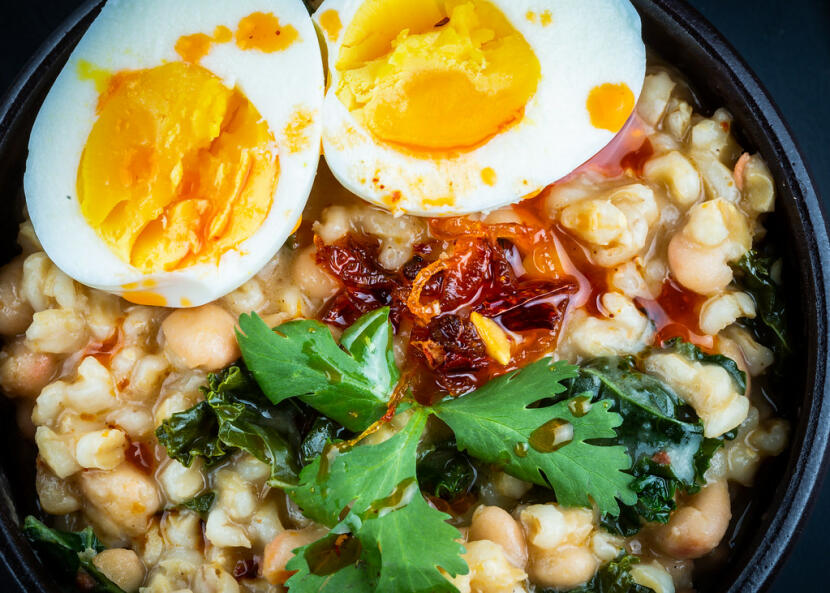 Son went into this thinking that this was going to be SUCH a boring meal, but we both loved it. The beans, barley, and kale make it hearty enough to be satisfying, and the chili crisp adds plenty of excitement for your taste buds! It still burns… but in the best possible way. Yum.
See the full video on Twitch, and follow our SushiDay Twitch channel to get notified when we're live!
Today's Question of the Day: If you could be an astronaut, would you?
Chili Crisp Bean Stew
from I Am A Food Blog
Ingredients
1 tbsp canola oil
2 cloves garlic minced
1/2 onion, diced
2 tbsp chili crisp or chili oil
1 (15 oz) can white beans
2 cups vegetable or chicken broth
1 cup cooked pearl barley
2-3 kale leaves, stemmed and ripped into bite sized pieces
1 cup cilantro, roughly chopped
salt and fresh-ground black pepper
soft-boiled eggs
Cooking Directions
In a pot over medium-high heat, heat the oil until it shimmers. Add the garlic and onion and cook, stirring occasionally, until soft and lightly golden, 3-4 minutes.
Stir in the chili crisp and beans. Cook until the beans start to break down and are coated with the chili oil. Lightly mash some of the beans to help thicken the stew.
Add the broth and cooked barley, and bring to a simmer. Cook, stirring occasionally, until desired thickness is reached, 15-20 minutes.
Stir in the kale and cook until just wilted. Taste and season with salt and pepper.
Serve with chopped cilantro and eggs. Garnish with additional chili crisp, if desired.
Sub to my YouTube channel to get notified whenever we have new videos!
Links in this post may be affiliate posts. If you buy an item through an affiliate link, I get a small fee, which helps support this blog!