We've started creating short recipe videos for YouTube! However, if you want to see the full video, you can always check out our full VoDs on Twitch: https://www.twitch.tv/videos/630918787
Today's recipe is cà ri gà (Vietnamese chicken curry)! This is a recipe from Son's mom – we made it a couple of years ago on stream, and it's a family favorite.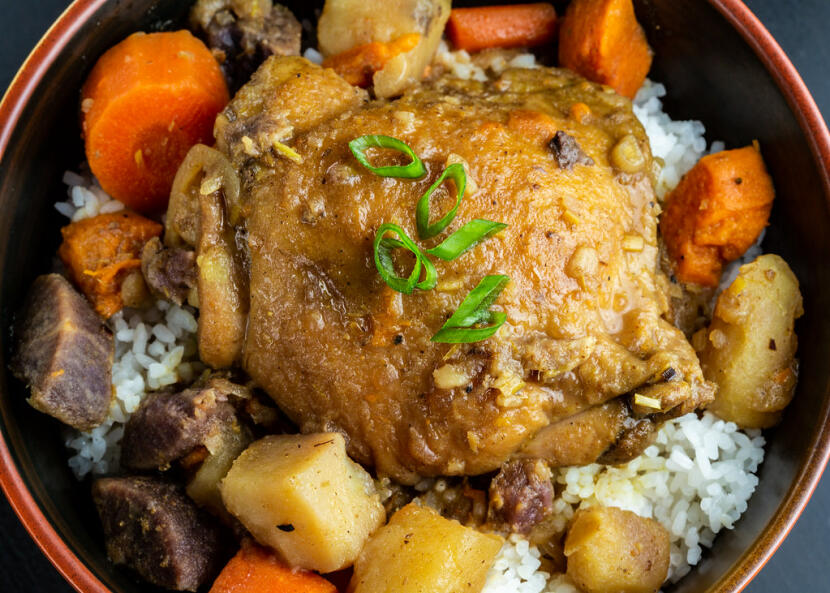 Today's Question of the Day: What is your favorite type of rice?
Cà ri gà (Vietnamese Chicken Curry)
Ingredients
1 chicken (chopped into pieces) or chicken legs & thighs
2 tsp sugar
1 tsp salt
1 tbsp fish sauce
1 stem lemongrass, ground
1 tbsp curry powder
black pepper
2 big carrots
2 sweet potatoes
2 potatoes
1 taro
cooking oil
2 lemongrass stems, smashed
5 shallots, thinly sliced
1 or 2 white onions, chopped
1 tbsp curry powder
1 tsp paprika
2 cans Coco Rico (coconut soda)
1 can chicken broth
2 cans coconut milk
Cooking Directions
Cut the chicken into pieces. Add sugar, salt, fish sauce, 1 lemongrass stem (ground), 1 tablespoon of curry powder, black pepper. Then mix them all and marinate overnight or 1 hour before cooking.
Cut the carrots, sweet potatoes, potatoes, and taro into 1″ pieces. Heat a pot of oil over medium-high heat. Fry the vegetables first so they won't break up in the curry. Set aside.
In a large pot, sauté the 2 lemongrass stems (smashed), shallots, and white onion over medium heat. When they're all caramelized, lower the heat and add 1 tablespoon curry powder and the paprika, cook for 1 minute.
Add all the marinated chicken to the pot, raise the heat to medium-high, and cook, stirring, until the chicken starts to cook. Add the Coco Rico and chicken broth; bring to a boil then let it cook at medium heat for 15 minutes.
Add the carrots, and cook for 10 minutes. Then add the potatoes, sweet potato, and taro, then cook until everything becomes tender. Pour in the coconut milk, stir to combine, and taste for flavor. If needed, add more sugar, salt, or white onion. Bring to a boil, then turn off the heat. Serve with French bread or rice.
Sub to my YouTube channel to get notified whenever we have new videos!
Links in this post may be affiliate posts. If you buy an item through an affiliate link, I get a small fee, which helps support this blog!