We've started creating short recipe videos for YouTube! However, if you want to see the full video, you can always check out our full VoDs on Twitch: https://www.twitch.tv/videos/625868217
Today's recipe is mapo tofu! We've made it before on stream, way back in our first month of streaming, and I loved it then, too.
The recipe we used is from Omnivore's Cookbook.
Today's Question of the Day: Do you listen to podcasts, and if so, what are your favorite podcasts?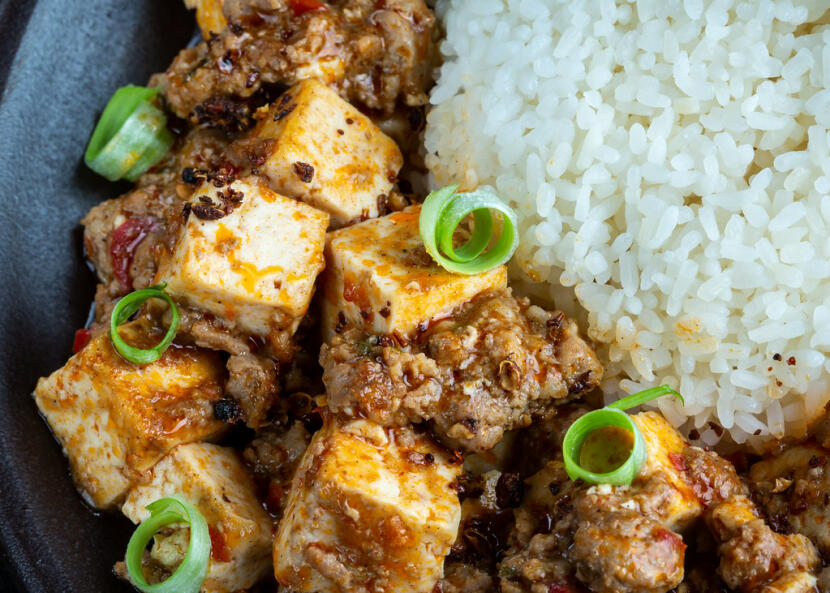 Mapo Tofu
Ingredients
4 oz ground pork
2 tsp shaoxing wine (or dry sherry)
1 tsp shoyu
1/2 tsp ginger, minced
3 tsp sichuan peppercorns
2 tbsp vegetable oil
5 tbsp doubanjiang
1/4 cup green onions, chopped
2 14-oz blocks firm tofu, cubed
1/2 tsp five-spice powder
2 tsp sugar
2 cups water
2 tsp cornstarch mixed with 2 tbsp water
Cooking Directions
Mix the ground pork, shaoxing wine, shoyu, and ginger in a bowl. Set aside.
Heat vegetable oil and peppercorns in a large nonstick pan over medium high heat. When the peppercorns crisp up, remove them with a spatula and transfer into a bowl layered with paper towels. Reserve for garnishing.
Add ground pork and doubanjiang to the spicy oil. Stir fry over medium heat until pork is evenly coated with doubanjiang. Add green onion and stir fry for another minute.
Spread tofu evenly on top of ground pork. Add five spice and sugar. Pour in water and bring to a simmer. Simmer, covered, over low heat for 10 to 15 minutes, until tofu becomes tender and the sauce has reduced to half. Taste the tofu with some broth (be careful, it will be very hot!) and adjust seasoning as needed. Gently mix well with spatula.
Grind the fried peppercorns in a coffee grinder or with a mortar and pestle.
Mix cornstarch water until fully dissolved and swirl it into the pan. Gently stir a few times, until sauce thickens. Turn off heat and transfer everything to a bowl.
Garnish with green onions and a small pinch of the ground peppercorns, if using. Serve warm over steamed rice.
Sub to my YouTube channel to get notified whenever we have new videos!
Links in this post may be affiliate posts. If you buy an item through an affiliate link, I get a small fee, which helps support this blog!