Missed the stream? Watch it on Twitch!
For the last few months, we've had a cookbook club going, where my viewers on the Twitch stream help choose the cookbook for each month, and then anyone who wants to participate can cook along. I also cook a few recipes from the month's cookbook on stream, and have a potluck with some IRL friends at the end of the month.
This month, we had a tie – and I Am a Filipino: And This Is How We Cook, by Nicole Ponseca was one of the two cookbooks that come out on top, so we cooked from that today!
There are SO many recipes from the cookbook I want to make (seriously, everything in the cookbook looks amazing). Today, I made the Sizzling Sisig (page 264) and Tortang Talong (page 134).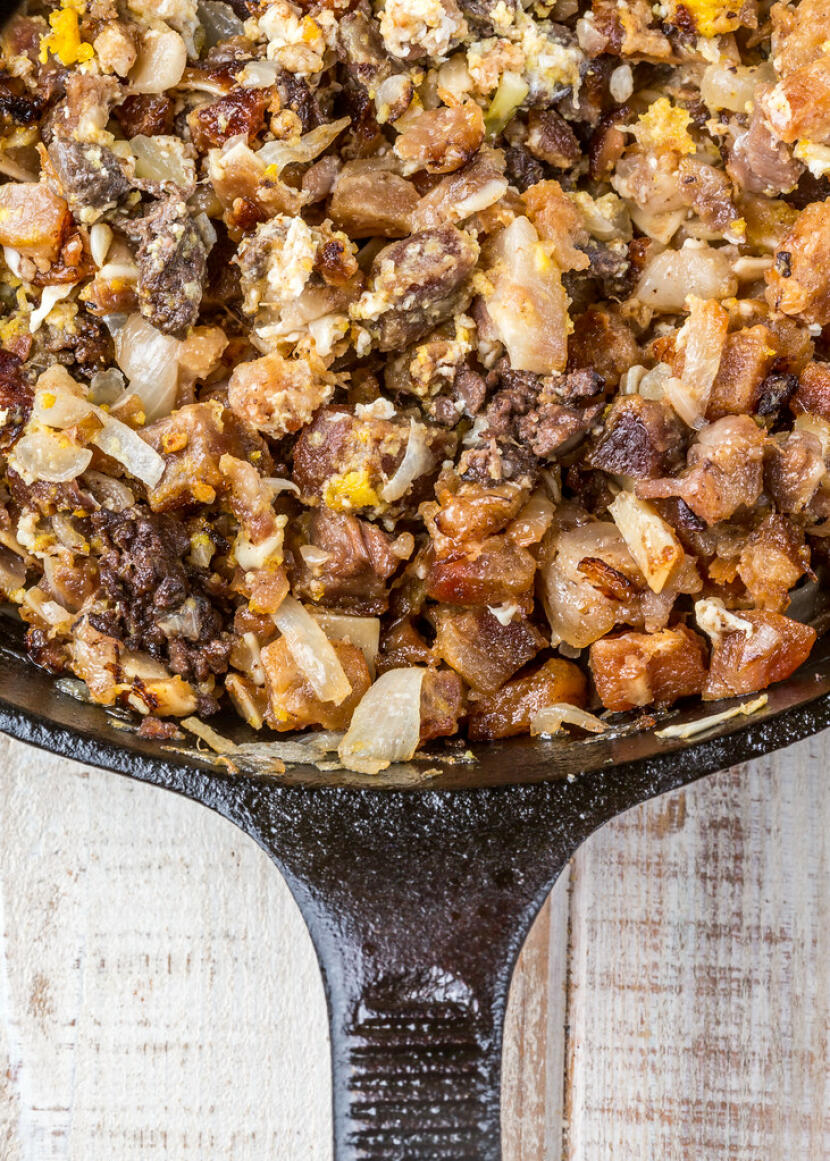 Tortang Talong is essentially eggplant that's been roasted so it's soft, and then dipped in egg and pan-fried (kind of like French toast) with a sprinkling of crabmeat on top. It was SO good. We ate it with a drizzle of fish sauce, and was fantastic. The perfect use for two eggplants that were randomly hanging out in our fridge. The only problem is that it's pretty much a grey blob, so not the prettiest of dishes… hence not having a photo of it.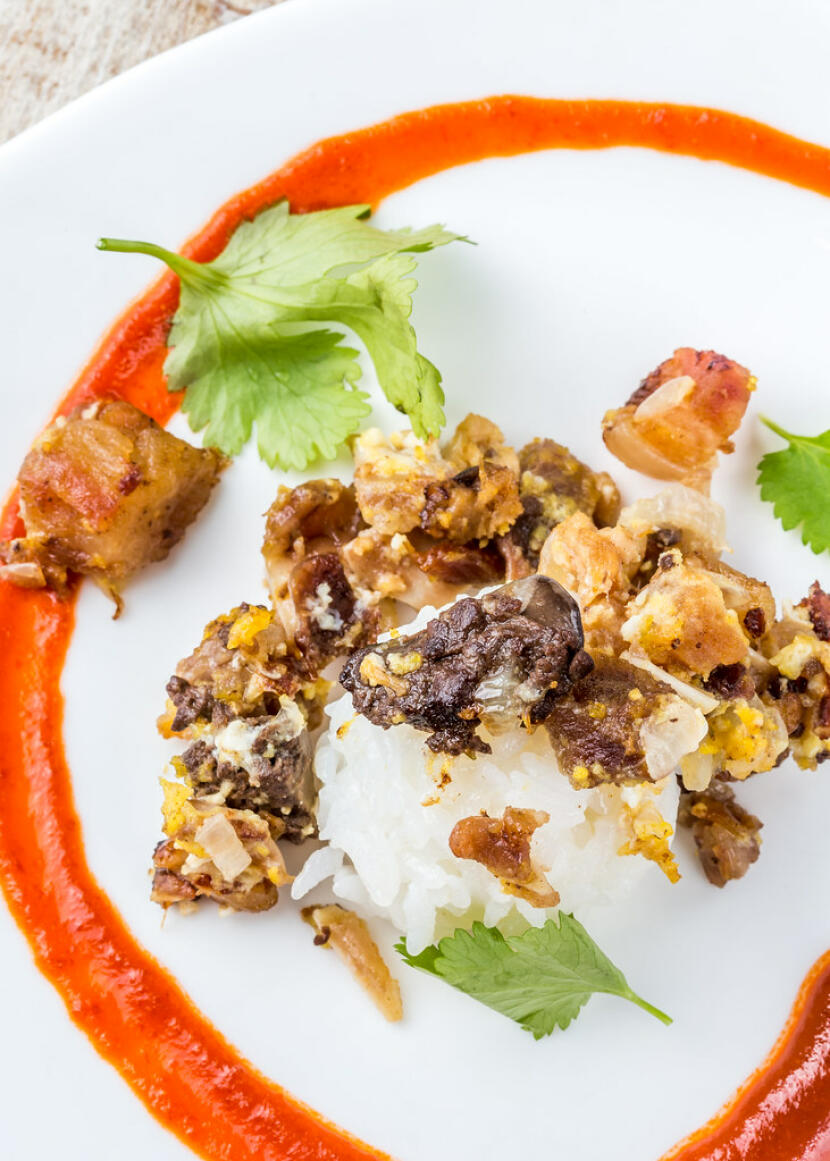 The Sizzling Sisig is ohmygoodness amazing. Braised, then fried pork bits (in our case, pig's ear and pork belly), seasoned with lime juice and sugarcane vinegar, and mixed with a few eggs at the very end. It's oh so porky, crispy, creamy (from chicken liver and the eggs), tangy (which cuts the fat wonderfully). A scoop of this over a bowl of rice, with a bit of sriracha on top… amazeballs.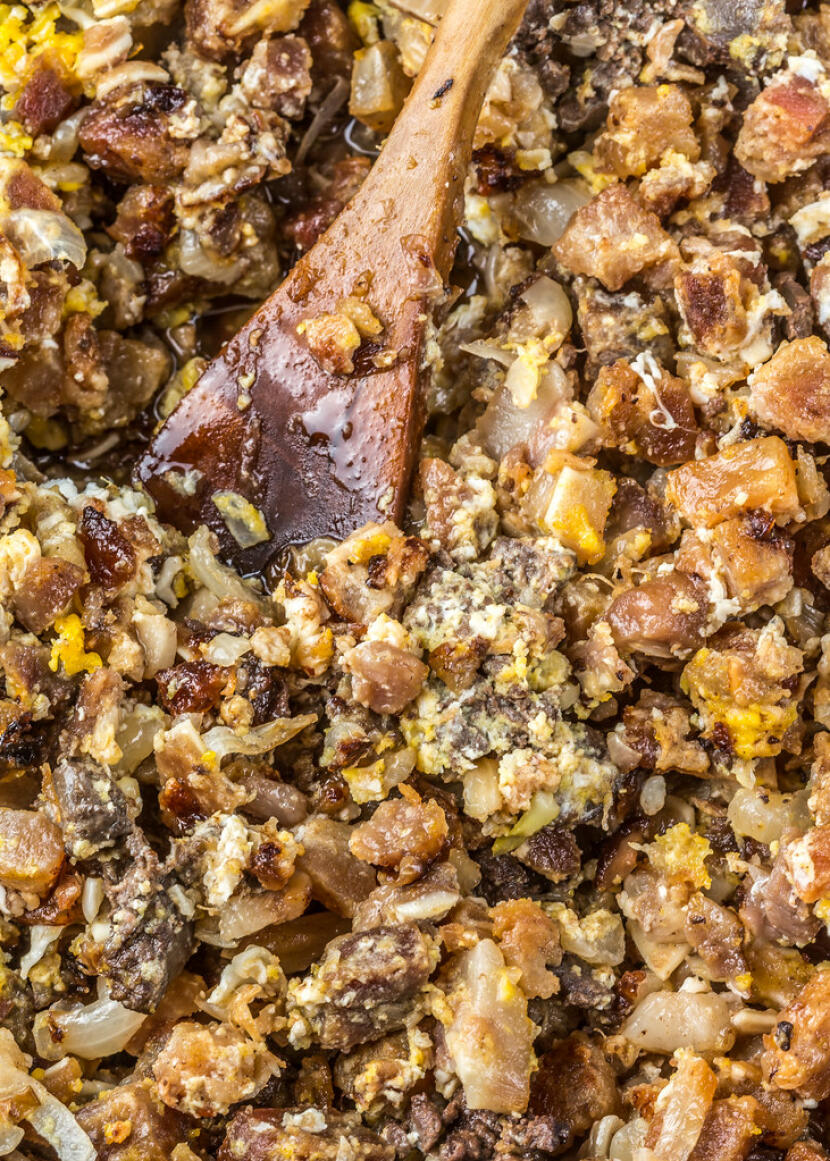 Today's Question of the Day: What is your best nerdy pickup line?
Visit my Twitch stream to catch up on past streams, and hang out when I'm streaming! Want to know when I'm in the kitchen? Hit the follow button (the heart up top) so you'll get notifications when I'm live – it's always free to follow! Or you can follow me on Instagram or Twitter, where I usually post when I'm starting the stream.
Sizzling Sisig
from I Am a Filipino: And This Is How We Cook, by Nicole Ponseca, page 264
2 lbs bone-in, skinless pork belly
1/4 lb pig's ears
1/4 lb pig's snout
1 tbsp whole black peppercorns
3 bay leaves
6 bird's-eye chiles (optional)
vegetable oil
5 garlic cloves, minced
1 medium red onion, diced
1/4 lb chicken livers, pureed
1/4 cup white surgarcane vinegar
2 tbsp calamansi juice or lime juice
kosher salt and freshly ground black pepper
4 large eggs
In a large pot, combine the pork belly, ears, and snout and pour in enough water to cover. Add the peppercorns, bay leaves, and 3 of the chiles (if using) and simmer over medium-high heat until the pork is tender, 2 to 3 hours. Let the belly, snout, and ears cool in the liquid, then transfer them to a platter and set aside.
Heat a grill pan or cast-iron pan over medium heat. Grill the snout and ears over medium heat for about 3 minutes on each side, or until they begin to char. Dice and set aside.
In a large skillet, heat 2 tbsp vegetable oil over medium-high heat. Dice the pork belly and fry until it is light golden brown, then set aside.
Dice the remaining 3 chiles, if you want extra heat, and set them aside.
Wipe out the skillet and heat 2 tbsp oil over medium heat. Add the garlic and all but one-quarter of the red onion and one-quarter of the diced chiles (if using) and cook, stirring often, for about 4 minutes, or until soft. (The reserved onion and chiles will be used to garnish the dish.)
Stir in the chicken liver puree and cook, stirring often, until cooked through, about 3 minutes. Add the pork belly, snout, and ears and cook, stirring continuously, for 1 minute. Add the vinegar and calamansi juice and season with salt and pepper. Set this mixture aside.
In a cast-iron pan or heavy-bottomed (but nonstick) skillet, heat 2 tbsp oil over high heat. Once the oil is very hot, add the pork mixture – be careful, as it will sizzle. Crack the eggs directly on top of the meat and sprinkle on the reserved onion and chiles (if you used them),
Serve the dish immediately. Place the skillet directly on a trivet at the table and use two serving spoons to stir in the eggs, making sure they are well mixed with the meat.
Tortang Talong
from I Am a Filipino: And This Is How We Cook, by Nicole Ponseca, page 134
2 large Asian eggplants (about 1/3 lb each)
2 extra-large eggs
kosher salt and freshly ground black pepper
3 tbsp vegetable oil
2 tbsp crabmeat
fish sauce, for serving
Preheat the broiler.
Lay the eggplants in a single layer on a baking sheet and broil them, flipping once or twice, until they are soft and blackened on all sides, about 15 minutes. (If you have a gas stove, you can do this by holding the eggplants with tongs over a burner on medium-high heat, turning them so they blacken on all sides.)
Place the softened eggplants in a ziplock bag. Set aside for 10 minutes to steam (this makes the skin easier to peel). Peel the eggplants, discarding the skins, and use a fork to gently flatten the flesh.
Put the eggs in a shallow bowl. Beat well and season with salt and pepper.
In a large skillet, heat the vegetable oil over medium heat. Dip each eggplant in the beaten eggs, letting it soak for a second or two so that it is well covered with the egg. Season the egg-dipped eggplant with additional salt and pepper and place it in the skillet. Repeat with the other eggplant, making sure there's room between them in the skillet. Place 1 tbsp of the crab (if using) on top of each eggplant, pressing it down with a fork.
When the eggplants are crispy and browned on one side, 4 to 5 minutes, flip them over and cook until browned and crispy on the second side, about 3 minutes more. Transfer the eggplants to a paper towel-lined plate to drain.
Serve hot or at room temperature, with fish sauce.