Missed the stream? Watch it on Twitch!
Even though it's seemed like a warmer than usual fall/winter so far in LA, I've been unusually into soup this year. Most of my soup-cooking has happened off-stream – I've made creamy italian quinoa soup, roasted garlic chili white bean soup, and ham bones, greens, and beans soup in the past couple of weeks. (All were great, but I'm especially obsessed with the last one – too bad we only end up with a ham bone once or twice a year!)
So to continue my healthy-ish soup obsession, we chose this tasty-looking kale soup with chourico and potatoes (caldo verde) out of one of this month's Cookbook Club picks – My Lisbon by Nuno Mendes.
It was such a tasty choice! All the kale and veggies sounds super healthy, but with the chorizo and buttered bread to top it off, it was downright decadent. (I used the media noche bread I had in the freezer from last time we did Cuban food… Son's been stealing buttered cubes of bread all night!) I've been happy with everything we've cooked from this cookbook so far, and this is no exception.
We also made some citrus and dill gravalax for Christmas, but it will be a few days before it's finished curing and ready to eat – photos of that should be coming up soon!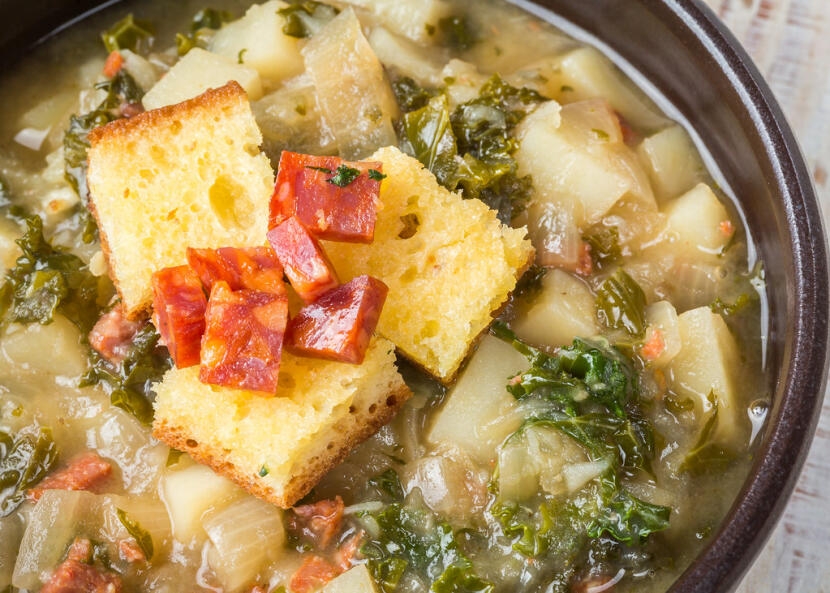 Kale soup with chourico and potatoes (caldo verde)
from My Lisbon by Nuno Mendes
3 tbsp olive oil
5 oz chourico (skin removed) diced, plus a few thin slices to garnish
2 onions, finely chopped
2 garlic cloves, crushed
1 bay leaf
flaky sea salt and ground white pepper
4 potatoes, such as yukon gold, peeled and diced into small pieces
6 cups chicken stock or water
7 oz kale, finely chopped
extra virgin olive oil, to serve
4 slices cornbread, sourdough, or other rustic loaf, toasted, buttered, and cut into small pieces (optional)
good quality white wine vinegar, to serve
Heat the olive oil in a pan over medium heat. Add the chourico, and cook for a couple of minutes, then add the onions, garlic, and bay leaf, season with salt and pepper, and cook until the onions are soft. Stir in the potatoes and sweat for a few minutes, stirring so the potatoes don't stick. Pour in the stock and simmer gently over low heat until the potatoes are soft. Remove a few tablespoons of the potatoes and set aside.
Add half the kale to the soup and simmer for a few minutes. Remove the bay leaf, take the soup off the heat, and blend until smooth with an immersion blender. (Traditionally the soup is not blended, but I like to blend it and add some more fresh kale at the end.) Return the pan to the heat and taste for seasoning. Add the reserved potatoes and remaining kale and simmer for a few minutes.
Ladle the soup into bowls. Finish with some thinly sliced chourico, extra-virgin olive oil, and pieces of toast. As it can be quite a heavy soup, I like to add a splash of white wine vinegar to cut through the richness.
Today's Question of the Day: What are your holiday plans this year?
Visit my Twitch stream to catch up on past streams, and hang out when I'm streaming! Want to know when I'm in the kitchen? Hit the follow button (the heart up top) so you'll get notifications when I'm live – it's always free to follow! Or you can follow me on Instagram or Twitter, where I usually post when I'm starting the stream.