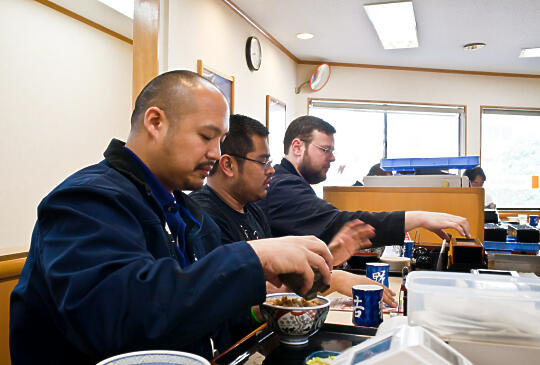 On our fourth day in Japan, we started the day by walking to the other side of Shinagawa station to try Yoshinoya for breakfast.
The beef bowl itself was exactly the same as what you'd get at any Yoshinoya here in the USA.
But the service… very different. Very Japanese. 😀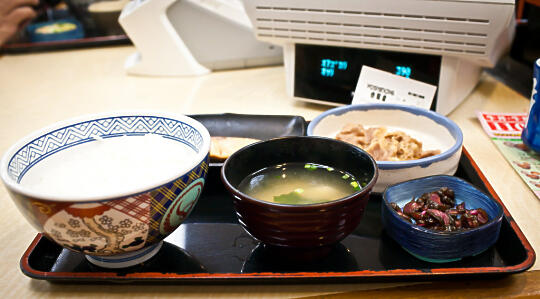 Then we went on our way, back through Shinagawa station to catch the train to our first destination of the day…
… and nearly got trampled in the process. Holy cow. The morning rush hour stampede is ridiculous… and almost dangerous!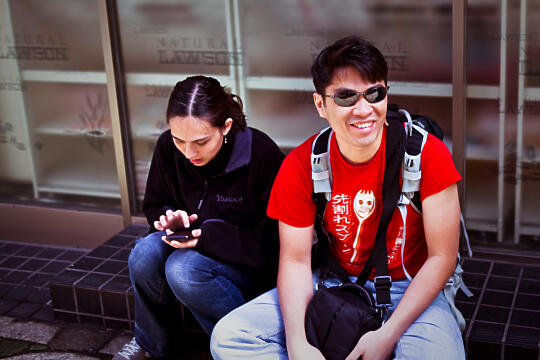 The guys decided they wanted to go to Ginza… because they wanted to visit an Apple store. *sigh* A waste of time, if you ask me… it wasn't much different than any Apple store you'd find here.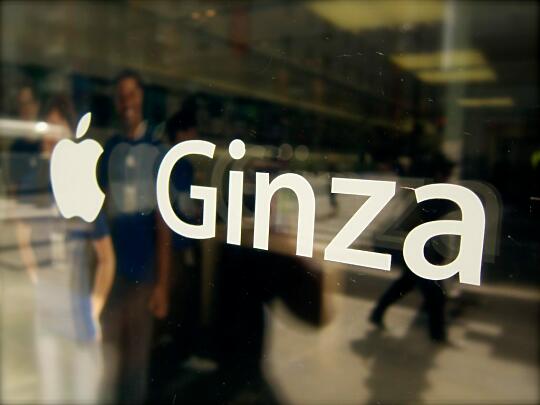 So those of us who weren't shopping decided to leave, and see what there was to see in the area. We were supposed to go to the Tokyo Imperial Palace later that day, so we found a nearby park to hang out at for a little while.
On the way there, suddenly traffic was stopped, there were cops all over the place… and a fancy horse-drawn procession came down the boulevard. It seemed to be some sort of foreign dignitary, perhaps?
We found the park, which had a beautiful (manmade?) cliff overlooking a little lake, complete with cranes, turtles, and several cats who appeared to live there (not strays, though… they appeared to be well-fed, happy, taken-care-of cats, that belonged to the park.)
We had a couple of meat buns for lunch in the park, then, thanks to some misunderstandings and confusion, ended up sprinting the mile or so to the Tokyo Imperial Palace.
Which was… meh… a waste of time, especially if you're like me and really not much of a history buff. Not much to see there, and it was a very short tour.
After the tour, we headed back to our hotel… where I crashed. Meanwhile, the guys went out to get some dinner at CoCo Curry… and my wonderful boyfriend brought back a plate for me.
Wait… CoCo Curry… does that sound familiar?
And yes, it was just as good (better, even?) than the first time we had it. Why is there not one of these in Los Angeles? I could eat it every day! 😉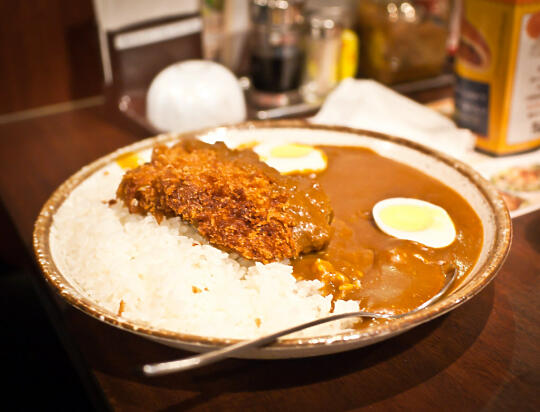 Don't forget, just a few more posts to enter the contest to win a package of nori and a sushi rolling mat from Japan! Just leave a comment on any of my posts about my Japan trip (I'll count one comment per person per post), and I'll pick two winners at the end.