By the second day of our trip, this was quickly becoming a very common, and very welcome sight. You can get darn near anywhere in Tokyo, and even to quite a few other places in Japan, by using their very extensive public transportation system.
The trains, I love them. Oh, how I wish we had a transportation system like this in Los Angeles! How wonderful that would be. 😀
Another sight that quickly became common was that of the guys I was traveling with taking pictures.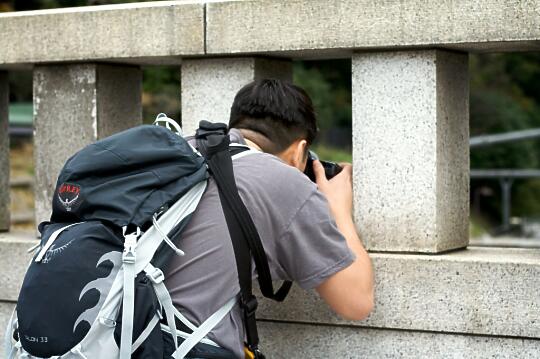 Lots of pictures.
Quite often, all taking the same picture. 😉
On our second full day in Japan, we went to the Harajuku area, and visited the Meiji Shinto Shrine.
While we were there, both a wedding and a special annual ceremony were occurring.
Just off the (very long) path that lead to the shrine, there was a beautiful garden, complete with a lake and tea houses, that we stopped by after visiting the shrine.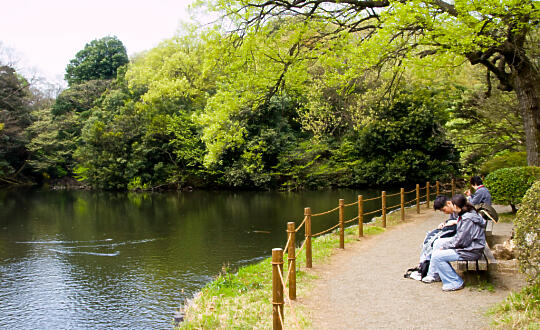 Photo courtesy of David Calhoun

Inside the garden was a sacred well, from which the purest of water was supposed to originate. There was a little path down to the well, where you could dip a piece of paper (that had been given to you at the entrance to the garden) as a sort of spiritual keepsake. From what we could tell, it is supposed to grant you good luck.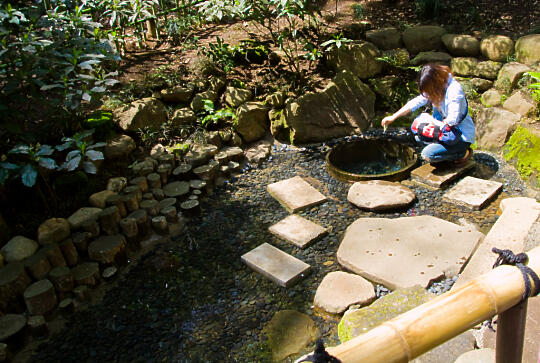 Photo courtesy of David Calhoun




Photo courtesy of David Calhoun

For lunch we headed across the street to Harajuku, where we had some very, very good tempura and udon. Mmm. So good.
After lunch, we stopped by a crepe truck… good stuff. We'd tried these sort of crepes once before back in LA, and read about them on Todd and Diane's blog… definitely try them at least once (if not more!) if you ever visit Japan.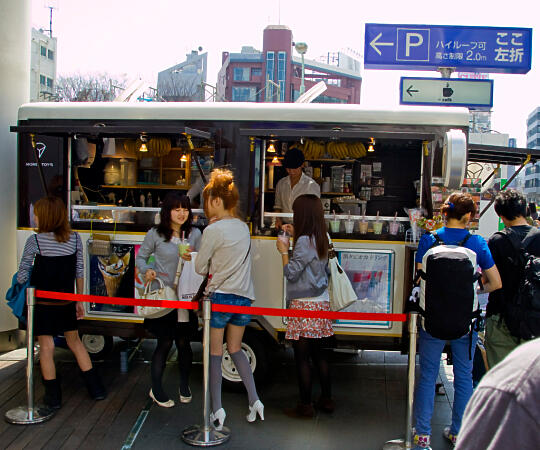 Photo courtesy of David Calhoun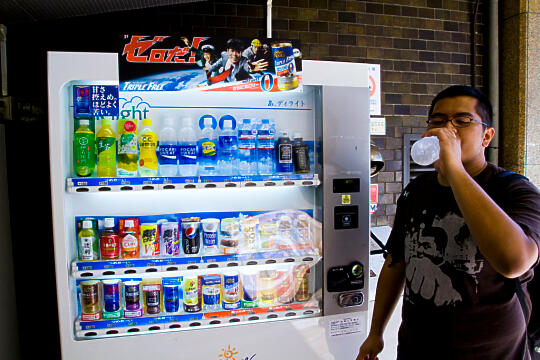 Photo courtesy of David Calhoun

After lunch we headed over to Yoyogi Park… and somehow Son and I got separated from the rest of our group, because we stopped to take this picture:
Oops. 0:-)
(He wasn't the only crazy driver there!)
We didn't realize until later that we had followed that motorcycle all the way to Yoyogi Park!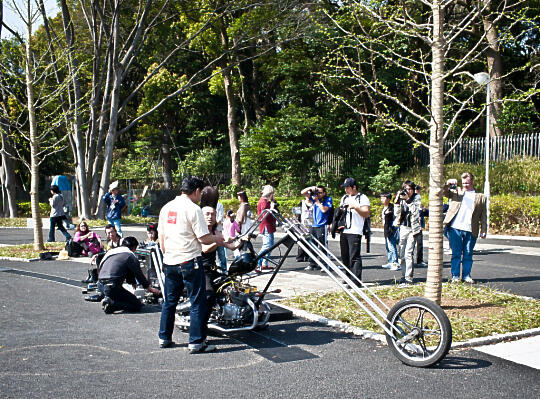 In the plaza just outside the park, there were quite a few Japanese men of all ages, dressed up as Elvis and dancing to his music. 'Twas very strange… it almost seemed like a competition at times, two groups trying to play their music louder than each other, and trying to get more people to gather around watching them.
Apparently this is a club of Rockabilly dancers who do this quite often… you can do a search for Yoyogi Park on YouTube, and you'll find quite a few videos of the dancers.
Son and I took a nice, long stroll through the park… which was gigantic, and filled with people. Some places you could hardly see the ground, there were so many people having picnics, and sitting around. Other places, it was tranquil, with only the many cherry blossom trees surrounding you.
There were people doing just about anything you could think of, in the park. There were groups of people rehearsing dances, playing instruments, playing frisbee or volleyball… even tightrope walking, on ropes strung between two trees. A long bike path snaked around the perimeter of the park, ending at a shop where you could rent bikes for a little while, and there was even a dog park near the far side of the park, with three different fenced sections for different size dogs.
By the time we walked all the way around the park, we were hungry again… and with all of those food stands close to the entrance of the park, we just couldn't resist the allure of Japanese street food. 😀
Yakisoba, grilled scallops, and egg and vegetable pancakes with scallops. All very, very good. Probably some of the best cooked scallops I've ever had!
By then we still hadn't found the rest of our group, so we headed back to the hotel, where we finally found them. (Turns out they had crossed the street while we had stopped at the corner to take the picture, and we didn't cross… so we were actually very close, just on the opposite sides of the street when we lost each other.)
An hour or two to rest, and then dinner!
For dinner that night, we went to a little kaiten sushi (conveyer belt sushi) place in Shinagawa Station (the very large train station right next to our hotel).
And ate lots of sushi.
Lots of sushi.
Shush. Don't judge. I like sushi. 😉
And some very good sushi it was.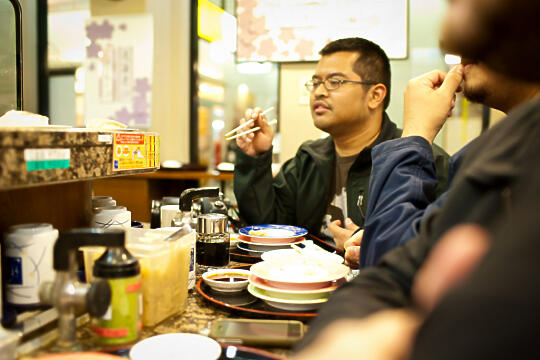 Don't forget, you have until Wednesday, May 12 to enter the giveaway, for an opportunity to win one of two sets of nori and a rolling mat from Japan!
Just leave a comment on any of the daily posts about my Japan trip… you can enter once on each post about the trip, so you have up to 8 chances to win!