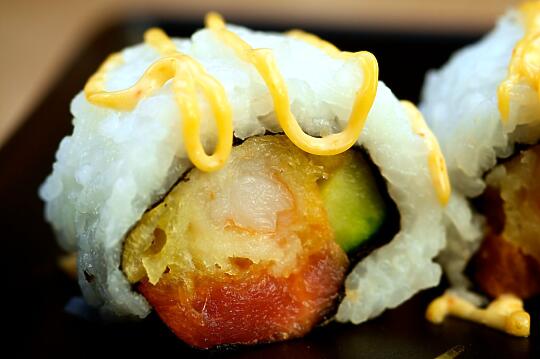 I am a very shy girl. In social situations I'm awkward, quiet, and generally über polite to a fault. Because of this, I have very few people that I can consider really great, close friends. But every once in a blue moon, I meet someone with whom I just *click*. Whether it be online or off, once in a while I just know that I'm going to become very good friends with this person.
Nicole Brunet is one such person. We had probably "seen" each other in passing on certain blogs before then, but we really met almost a year ago when we both joined a new RPG. (Incidentally, I've made quite a few great friends from there. Harry and James have gotten together a damned good group of players there. 😀 ) Since then we've not only become two of the biggest addicts on ER (I mean… addicts? Nah. We don't have a problem, really.) and fantastic friends. You could call us kindred spirits, even. (No pun intended. 😉 )
And… today's her birthday! Happy birthday, Nicole! So, me being me, of course I had to make her sushi. I chose the Sassy Shrimp Roll for her, because Lizzy Nicole is a bit of a sassy one at times (and we all love her for it!) 😉 And because this roll was really freaking good. Only the best for my friends. 🙂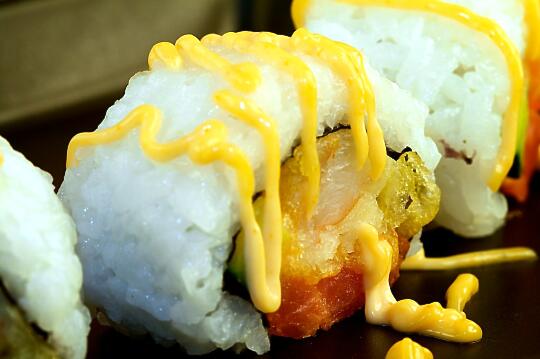 Ingredients
6 sheets nori
3 cups sumeshi
12 pieces tempura shrimp
6 oz sashimi-grade tuna
1 small cucumber
1/2 cup mayonnaise
1 tbsp Sriracha sauce
Cooking Directions
Bake the tempura shrimp for 12 minutes at 350°F, or as instructed on the package.
Remove the tails from the tempura shrimp.
Slice the tuna into long strips, about 1 cm in diameter.
Slice the cucumber into long, thin sticks.
Mix the mayonnaise and Sriracha sauce.
Roll the sushi inside-out, using 2 tempura shrimp, a strip of tuna, and a stick of cucumber as your fillings.
Drizzle with spicy mayonnaise.
Enjoy!
Serving Size: 1 roll Sassy Shimp Roll
Calories:

334

Fat:

11g, 17% DV

Saturated Fat:

1g, 5% DV

Cholesterol:

42mg, 14% DV

Sodium:

734mg, 31% DV

Total Carbohydrates:

42g, 14% DV

Dietary Fiber:

3g, 12% DV

Sugars:

17g

Protein:

15g, 29% DV

Vitamin A:

18%

Vitamin C:

5%

Calcium:

0%

Iron:

9%

Magnesium:

4%

Potassium:

3%
Percent Daily Values are based on a 2000 calorie diet. These values are only estimates based on the individual ingredients, and not meant to replace the advice of a medical professional.