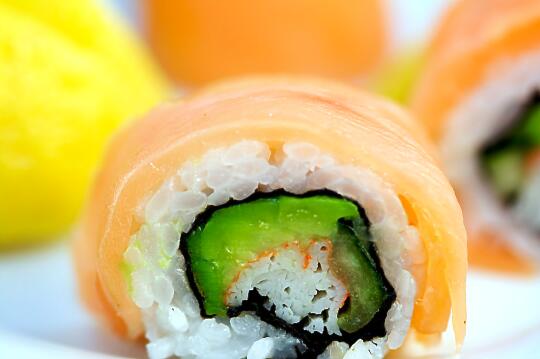 Some people are just a ray of sunshine on a cloudy day. Even when they're going through pain or hard times, they always seem so bright and happy – the kind of person who makes everyone's day better. My friend Wendi Kelly is one such person. As with quite a few of my other good friends, I met her through the Escaping Reality RPG. And the great thing about this woman is that every time I interact with her, whether on ER, or through facebook, or other means of communication, she never fails to make me smile and brighten up even my worst days. 🙂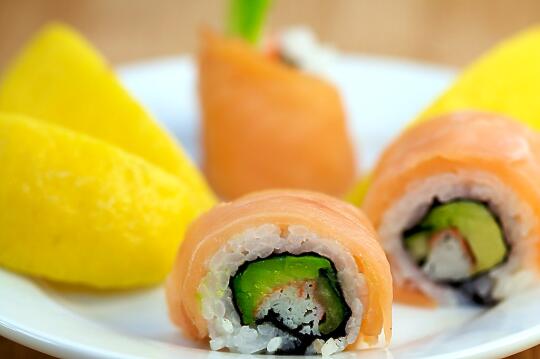 Because today is Wendi's birthday, I just had to dedicate this roll to her. It's so bright and sunny, just like she is. Happy birthday, Wendi!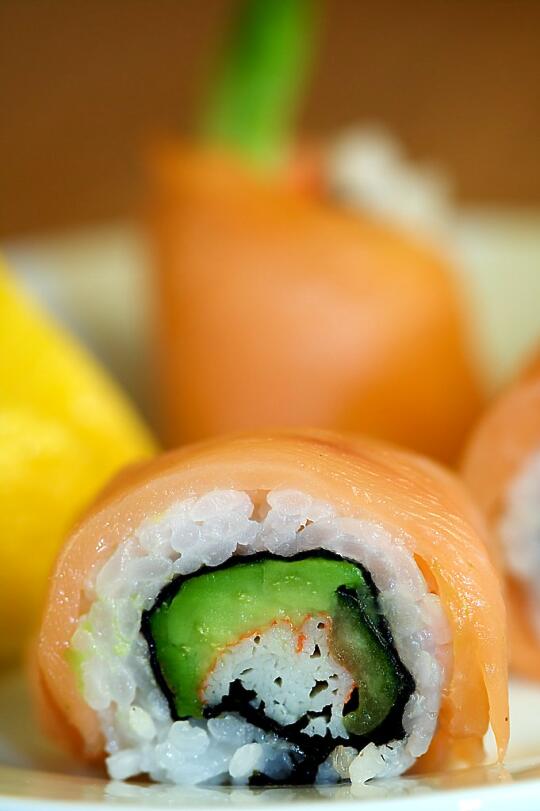 Ingredients
6 sheets nori
3 cups sumeshi
1 cup imitation crab
1 small cucumber
1 small avocado
6 oz smoked salmon
the juice of 1 lemon
Cooking Directions
Slice the cucumber into long, thin sticks.
Cut the avocado in half, discarding the pit.
Use a large spoon to scoop the avocado out of the hard skin, being careful to keep the avocado half as whole as possible.
Slice the avocado into slices.
Roll the sushi inside-out, using imitation crab, cucumber, and avocado as your fillings.
Wrap with smoked salmon, squeeze the lemon juice over the roll.
Enjoy!
Serving Size: 1 roll Lemon Drop Roll
Calories:

240

Fat:

7g, 11% DV

Saturated Fat:

1g, 5% DV

Cholesterol:

23mg, 8% DV

Sodium:

1035mg, 43% DV

Total Carbohydrates:

34g, 11% DV

Dietary Fiber:

1g, 5% DV

Sugars:

19g

Protein:

10g, 21% DV

Vitamin A:

7%

Vitamin C:

15%

Calcium:

1%

Iron:

4%

Magnesium:

6%

Potassium:

6%
Percent Daily Values are based on a 2000 calorie diet. These values are only estimates based on the individual ingredients, and not meant to replace the advice of a medical professional.