Okay, so technically this isn't a very *Mexican* roll. But work with me here – it does use red pepper powder, and technically yellowtail is mostly found in Baja California (at least in North America), which is part of Mexico! Plus it's all pretty and colorful, and today is May 5th! So there. 😀
Of course, neither of us really celebrates Cinco de Mayo. Neither Son nor myself are the least bit Hispanic, plus we don't really party or drink at all. Not to mention I have school and he has to work, so Cinco de Mayo isn't much of a special day for us.
Since I've never really celebrated Cinco de Mayo, I'm curious… what do you do for Cinco de Mayo? Go out and party? Stay home and ponder the historical significance of the day? 😀 I would love to hear your stories!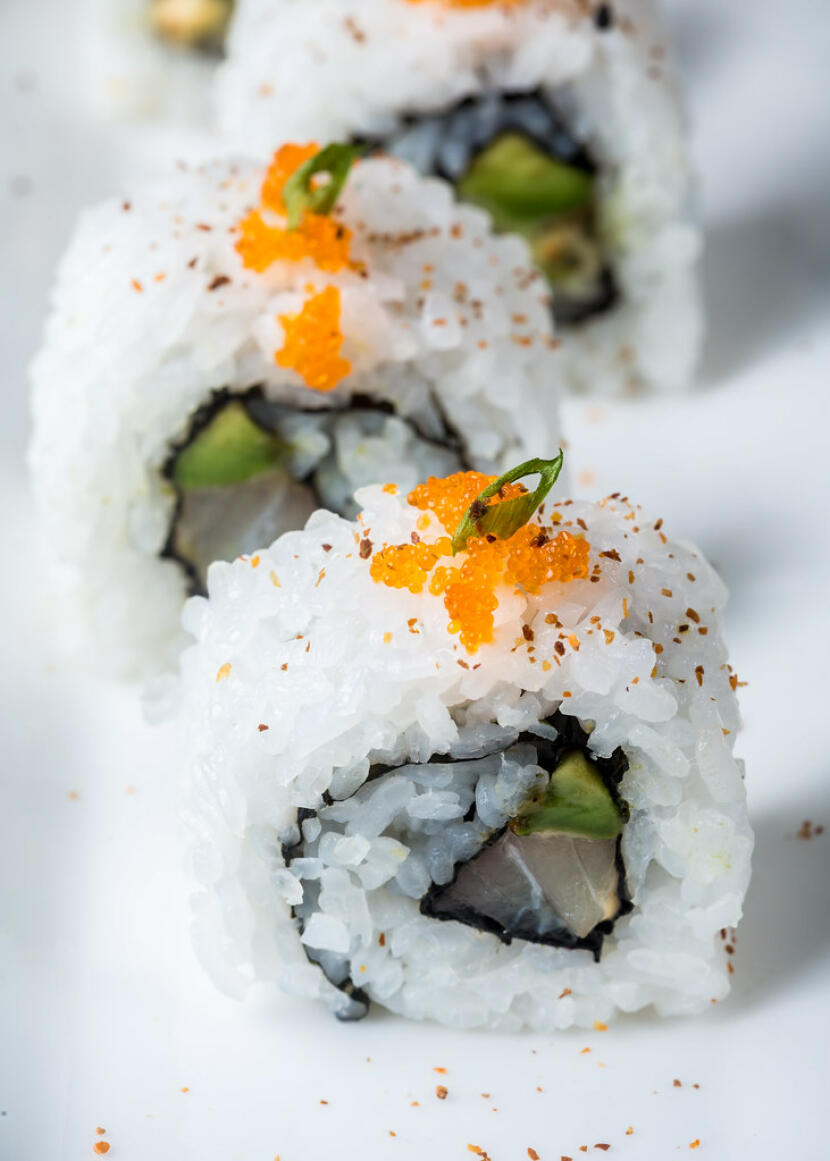 Note: This roll was originally called the Spicy Jamie Roll, but I didn't find it at all spicy, and I don't know who Jamie is, so I decided to change the name to something a little more relevant. 🙂
Ingredients
6 sheets nori
3 cups sumeshi
6 oz sashimi-grade yellowtail
1 avocado
3 stalks green onion
1 oz tobiko
1/2 cup mayonnaise
1 tsp red pepper powder
Cooking Directions
Cut the avocado in half, discarding the pit.
Cut off the hard skin and discard.
Slice the avocado into thin sticks.
Wash the green onion, cut the long green stalks off of the white bulb-like things. Discard the white bulbs.
Chop the green onion.
Slice yellowtail into 1/2 inch by 1/2 inch by 2-3 inch sticks, against the grain.
Mix the mayonnaise and red pepper powder.
Roll the sushi inside-out, using avocado, yellowtail, and the mayonnaise mix as your fillings.
Sprinkle the chopped green onion, tobiko, and additional red pepper powder on top of the roll.
Enjoy!