I first tried yellowtail sashimi late last year, and it was love at first bite. Now, if you held a gun to my head and forced me to choose (please don't, by the way) yellowtail would be my sashimi of choice, even over tuna and salmon! It has such light flavor and just melts between your teeth – it's not chewy at all! There's nothing not to love about yellowtail!
A little background information about yellowtail: A lot of people think that yellowtail is a type of tuna. This is a huge misconception… Yellowtail is actually a type of Jack Fish, but is also called yellowtail kingfish in Australia and New Zealand. It's called yellowtail because… you guessed it – it's tail is yellow! The yellowtail is a super duper powerful swimmer and has a very aerodynamic… er… aquadynamic? (edit: one of my readers, Lodewijk, has informed me it's actually hydrodynamic 😀 ) body, shaped like a torpedo. This makes it very fast and a popular game fish. It is one of the top three game fish in Southern California – I've even found it at my farmers market! It is generally found in the tropical waters of the Southern Hemisphere and in the northern Pacific. (California, Baja California, Japan!)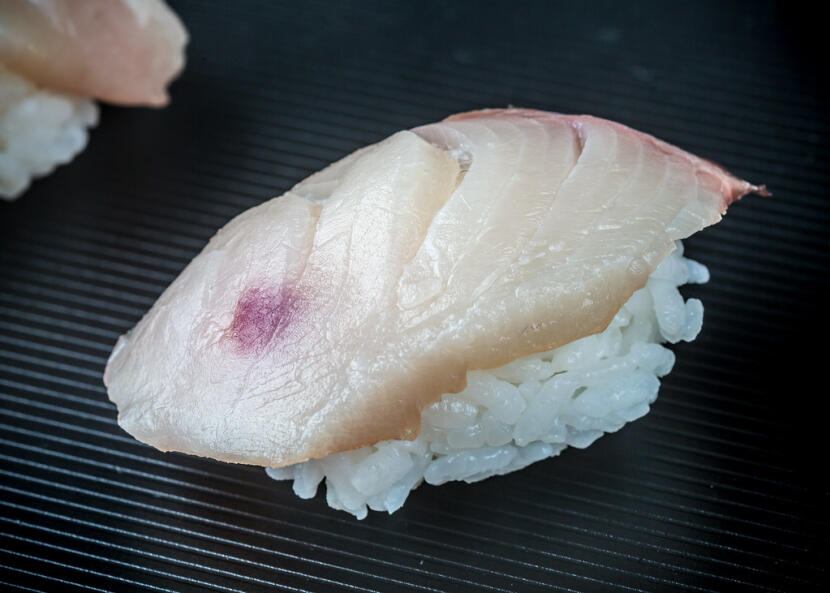 Ingredients
1 cup sumeshi
1 oz yellowtail sashimi
Cooking Directions
Using either your hands or a rice mold, form the rice into 5 or 6 small oblong balls.
Cut the yellowtail into slices larger than your rice balls.
Place each slice of yellowtail on top of a rice ball. You may place a small dab of wasabi on the underside of the yellowtail if you wish.
Serve with shoyu, wasabi, and ginger if desired.