So simple, and yet so good. This is definitely the most basic type of sushi, and the most common one seen in media, sushi bars, and anywhere else sushi or pictures of sushi might be found. Not surprisingly this is what most people thing of when they think of sushi.
Tuna (maguro) nigiri is something I get at almost every sushi restaurant/bar I go to, just because it is so darn delicious! However I wouldn't recommend serving this to people who are grossed out by the idea of eating raw fish… a little too much of a fishy flavor for that. Personally, I think it would be better to start out with yellowtail (hamachi) or white tuna (ono)… they have much subtler flavors, and are much softer to bite into!
We were so lucky to receive this tuna. Over Thanksgiving weekend last year, we spent Thanksgiving day with my family, and then went home. Later, that Saturday, we went back out to my parents' to go with the family to an annual Christmas party that I hadn't been to in years. Coming home, we found out that a neighbor of my parents had gone fishing that day (he owns his own boat) and caught some fantastic yellowfin tuna. He cleaned, filleted, and vacuum-packed the fish on his boat, so it was all ready for us to take home! All I had to do was slice the fillet and roll it in sushi! Are you hungry yet? 🙂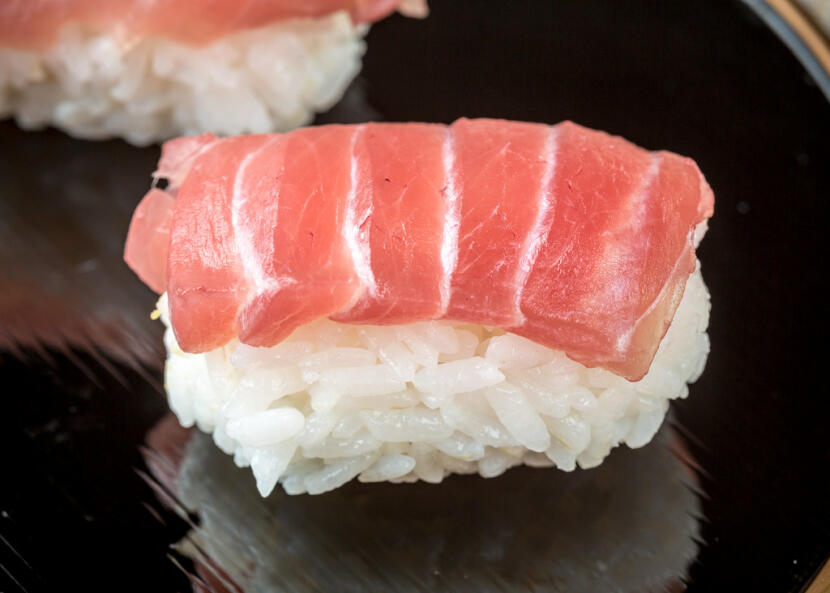 Ingredients
1 cup sumeshi
1 oz sashimi-grade tuna
Cooking Directions
Using either your hands or a rice mold, form the rice into 5 or 6 small oblong balls.
Cut the tuna into slices larger than your rice balls.
Place each slice of tuna on top of a rice ball. You may place a small dab of wasabi on the underside of the tuna if you wish.
Serve with shoyu, wasabi, and ginger if desired.