I love yellowtail. We all know that. You might also know that I love the mayonnaise mix that I used in the Maguro Karakuchi Spicy Tuna Roll. (I put it in tuna salad, and I'm seriously considering hard-boiling some eggs and putting it in egg salad!) So of course, I had to see what happened when I put both together! However, since I like to mix things up a little, I couldn't do exactly the same roll, just with yellowtail instead of tuna! (Well, I could, but how interesting would that really be?) Lucky for me, I've got awesome-as-can-be readers. One of my awesome readers, Kevin, commented saying that he had made something similar to my Maguro Karakuchi Spicy Tuna, except he made it gunkan-style with the sauce on the top, instead of as a roll. Genius! Pure genius! Thus the natural thing for me to do is to steal… er… borrow his idea and make it with yellowtail!
It was delicious. I will be making it again. Kevin, you win the Awesome Sushi Day Reader Award! 😀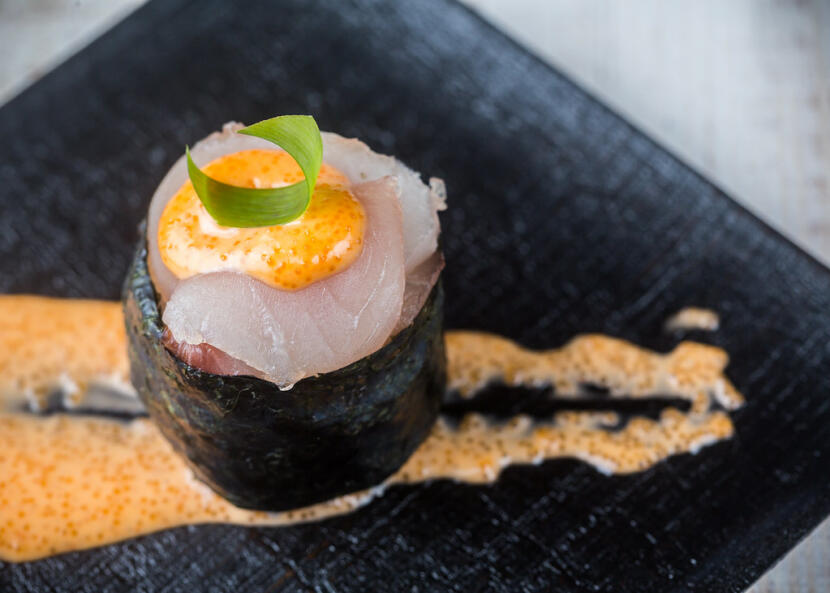 Ingredients
4 sheets nori
3 cups sumeshi
6 oz sashimi-grade yellowtail
1 cup mayonnaise
2 tbsp Sriracha sauce
1 oz tobiko
6 stalks green onion
Cooking Directions
Form a small ball of rice with your hands or use a round cookie cutter to make a small circular rice shape about 1″ tall and 2 inches in diameter.
Cut the nori into 2″ strips. Wrap a strip of nori around the circumference of each rice ball.
Wash the green onion, cut the long green stalks off of the white bulb-like things. Discard the white bulbs.
Chop the green onion.
Mix the mayonnaise, Sriracha sauce, tobiko and green onion.
Slice yellowtail into 1 cm diameter slices.
Curl each strip of yellowtail into a circle, fit on top of the rice into the nori.
Top the yellowtail with some of the mayonnaise mix.