All the ooey gooey beefy messiness of a sloppy joe, with the flavors of a philly cheesesteak? We're making philly cheesesteak sloppy joes today!
Do you ever have something that just sticks in your mind, and you can't stop thinking about it?
I bookmarked this recipe for philly cheesesteak sloppy joes from the Dinner Then Dessert blog over two years ago, and it's been on my mind ever since.
Which is weird, because I HATED the concept of sloppy joes as a kid. I was extremely not a fan of any foods that got your hands super messy.
And while I've had philly cheesesteaks before and quite enjoyed them, growing up I wasn't particularly a bell pepper kind of person.
But for some strange reason, the idea of these cheesy, beefy, bell pepper-filled sloppy joes just sounded SO good to me.
We did some last-minute video shuffling last week, which meant that not only did I have some free space in the schedule, but I also had some ingredients that I had bought that now needed to be used.
Such as these bell peppers.
And provolone cheese.
GUESS WHAT RECIPE HAPPENS TO USE BOTH THESE THINGS.
I was so excited.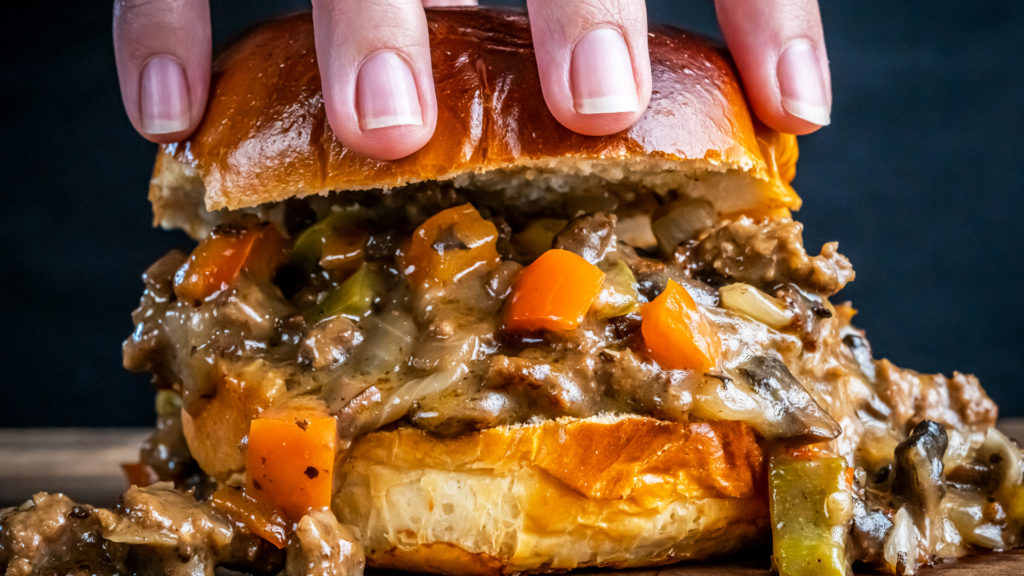 The recipe starts with ground beef!
One pound, nice and brown. Cook it over medium heat until all the liquid evaporates and all the pink is gone, and then cook it some more until it develops a nice brown crust! Only stir every now and then – if you're constantly moving the meat around, it won't get a chance to develop the crust.
Remove the meat from the pan, and set it aside for now. If there's any fat, you can leave that in the pan for the next step.
Add a couple of tablespoons of butter to the pan, and then your veggies.
First, a small onion, evenly diced.
Then a small green bell pepper – although I happened to have extra bell peppers in the fridge that needed to be used, so I just diced them all up and tossed them in. The extra veggies worked out fine!
Lastly, some mushrooms, also diced. The recipe calls for 8oz of regular brown mushrooms, but I happened to have 10 oz of portobello mushrooms, so I used those instead.
All these veggies will release a good bit of liquid, so it'll take a little while for them to cook down. Stir occasionally, but more often once the pan begins to look dryer.
Once your veggies are beginning to brown nicely, add the cooked beef back in.
And now that we've cooked all the liquid off, it's time to add… a bunch more liquid.
First, mix a tablespoon of cornstarch into a cup of broth. The recipe calls for beef broth, but as we know I'm all about using up whatever random ingredients I already happen to have open, so I went with the chicken broth that was already open in the fridge.
Pour this over your meat and vegetables – you'll see it start to thicken pretty quickly.
Then add a couple of tablespoons of ketchup, which will bring a sweet tanginess to the dish.
And a tablespoon of Worcestershire sauce for some deeper umami.
A bit of salt and freshly ground pepper, just to round everything out, and then mix it all up! Cook until most, but not all, of the liquid has evaporated. You don't want it soupy, but you definitely still want some gooeyness to your mixture. When you've attained the ideal consistency, remove it from the heat.
Lastly, the cheese! Chop up about 8 oz of provolone cheese, although you can use less if you don't want quite so cheesy of a dish. Add that in, give it a good stir so the cheese gets all melty and gooey, and you're ready to eat!
Serve it in a toasted brioche bun, and enjoy this ooey, gooey, oh so tasty mess of a sandwich!
Also! Son's been playing with 3D photogrammetry, and he created a 3D version of this dish!!! You can drag the image below around to view it in 3D.
Philly Cheesesteak Sloppy Joes
from Dinner then Dessert
Ingredients
1 lb lean ground beef
2 tbsp butter
1 small yellow onion, diced
1 small green bell pepper, diced
8 oz brown mushrooms, minced
2 tbsp ketchup
1 tbsp Worcestershire sauce
1/2 tsp Kosher salt
1/2 tsp fresh ground black pepper
1 tbsp cornstarch
1 cup beef broth
8 oz provolone cheese, chopped
6 brioche hamburger buns
Cooking Directions
Add the ground beef to a large cast iron skillet (this browns very well) and brown until a deep brown crust appears before breaking the beef apart.
Stir the ground beef and brown until a deep crust appears on about 50% or so of the beef.
Remove the beef (you can leave the fat) and add the butter and the onions and bell peppers and mushrooms.
Let brown for 1-2 minutes before stirring, then let brown for another 1-2 minutes before stirring again.
Add the beef back into the pan.
In a small cup mix the beef broth and cornstarch together
Add the ketchup, Worcestershire sauce, salt, black pepper, beef broth/cornstarch mixture into the pan.
Cook until the mixture is only slightly liquidy (about 75% of the mixture is above liquid), 3-5 minutes.
Turn off the heat, add in the provolone cheese.
Served on toasted brioche buns.
Sub to my YouTube channel and follow me on TikTok or Instagram to get notified whenever we have new videos!
Links in this post may be affiliate posts. If you buy an item through an affiliate link, I get a small fee, which helps support this blog!