A chewy crepe with a layer of egg, filled with a spicy dobanjiang peanut sauce, green onions, and kettle chips – we're making jianbing today!
We'd been up at 3:30 am to catch our flight from LAX to Portland. We took the train into downtown… and then got hopelessly lost, as the tall buildings interfered with our attempts to use GPS.
But that early in the morning, our hotel room wasn't ready for us – so we dropped off our luggage and headed off to wander Portland.
In an exhausted daze, we walked, and ate, walked and ate some more. Hainan chicken and doughnuts, wandering across bridges that were a stark reminder of my fear of heights. We had just barely wandered into Powell's when the text came – our room was finally ready for us.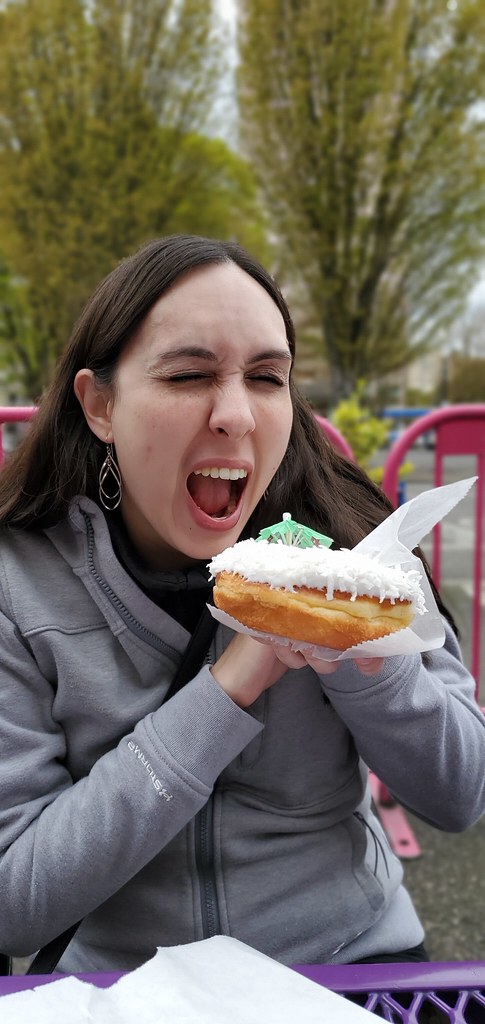 All that walking had worked up a good appetite – so after we dragged our luggage to our room, but before our badly needed nap, we headed out once more.
Portland is known for its food carts, and lo and behold there was a food cart lot just a couple of blocks from our hotel. We wandered our way around it once, twice… so many options, how to decide?
We happened upon a cart called Bing Mi, which I recalled hearing about before our trip. They serve jianbing, which literally translates to "fried pancake" – Chinese crepes that were filled with egg, sausage, black bean paste, chili sauce, pickled vegetables, green onion, cilantro, and a crispy fried cracker.
It was the perfect pre-nap snack.
When Elgnad redeemed "chef's choice" as her cookbook redemption and told me to choose any cookbook I liked, I instantly decided to cook from The Art of Escapism Cooking. Mandy Lee, the author, is the writer behind the Lady and Pups blog. I cooked a lot of recipes from both her blog and her cookbook back on my Twitch stream – I love how she puts an even more Asian twist on Asian dishes, and just about every recipe I've made of hers has been fantastic.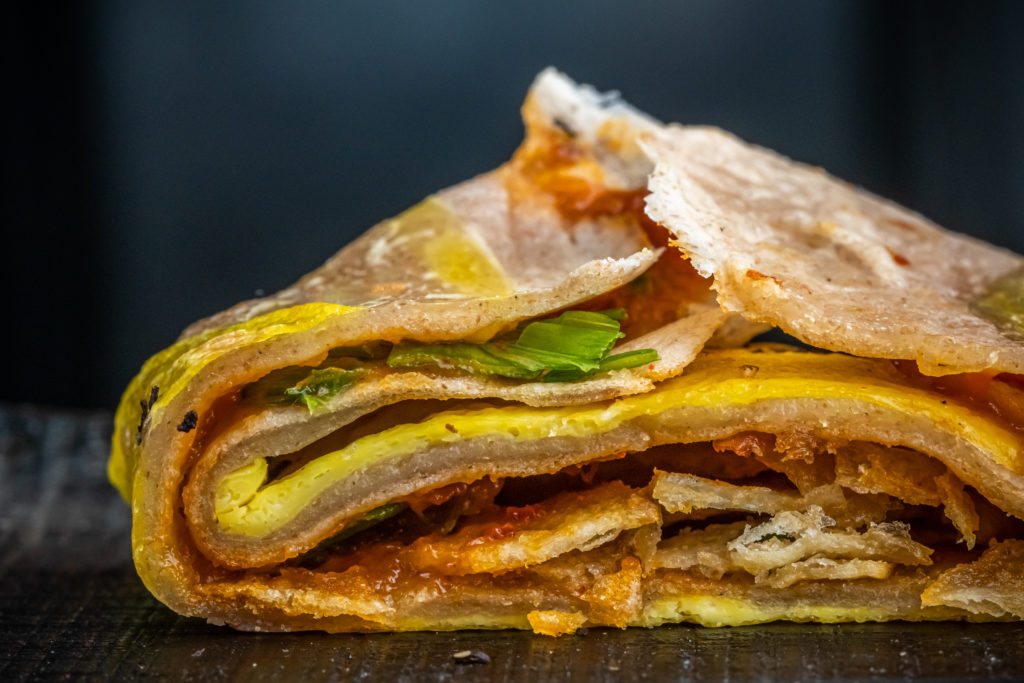 Some of her recipes can be a bit of a project, with a lot of components to make for the final recipe. And they're absolutely worth it (plus I can just have Shrimpy cook them for me), but for the first recipe that I cook from Mandy's cookbook on this YouTube channel, I wanted to make one of her simpler recipes.
Mandy's version of jianbing starts with the batter.
All-purpose flour makes up your base, and then a whole grain flour such as spelt, rye, buckwheat, mung bean, or whole wheat flour. I happened to have a bag of rye leftover from a failed attempt at a sourdough starter earlier this year, so that's what I'm using. This will add heft and flavor to your crepe.
Then, we're adding tapioca starch, which will give your crepe a wonderfully chewy texture. You know we're all about that QQ.
A bit of water and vegetable oil to bring it all into a batter.
And then just a touch of brown sugar and sea salt to round out the flavors.
Whisk that all together, and let it sit for half an hour.
While you're waiting on your batter, make the douban chile sauce.
Doubanjiang is a spicy fermented bean paste used commonly in chinese cooking. It's SPICY, so if you're not a fan of heat, you can absolutely use less and tone down the spice a bit.
Add a little milk to thin it out.
And then honey for sweetness, and to balance the spice a little.
A bit of peanut butter, to add an earthy nuttiness that will come through the spice.
And a single grated garlic clove.
Mix all that until smooth, and set aside.
You should also beat together your eggs and dice your scallions, if you haven't already.
Now it's time to cook. Heat your empty nonstick pan over medium heat for about 30 seconds. The recipe says medium-high, but I had trouble spreading my batter thinly enough if it's too hot.
Without adding any oil or anything, pour some of your batter into your pan. For most pans you can aim for three crepes, but I'd recommend starting with a scoop of batter, using a pastry scraper or back of a ladle to smooth the batter as thinly as possible, and then adding a little more batter around the edges if possible.
You really want the thinnest crepe you can manage – the first one we made ended up a little thicker, and it wasn't nearly as tasty.
Let the crepe cook a few minutes, until it starts to brown in spots.
Pour a third (or less, depending on the size of your pan and how much batter you used) of the beaten egg over the crepe, and spread it evenly over the crepe.
Dust with freshly ground black pepper, and let it cook for a minute, until the egg has started to set.
Turn off the heat, and carefully flip your crepe. Brush the eggless side of the crepe with the douban chile sauce – a very thin layer! The recipe makes more sauce than you'll probably need, as it's quite spicy. We originally put a decent layer of sauce on the jianbing and practically had flames shooting out our ears. We were much happier with a very thin layer – but even then, it's still pretty spicy!
Then scatter half the green onions over the sauce, and then sprinkle it with a handful of crushed kettle chips, which she uses instead of baocui or a fried wonton cracker.
This isn't part of the recipe, but if you have it, you could also add cilantro or pickled vegetables such as mustard greens into your crepe.
Fold the sides in to make a square, cut in half, place in a paper bag, and serve immediately!
Spelt (or rye) Jianbing with Kettle-Cooked Potato Chips
from The Art of Escapism Cooking
Ingredients
Batter
1/2 cup (63g) all-purpose flour
1/4 cup (35g) whole grain spelt (or rye, buckwheat, mung bean, or whole wheat) flour
1/4 cup (32g) tapioca starch
3/4 cup water
1 tbsp vegetable oil
1/2 tsp light brown sugar
1/4 tsp fine sea salt
Douban chile sauce
3 tbsp doubanjiang
2 tbsp whole milk
1 1/2 tbsp honey
1 tbsp smooth peanut butter
1 garlic clove, grated
Toppings
2 large eggs, lightly beaten
freshly ground black pepper
2 tbsp finely diced scallions
2 tbsp chopped cilantro, optional
2 tbsp chopped pickled mustard greens, optional
2 small handfuls lightly salted kettle-cooked potato chips
Cooking Directions
In a large bowl, whisk all the batter ingredients until smooth and lump-free. Let rest for 30 minutes at room temperature before using.
To make the douban chile sauce, in a small bowl, mix the douban chile sauce ingredients together until smooth and set aside until needed.
It's best to use a nonstick crepe pan about 13″ in diameter, which will make 2 jianbing. If you have a smaller crepe pan, that's fine as well, and you'll probably end up with 3 smaller crepes.
Have a pastry scraper ready on the side. Heat the crepe pan over medium-high heat, without oil, for about 30 seconds, until warm. Pour half of the batter into the pan (if your pan is smaller, you'll need less), and use the pastry scraper to spread the batter outward with a circular motion until it just thinly covers the entire pan. Don't worry about getting it perfect in the first spread. You can keep spreading the batter over itself, and it will eventually smooth out any uneven parts. This is why you want the pan to be warm and not hot, so you'll have more time to spread the batter out. Let the crepe cook for several minutes, until the first side starts to show a few browned spots here and there (lift the crepe up with a spatula to check).
Now pour one-half of the beaten egg on top (again, you'll need less if the pan is smaller) and use the pastry scraper to spread it out with the same circular motion until it covers the entire crepe. Dust with freshly ground black pepper and let cook for 1 minute, until the egg is set enough to be flipped (it should still look a bit wobbly), then turn off the heat and flip the crepe over.
Brush a generous amount of douban chile sauce on the eggless side, enough to cover the entire crepe. Scatter some of the scallions, cilantro, and/or pickled mustard greens all over, then lightly crush a small handful of potato chips in your hands and scatter them in the middle. Fold two sides of the crepe towards the middle, then the other two sides as well to make a large square pocket. Serve immediately in a paper bag.
Sub to my YouTube channel to get notified whenever we have new videos!
Links in this post may be affiliate posts. If you buy an item through an affiliate link, I get a small fee, which helps support this blog!