We love kimchi!
Napa cabbage kimchi.
Dried radish kimchi.
Fresh radish kimchi.
Chive kimchi.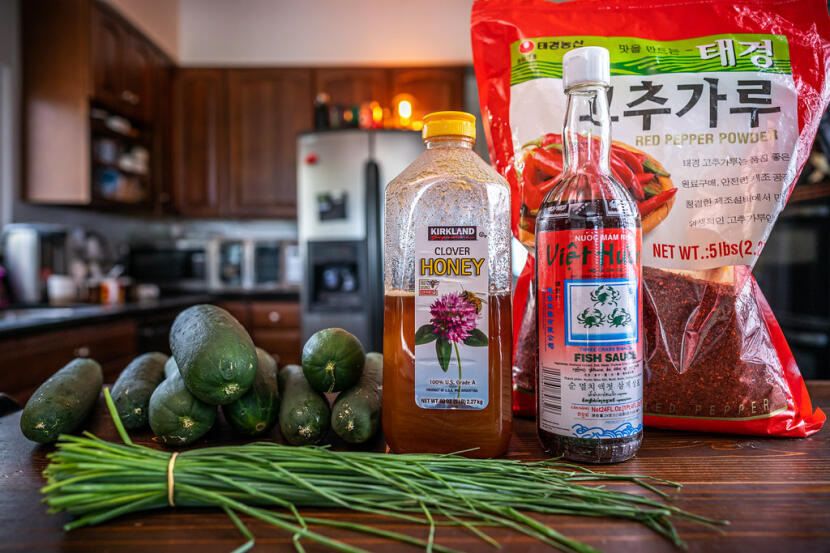 But the kimchi we make the most often, because the ingredients are super readily available and it's SO danged easy to make, is this cucumber kimchi.
You can use any sort of cucumbers for this. Lebanese cucumbers – the thin-skinned ones with fewer seeds – is preferable, but I almost always use normal english cucumbers because they're much easier to find.
It's super quick to make. Salt them for 20 minutes to just slightly pickle them, and in the meantime you can make the sauce.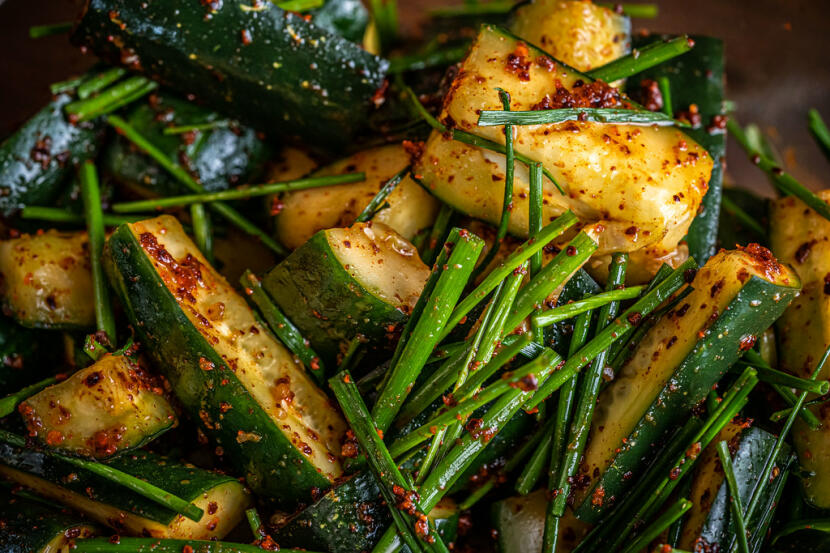 Gochugaru, which are the korean chili flakes, add spice.
Garlic and ginger for that punch of flavor.
Honey for sweetness.
Fish sauce for salty umami.
And then chives for that extra kick of flavor. If you can get them, absolutely go for chinese chives (aka garlic chives). I normally can't, so the normal chives that most stores carry (aka onion chives) work just fine!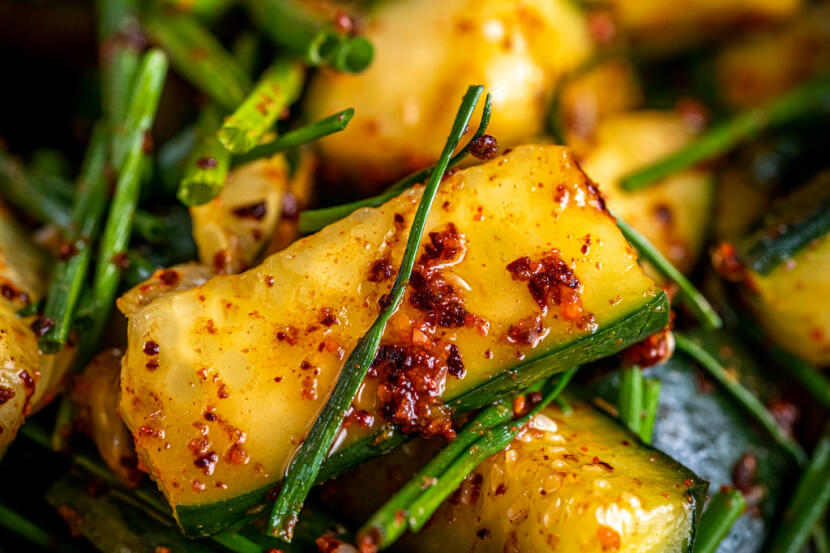 If you'd like, you can also add carrots, apple, and salted shrimp. I usually don't, for simplicity's sake, but they're all in the original recipe.
It's the perfect summer kimchi. Spicy but refreshing. Cold and salty and so much umami. Excellent with rice, veggies, and especially grilled meat. (Methinks it's time for some at-home KBBQ soon!)
Cucumber Kimchi
adapted from My Korean Kitchen
Ingredients
1 lb (about 3) cucumbers, rinsed
1 tbsp kosher salt
20 g (1 bundle) chives, cut into 2″ pieces
Sauce
1 tbsp minced garlic
1 tbsp honey
1/2 tbsp fish sauce
1/2 tsp minced ginger
Cooking Directions
Cut off both ends of the cucumbers and discard. Divide the cucumbers into 3 pieces, then quarter each piece lengthwise. Put the cucumber into a large bowl then gently mix in the salt so the cucumbers are evenly coated. Let rest for 20 minutes, then rinse and drain well.
Combine all of the sauce ingredients, then gently mix into the cucumbers. Gently mix in the chives. Transfer into a glass container and cover.
If desired, let sit at room temperature for about 12 to 18 hours before refrigerating. Serve chilled.
Sub to my YouTube channel to get notified whenever we have new videos!
Links in this post may be affiliate posts. If you buy an item through an affiliate link, I get a small fee, which helps support this blog!