I was dancing around, singing "guacamole guacamole guacamole" while making this, and had a realization… guacamole… guaca-mole… mole! Like the sauce!
So I went and looked it up, and did you know that the word 'guacamole' comes from the Aztec word 'ahuacamolli', which translates to 'avocado sauce'?! (There's supposed to be a bar over that first 'a', but WP is being a brat and refuses to display it no matter what I do, so just know that I would have included the correct accents if I could have. *facepalm*)
Language is so cool.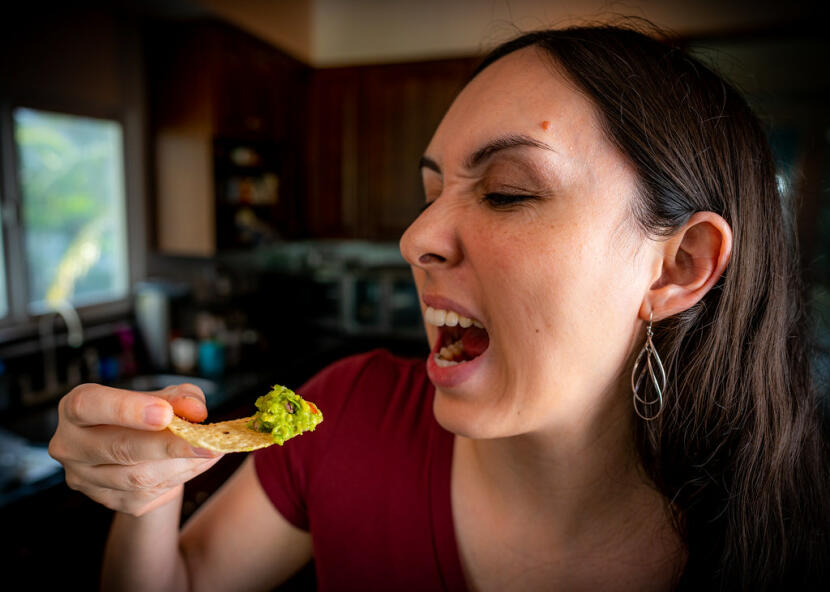 So we're making guacamole today! I've had all sorts of different versions in the past – restaurant guac, avocados mixed with jarred salsa at home, avocados mixed with mayo for grandma's 7-layer dip, avocados mixed with cottage cheese (??) and other mixins at my grandpa's. (I dunno. But it still tasted good!)
How do you like your guacamole?
And did anyone ever actually try that pea guacamole from the NY Times?
The guacamole I'm making today includes cherry tomatoes for sweetness, red onion for its bite, jalapeno for a floral touch of spice, herbacious cilantro (for those of us who love it), and the bright pop of lime juice.
Guacamole
Ingredients
6 small avocados
1 cup cherry tomatoes, diced
1/4 red onion, diced
1 jalapeno, seeded and diced
1 tbsp cilantro
1 tsp lime juice
salt and pepper
tortilla chips, to serve
Cooking Directions
Carefully remove skin and pits from avocados. Scoop into a small bowl and mash to your preferred guacamole texture.
Mix in diced tomatoes, red onion, jalapeno, and lime juice. Season with salt and pepper, to taste.
Serve with tortilla chips for scooping, or on top of tacos. Enjoy!
Sub to my YouTube channel to get notified whenever we have new videos!
Links in this post may be affiliate posts. If you buy an item through an affiliate link, I get a small fee, which helps support this blog!