Today we're throwing it waaaaay back, and making my favorite sushi roll ever – the bacon crunchy shrimp roll, which debuted on SushiDay almost exactly 12 years ago, all the way back in 2007!
This is my favorite roll, my entire extended family's favorite roll, and a must at our New Year's sushi feast every year.
Of course we had to make it for my YouTube channel – complete with puppets, my terrible amazing voice acting, and adorable ratings via sushi plushies!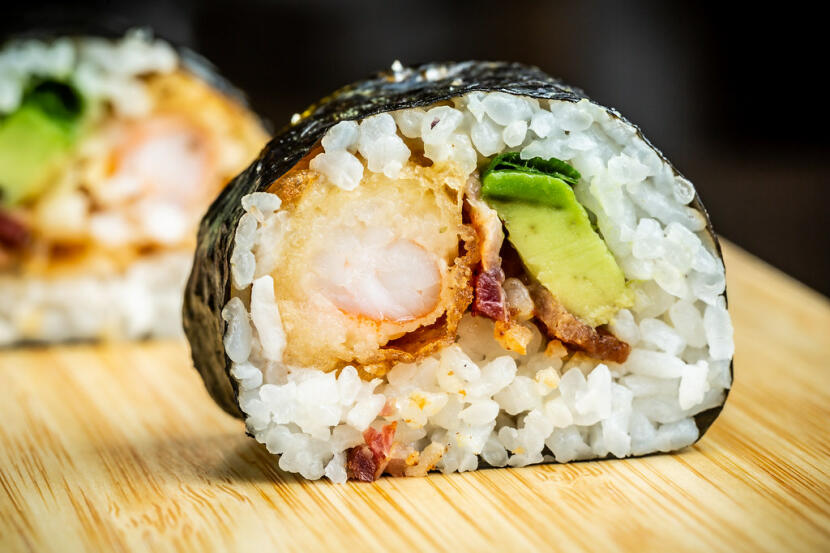 Today's Question of the Day: What is your favorite sushi roll?
Makes 1 roll
Ingredients
1 sheet nori
1/2 cup sumeshi
2 tempura shrimp, cooked according to directions on the package
1-2 slices of bacon, cooked and crumbled
1/4 avocado, sliced
1 green onion stalk
kewpie mayonnaise
sriracha, to taste
Cooking Directions
Cook bacon and tempura shrimp, slice avocado
Mix sriracha into kewpie mayo, to taste. A little goes a long way, so start with just a few drops.
With a bamboo rolling mat, roll the sushi, using the tempura shrimp, bacon, avocado, green onion, and spicy mayonnaise as your fillings.
Slice the sushi, and enjoy!
Sub to my YouTube channel to get notified whenever we have new videos!
Links in this post may be affiliate posts. If you buy an item through an affiliate link, I get a small fee, which helps support this blog!