On the morning of our sixth day in Japan, we planned to go to Tsukiji fish market with Rachael.
Key word: "planned".
We dragged ourselves out of bed around 3am. Neither Son nor I are morning people (we're more likely to be going to bed around 3am), so there was definite dragging involved, however before long we were up and ready to go see some fish!
And then we got stuck in our hotel.
Seriously.
As I've mentioned before, one of the lower levels of our hotel connects to a train station, so that's how we would usually get across to Rachael's hotel, since hers is just on the other side of the station.
But what we hadn't realized, is that they close the train stations overnight. Completely shut. No way in, no way out. (Probably to keep out homeless people and mischief-makers when the trains aren't running during the wee hours of the morning.
In fact, even the doors to our hotel were locked – we had to go through the 24-hour Family Mart connected to the hotel to get out… and then to get back in, once we realized that there was absolutely no way to get into the train station.
(The people in Family Mart must have thought we were fools, trying to get out at that hour!)
So we finally made our way back up to the first floor of our hotel (which was an adventure in itself, since all the escalators had been turned off as well).
Once there, we wandered about, trying to figure out how the heck to get to Rachael's hotel – up until then, we had always gotten there through the train station.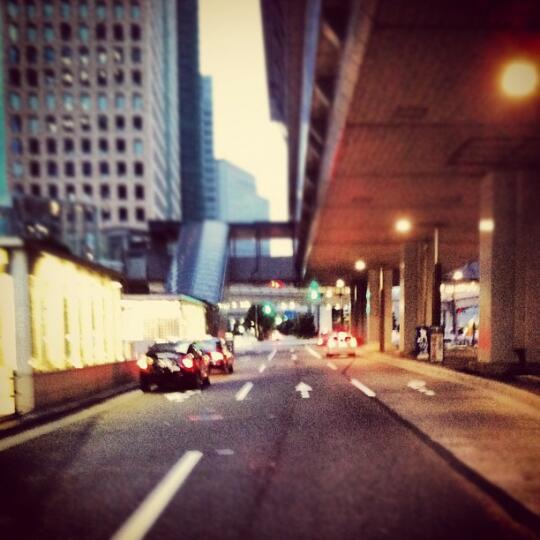 Finally, we got to the Conrad. By that time, we were fretting, because we were certain we were too late to get to Tsukiji on time anyways – apparently you had to be there by 4:30am to have any chance of getting in, as they only allow very few people in every morning.
And… Rachael was nowhere to be found.
I tried messaging her. No response.
Okay, so now we're panicking. What if she went off looking for us? What if she's waiting in front of our hotel, while we're over at hers? When we all went out, she usually used our Pocket Wifi, so we started worrying that she couldn't get any of our messages, either.
So off Son went, running around the area, trying to locate our missing Rachael.
He ran back to our hotel. No Rachael. He jogged down to the train station, which was just opening up. No Rachael.
By that time, half an hour had passed since we were supposed to meet her, and we were at the end of our wits.
Then I got a message. "I just got up and realized my alarm didn't go off!!! I am so sorry!"
Yep, Rachael was still in bed, NOT wandering the streets of Tokyo looking for us! We were so relieved. By that time there was no chance of getting to Tsukiji on time, so Son and I headed back to our hotel and got a few more hours of much needed sleep.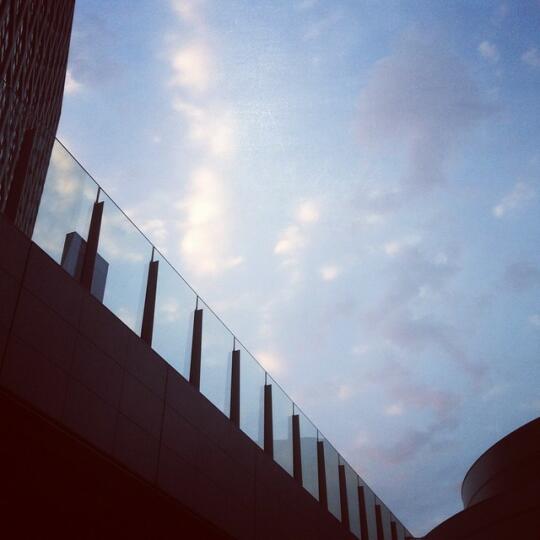 Five hours later, we were up and getting ready for the day once again.
And by getting ready for the day, I mean watching an NBA game Son found on TV.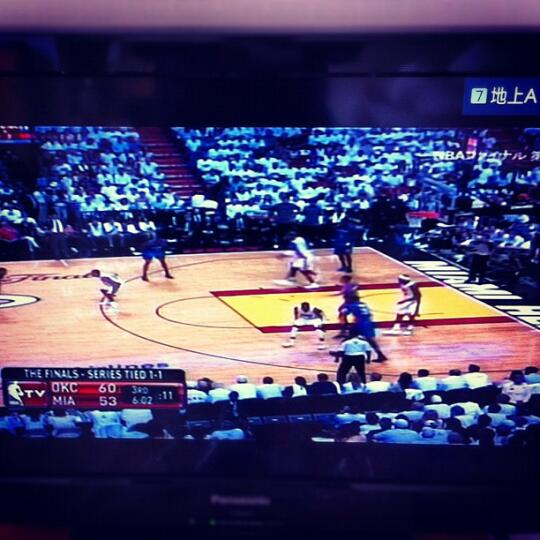 But soon enough we were ready, and met Rachael and her girls (this time we were all able to find each other without any problems) so we could all head over to Hamarikyu park. (300 yen per person to get in.)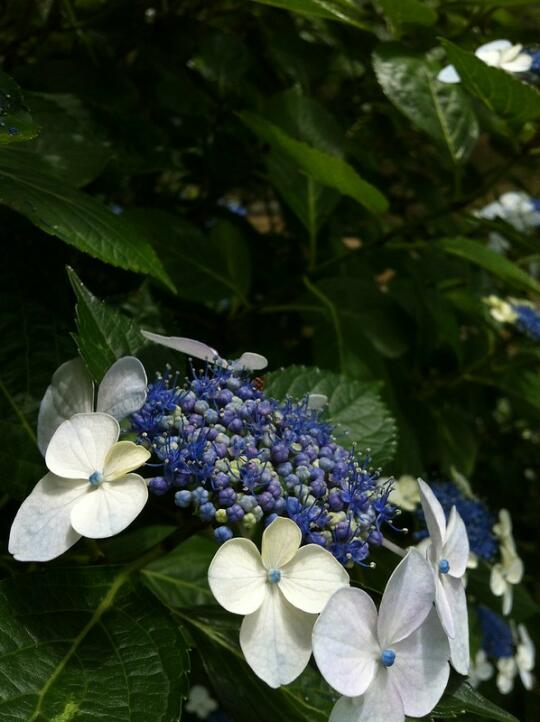 Son got a bit of videotaping done while we wandered around in the park…
(If you're lucky, he'll have time to process the videos soon so you can all see them!)
But our real purpose of the trip was to take the waterbus from Hamarikyu Park, up the Sumida River to Asasuka. (730 yen per person.)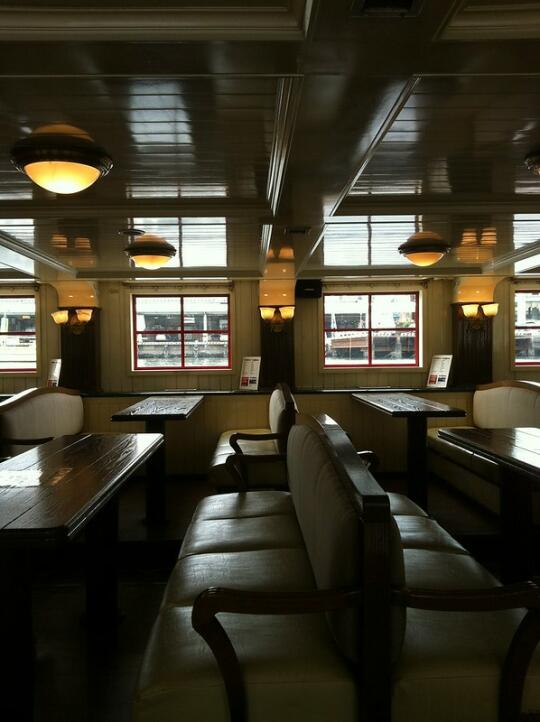 We decided to sit on the lower level, where it was much less crowded.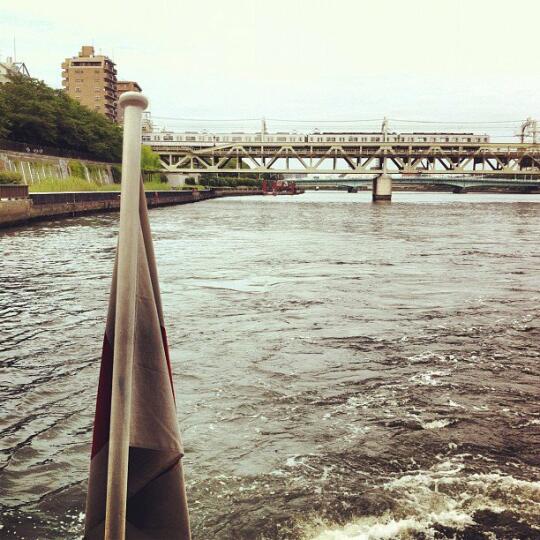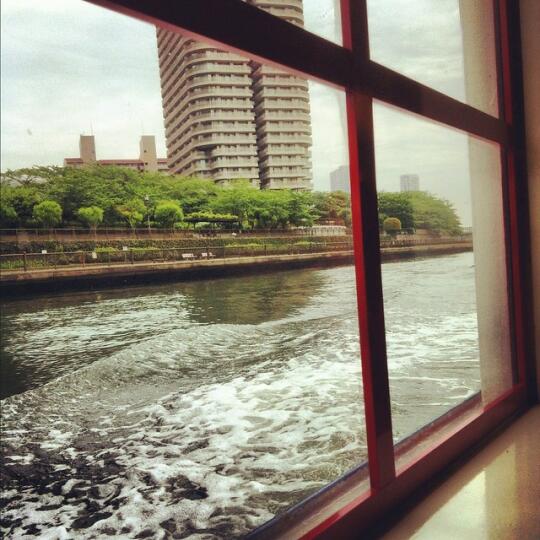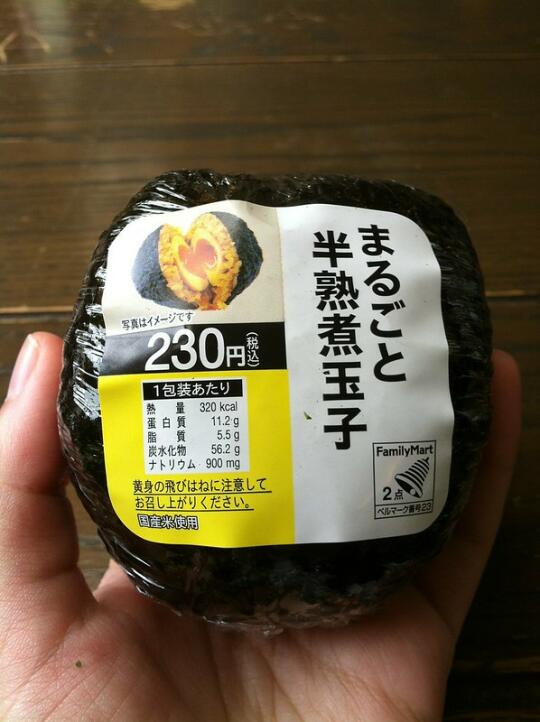 While on the waterbus, Son and I shared an onigiri with a soft-boiled egg inside that we had purchased earlier that day.
Once off the waterbus, we headed over to Nakamise-dori, the "shopping street" leading up to the Senso-ji temple.
This street is lined with about 89 shops, selling all sorts of different things.
We stopped at a shop selling freshly made senbei and taiyaki-type pastries (they weren't fish-shaped, but aside from the shape they seemed to be essentially the same as taiyaki… so that's what I'll be calling them).
Rachael bought some senbei, and I bought some of the taiyaki.
A little closer to the temple, there was a shop selling fried mochi.
Both Rachael and I got mochi filled with a sweet potato paste. Delicious!
Once at the temple, we rested in the shade for a few moments – it was a really hot day, especially with so many people crowding the streets there.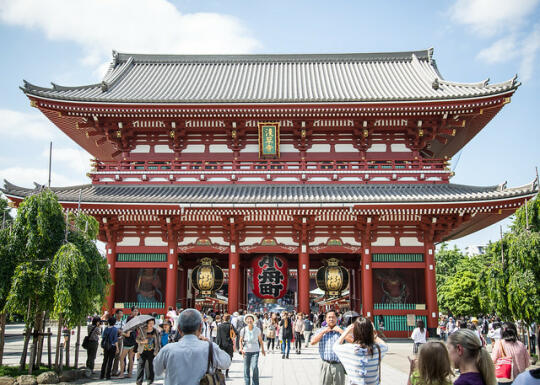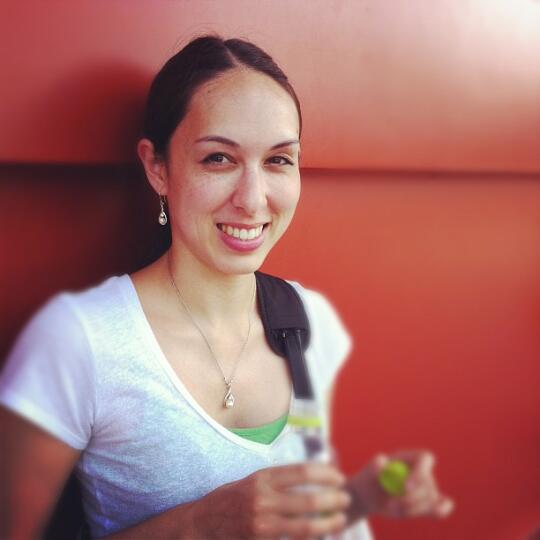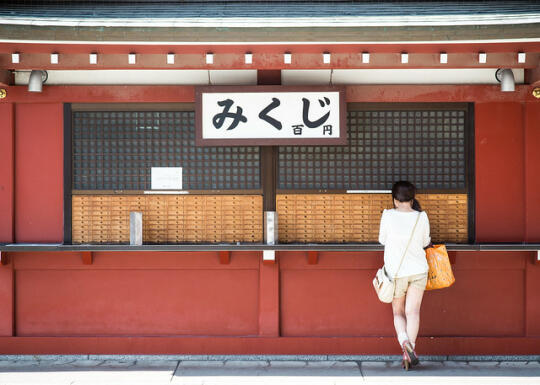 We spent a little time walking through the temple, but like I said before, it was quite crowded there that day, so we didn't stay long.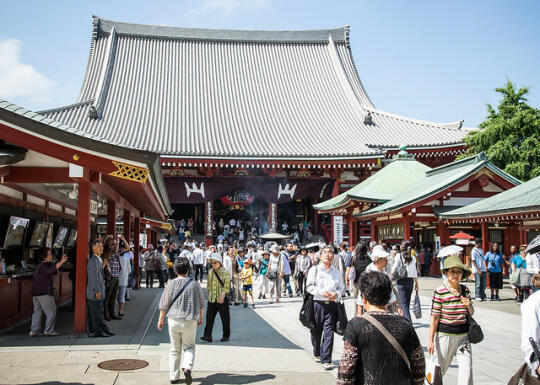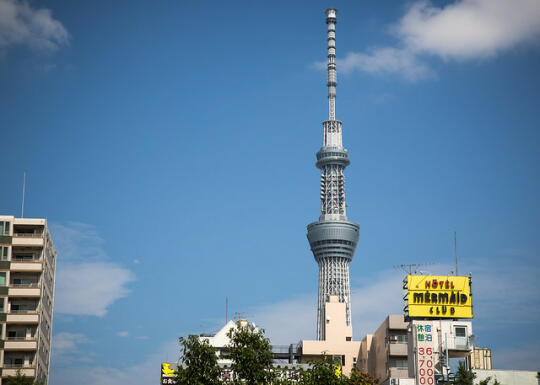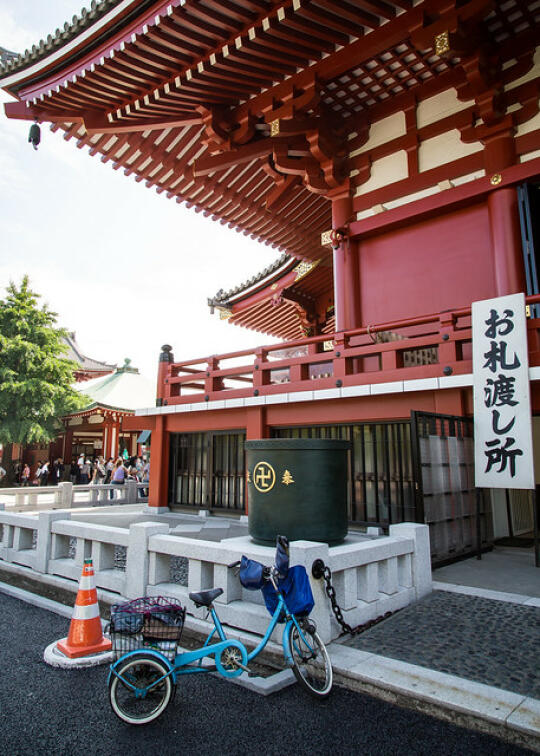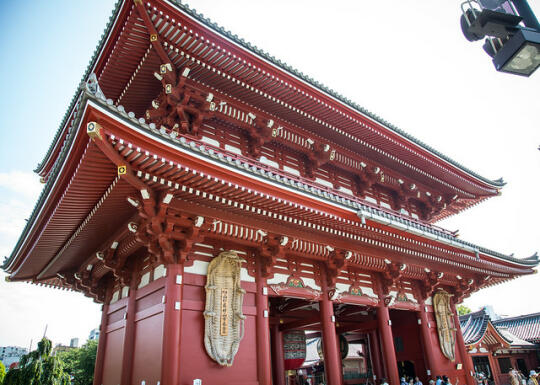 Of course we had to stop for ice cream on the way out. (Seriously, it was so hot that day, I think I nearly got heat stroke – I was swaying and dizzy while waiting to order, and I think the ice cream helped a lot.)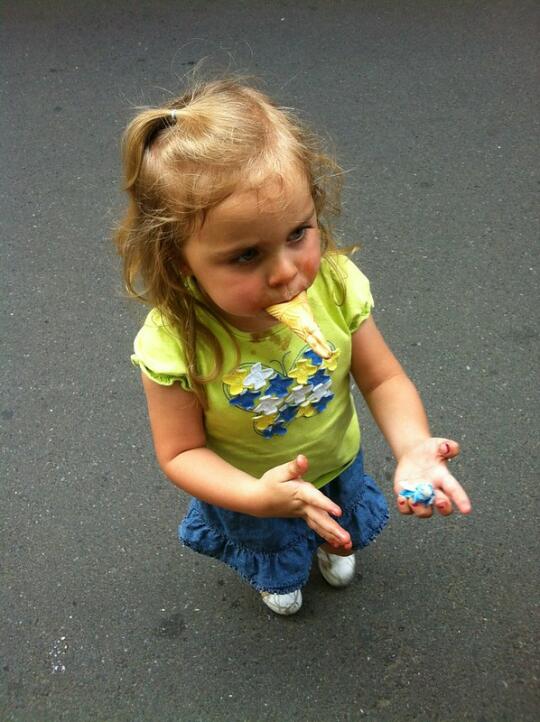 Then we stopped at a park – or rather, the girls stopped at the park, begging to get to play. So we sat there for an hour (I did my part pushing them on the swings!) while the girls ran around, and we got to rest in the shade for a bit.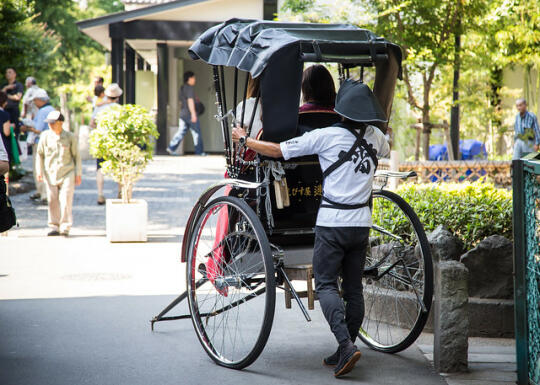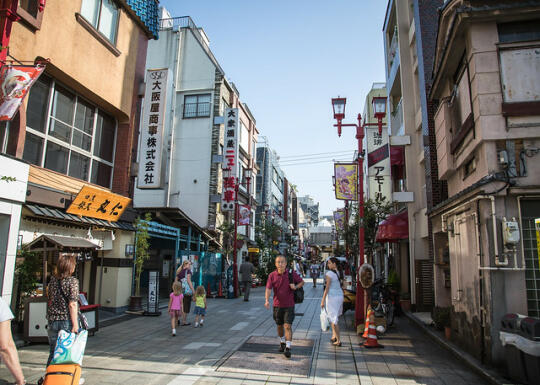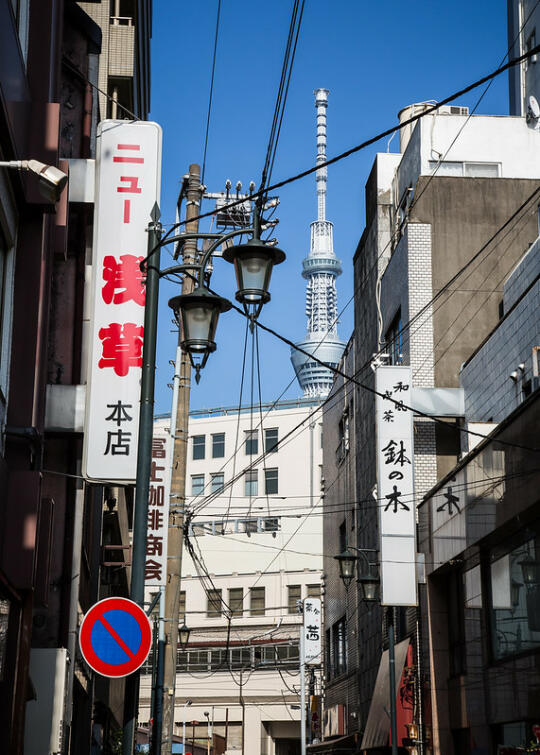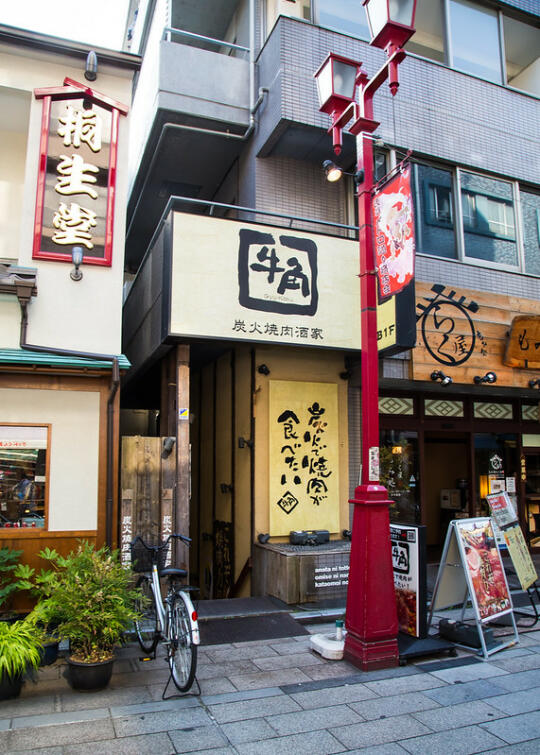 Eventually we got back to our hotels, with just enough time to run up and freshen up really quickly before we had to be at their hotel for our next adventure… dinner at one of Rachael's favorite places.
We all took taxis, both for ease of getting to our destination, and so we wouldn't be late for our reservation.
We were headed to a little place in Shibuya, called Kaikaya by the Sea.
Rachael raves about this ginger ale served in a cold copper cup, and I can see why. It was delicious.
We started with a Chinese chicken salad. Everything was family-style, and it was a set meal.
Then some delicious, wonderfully fresh sashimi.
There was a battered, fried shrimp dish with a mayonnaise sauce that reminded me of the walnut shrimp that's common in a lot of Chinese restaurants in the US…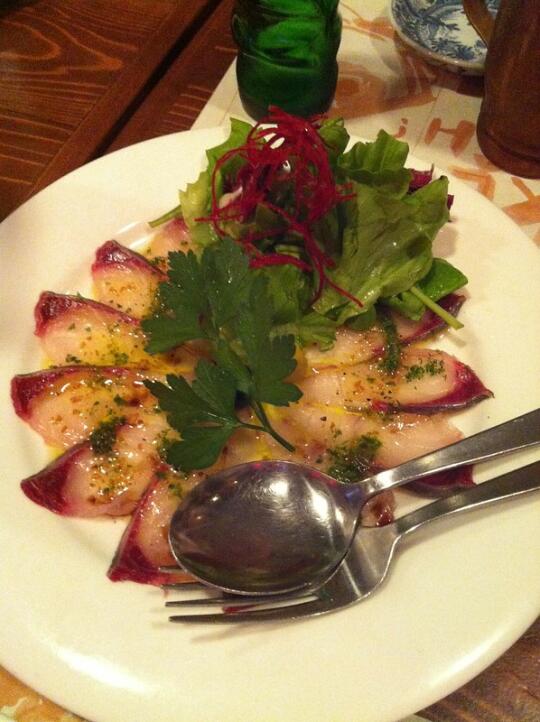 … and a fantastic kampachi carpaccio that was one of my favorite dishes of the evening.
Rachael always raves about the tuna "spareribs" (actually tuna cheek, but prepared like spareribs), which was pretty good.
But what we're still dreaming about are these corn and shrimp fritters…
… and this fried buttery goatfish.
Seriously, holy cow. I've had some great fish before, but that goatfish was incredible.
The meal wound down with some sort of lighter-than-usual fried rice.
As well as miso soup made with fish (though I can't recall trying any).
For dessert, green tea cheesecake. (Rachael and her husband had sakura ice cream, since they don't drink green tea. I got to try a bite of Rachael's and it was really good!)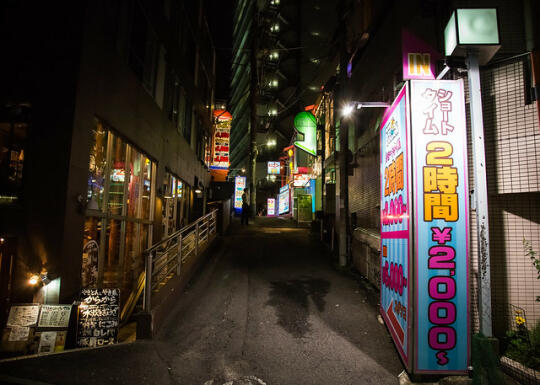 After dinner, Rachael, her family, and her husband's coworkers (who had joined us for dinner) all had to head back to their hotels, but Son (of course) was still hungry.
So we went back and walked around Shibuya a bit.
On the way toward the train station from Kaikaya by the Sea, Rachael had pointed out her favorite gyoza chain, so of course we had to go back and buy a box.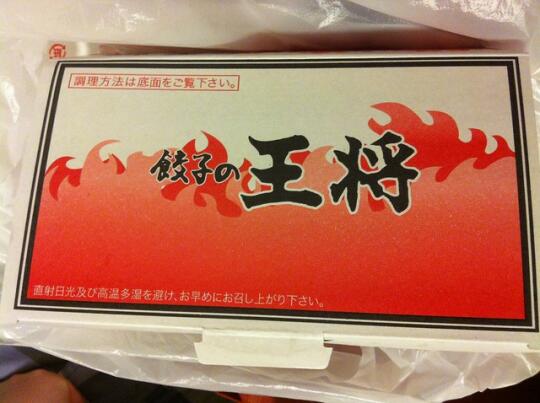 Then we headed back to our hotel to try them. I was still too full to eat more than one, but had to agree that they were delicious.
And, more importantly, they filled Son up. Success! (And time to pass out.)