On our fourth day in Japan, Rachael's husband rented a car (both he and Rachael are licensed to drive in Japan) and we went on a road trip!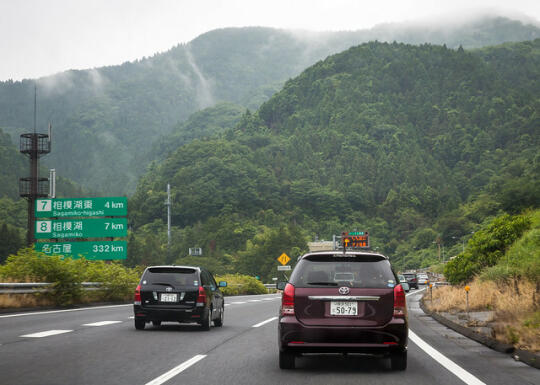 This was especially cool, because this meant Son and I got to see a side of Japan we would have never gotten to see if we were there by ourselves, taking the trains everywhere.
One such example is the Japanese rest stops.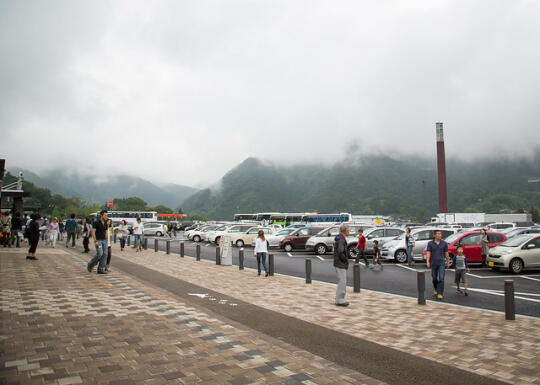 We stopped at a rest stop on the way. Holy cow, Japanese rest stops there are extravagant!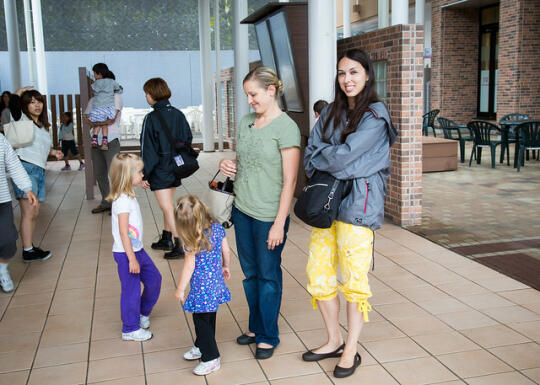 It had lots of restaurants, shopping areas, and tons of parking. It was practically a mini-mall.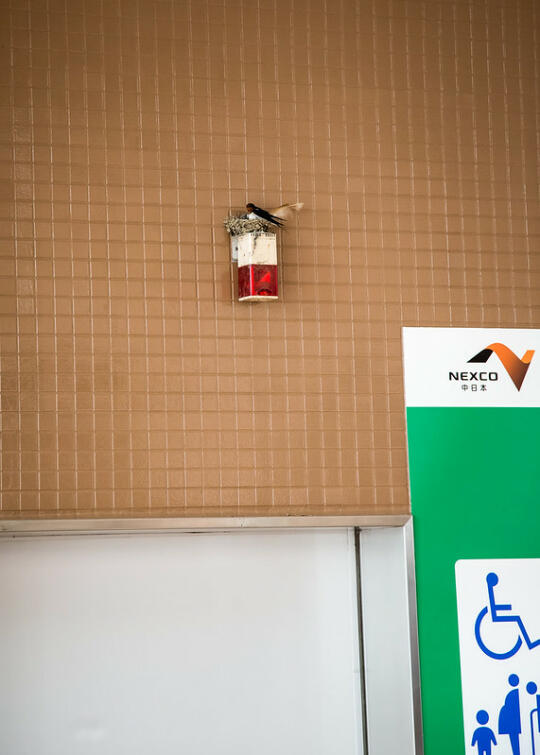 Then it was back on the road.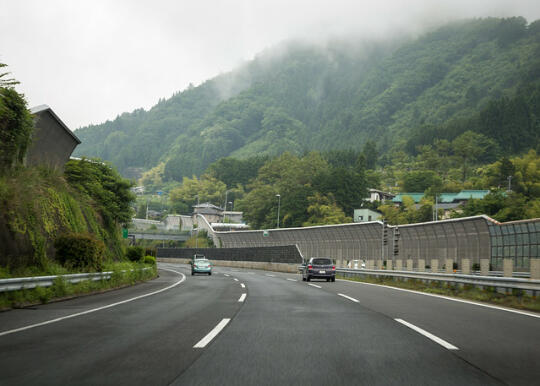 So where were we going, you ask?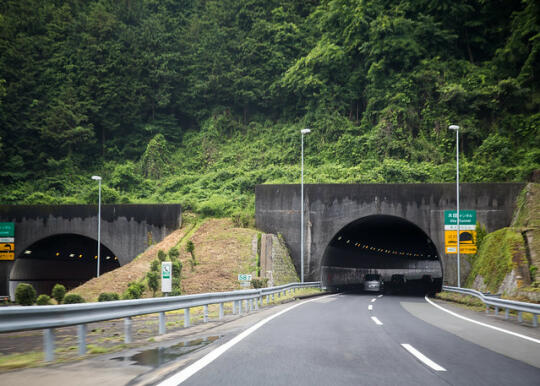 Through the countryside, under mountains, to a very well-known Japanese mountain…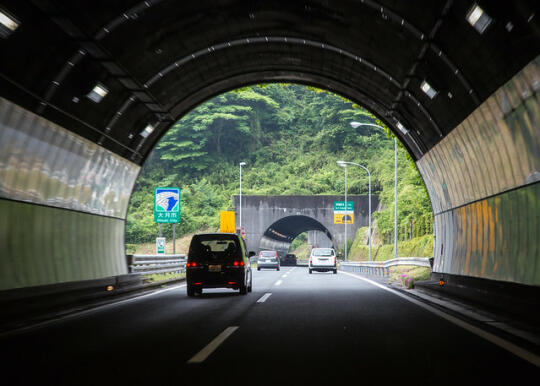 Mt. Fuji!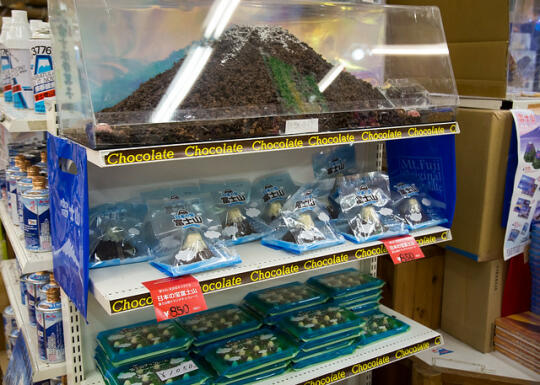 Or rather, Mt. Fuji gift shops!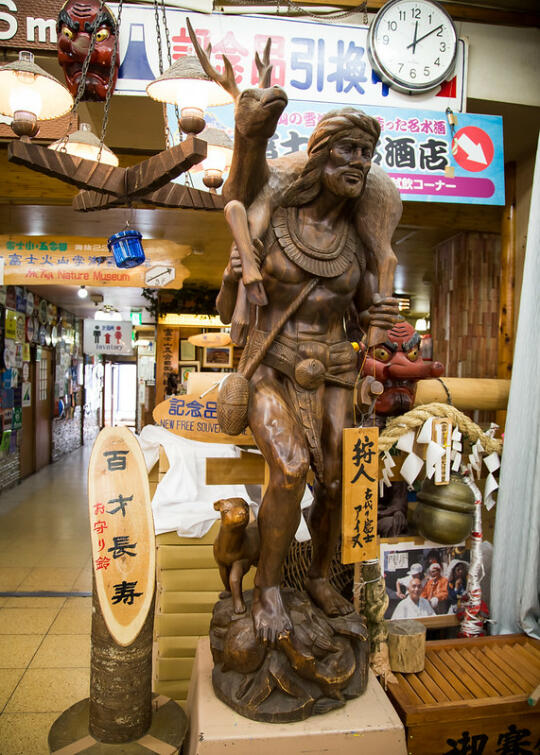 Mt. Fuji wasn't open for climbing yet, and for good reason – while it was hot and humid down in Tokyo, it was freezing, rainy, and incredibly windy up the mountain.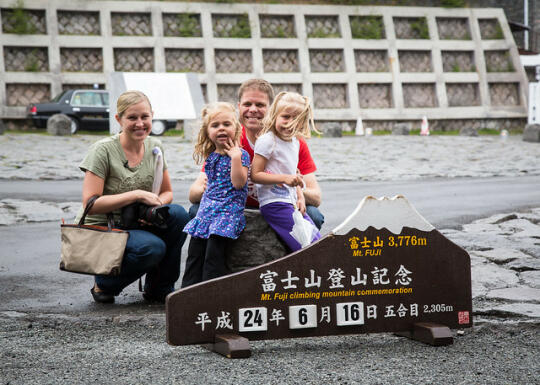 So it was a game of dart outside for a photo…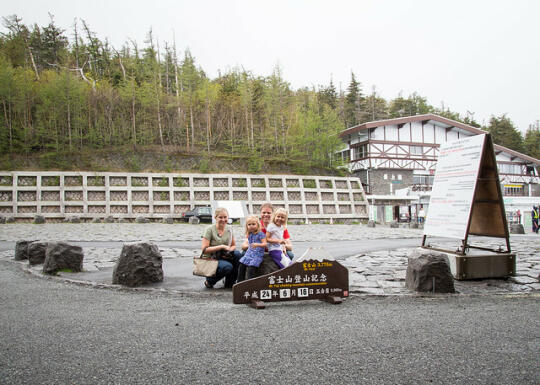 …then back into the gift shop where it was relatively warm.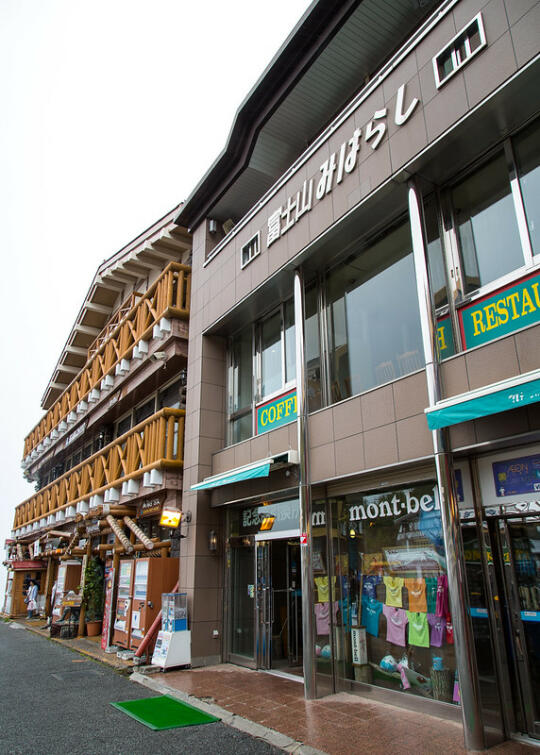 Then wait for a break in the rain and wind to venture out to the viewing deck where you might ordinarily find a beautiful view up the mountain to one side, and down the mountain to the other.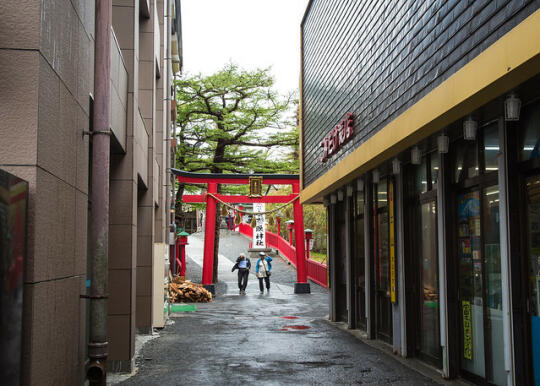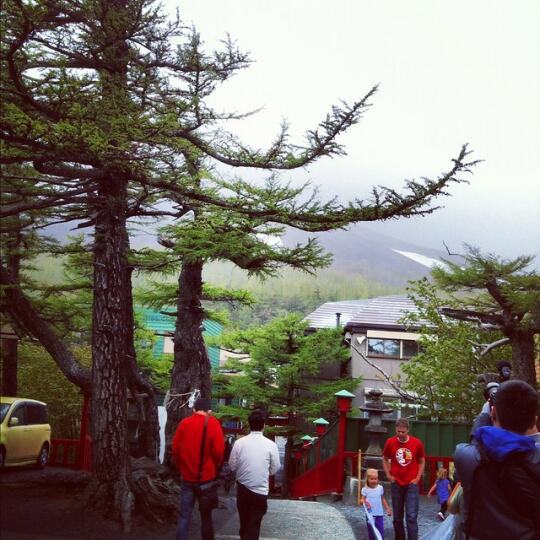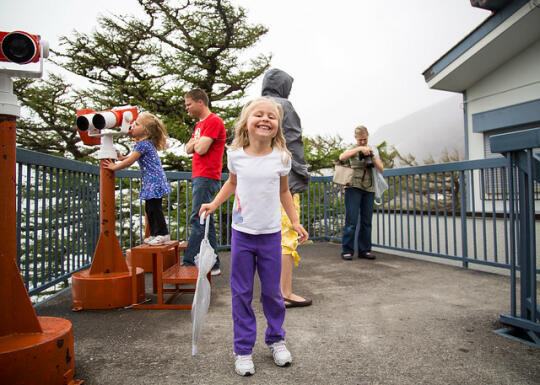 (Though we mostly just got clouds.)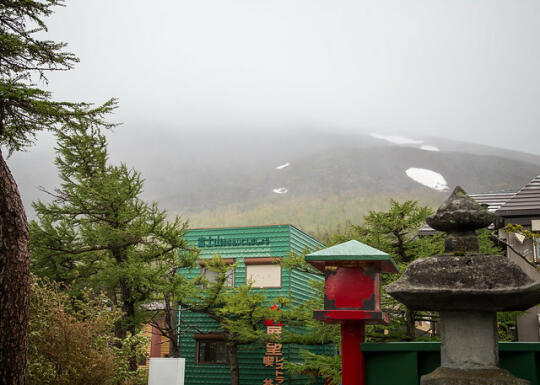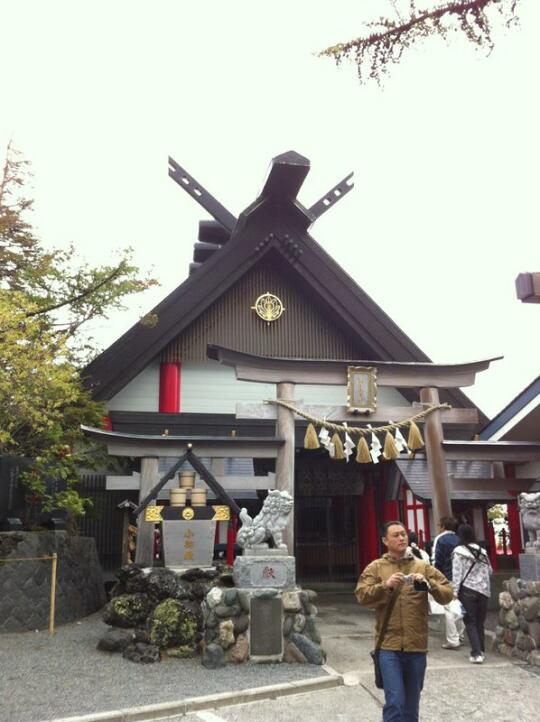 Then a sprint back to the car with Squirrel gripping onto my hand and running alongside me, because oh my goodness, it was so cold and windy and rainy!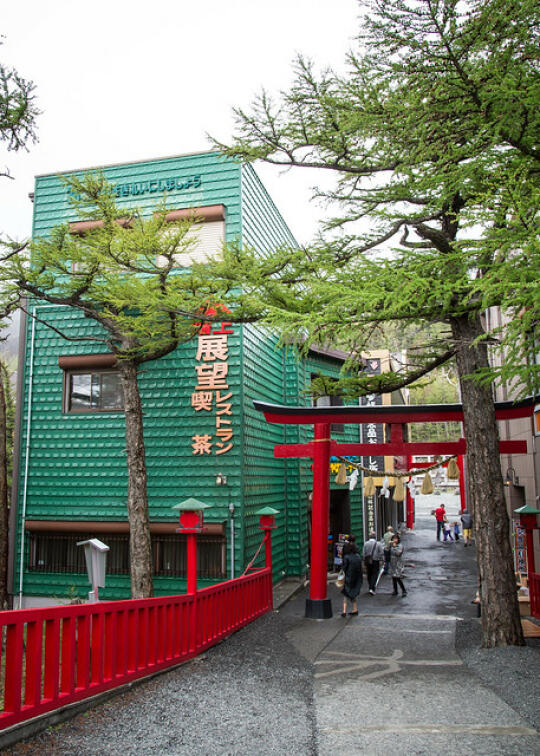 By then we were all starving, so after the winding drive down the mountain, we drove around in search of a place to eat.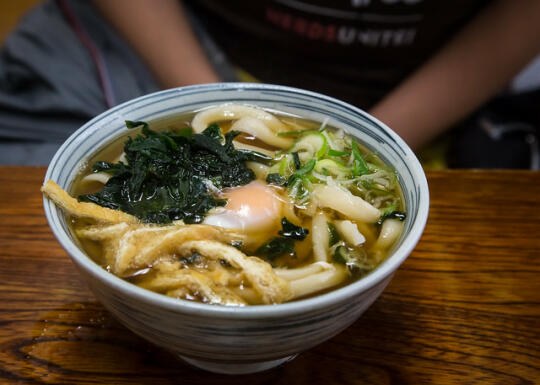 We found a little udon place in a strip mall. It was one of those places where everyone stared when we walked in, and they had no English menu. A very good sign!
Thankfully both Rachael and her husband are fluent in Japanese, so it didn't take too much trouble for us to order.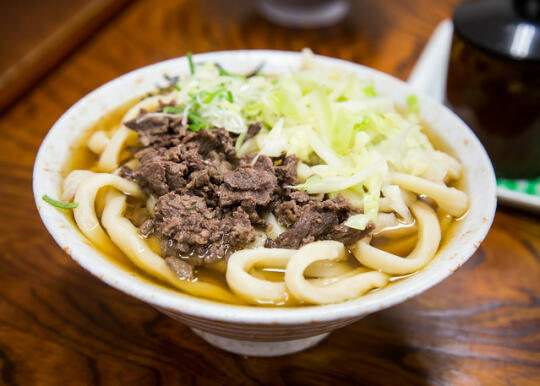 I got a half-bowl of udon with aburaage, wakame, and egg. It was fantastic (though to be honest, we were all starving by then), but the best part by far was the noodles. They were very obviously made in-house and hand-cut, and they were delicious! After all that wind and rain, this really hit the spot.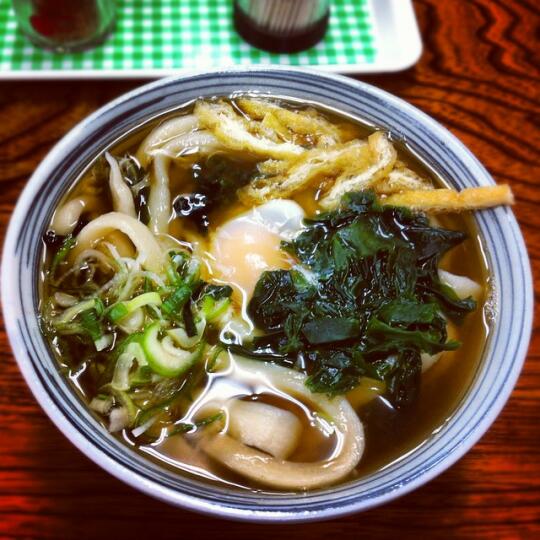 Son got a slightly more exotic bowl of udon. Any guesses as to what kind of meat was in his!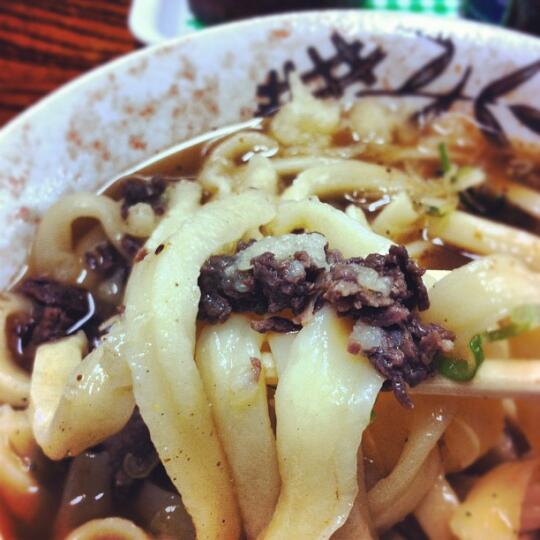 Horsemeat!
It was the only meat they had available (the woman taking our order was very apologetic to us gaijin for that). It was interesting – like a lean, very flavorful beef.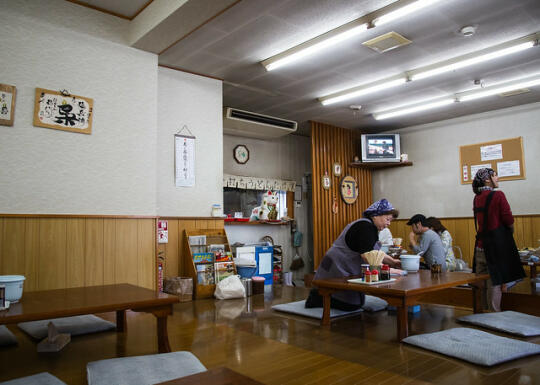 And for only 950 yen for both bowls (about $12) it was a steal – we all left stuffed to the gills.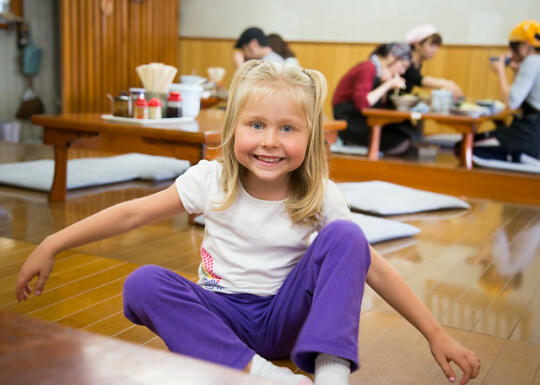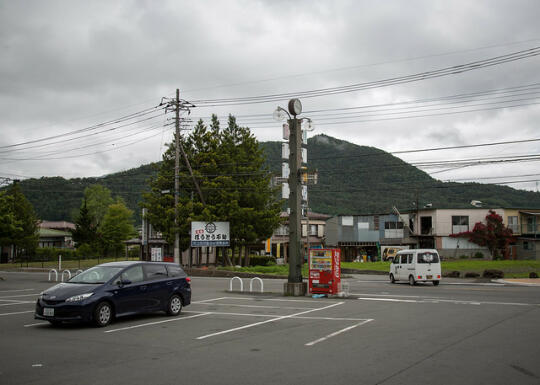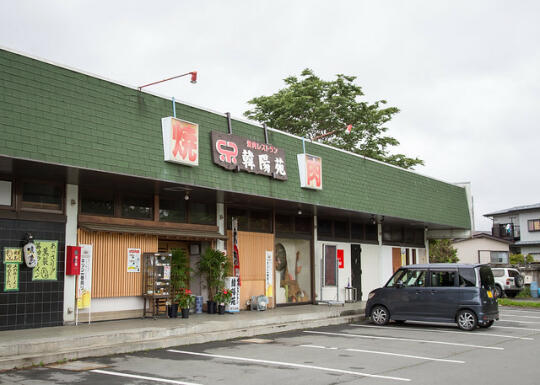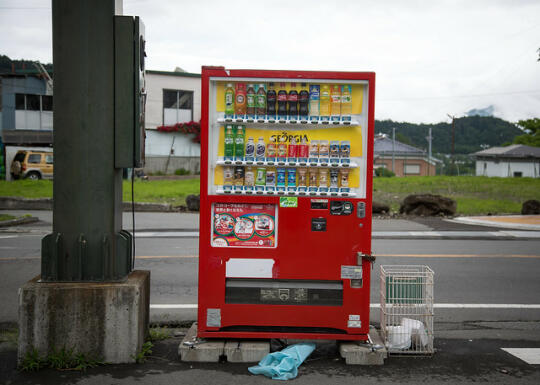 We started to head back… and then somebody decided they needed a potty stop as we were about to get on the freeway.
Luckily, Son realized that we could turn into the Mt. Fuji Visitor Center and use the restroom there, which meant that we got to check out the Visitor's Center really quick before we left the area.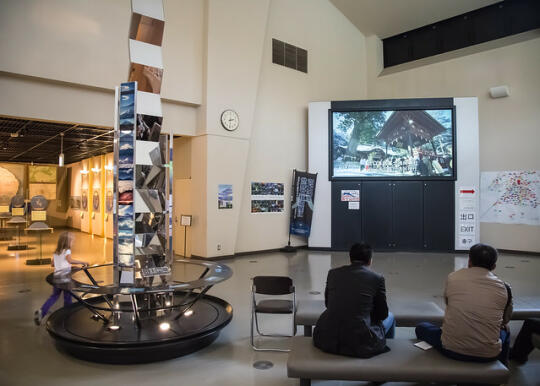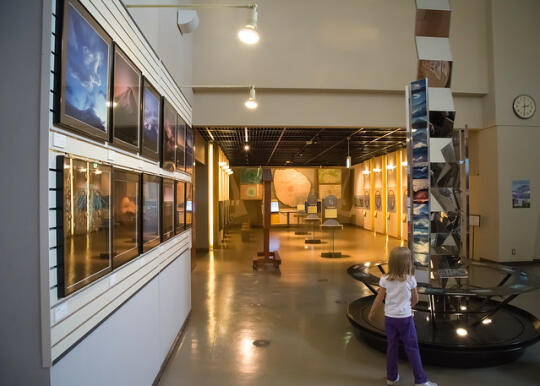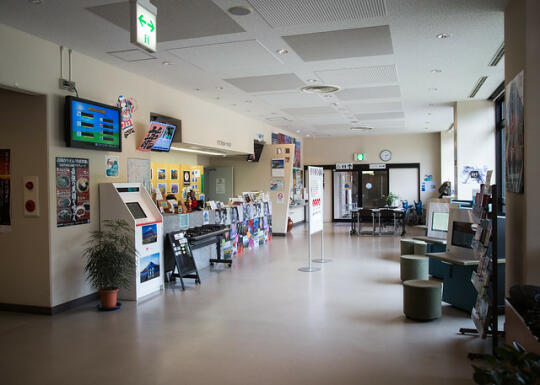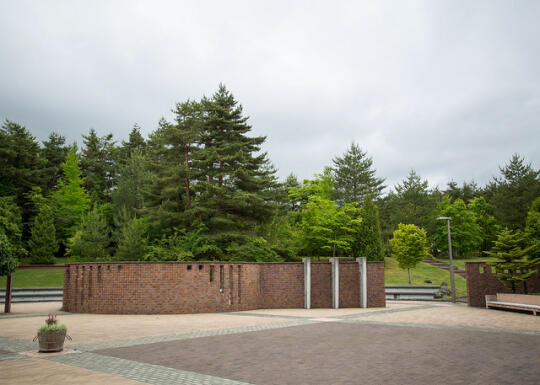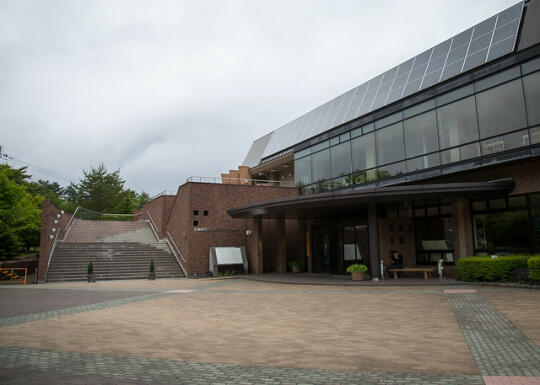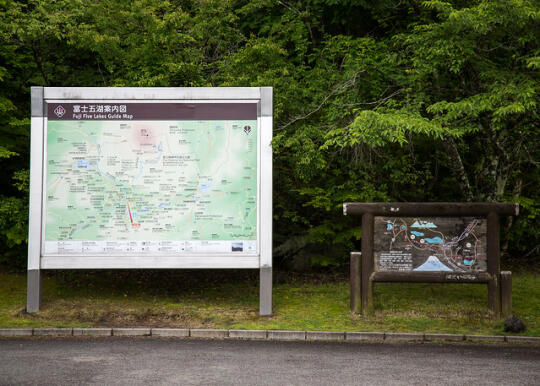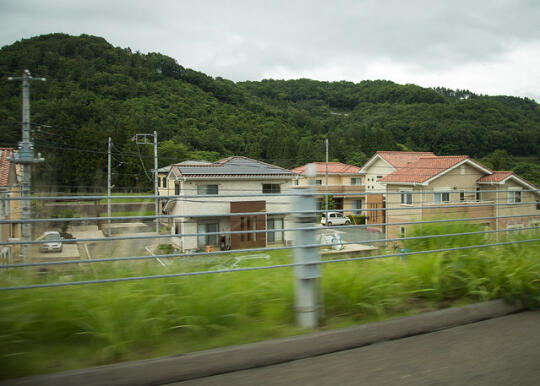 And then we were off!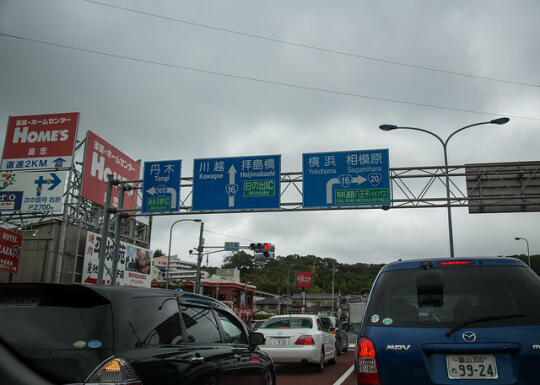 But we weren't heading back to Tokyo just yet.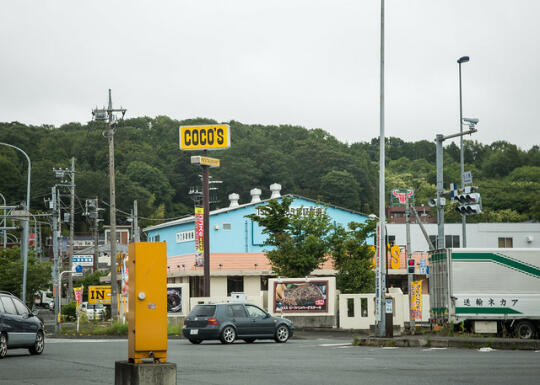 (Random question: is it weird that every time I see a restaurant that I consider to be "American" – like this Coco's, or a Denny's, or, as you'll see in a minute, Red Lobster – I kind of really want to go try it out, just to see how it's different?)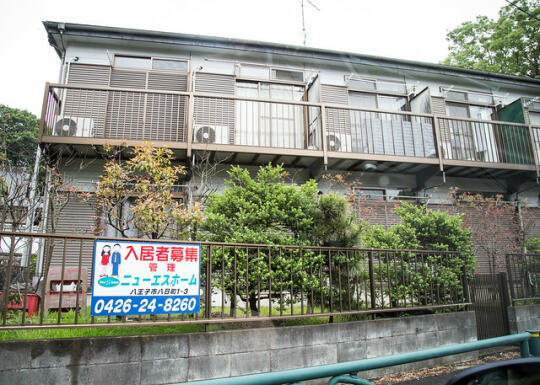 No, we had a very important detour to make.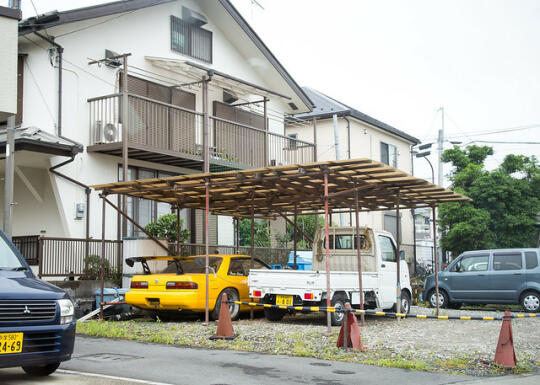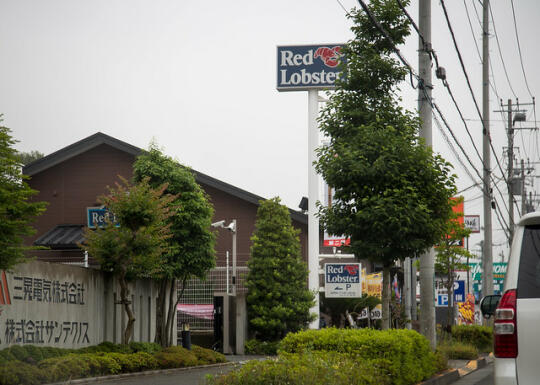 We went to Costco!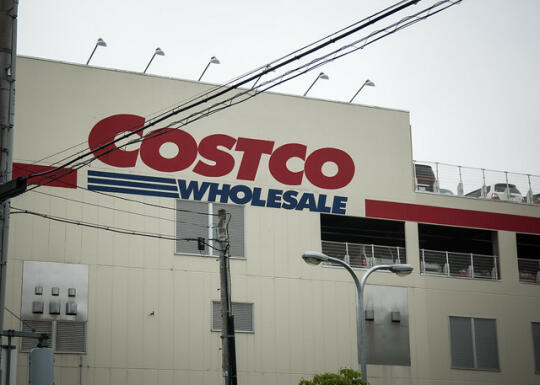 Seriously. We went out of our way (since we were paying to rent the car all day anyways) to visit a Costco.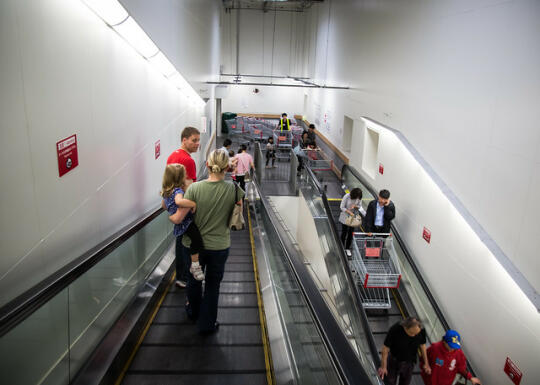 It was probably the freakiest experience of the entire trip.
A Japanese Costco seriously looks just like every single Costco you ever see in the US. Same layout, nearly the same signs…
The only difference is that their seafood selection strikes envy into my heart. Seriously, why can't we have ridiculously fresh uni and tuna and ikura and 20 different kinds of seaweed at our American Costcos? (Yes, I'm whining. You would too, in my position.)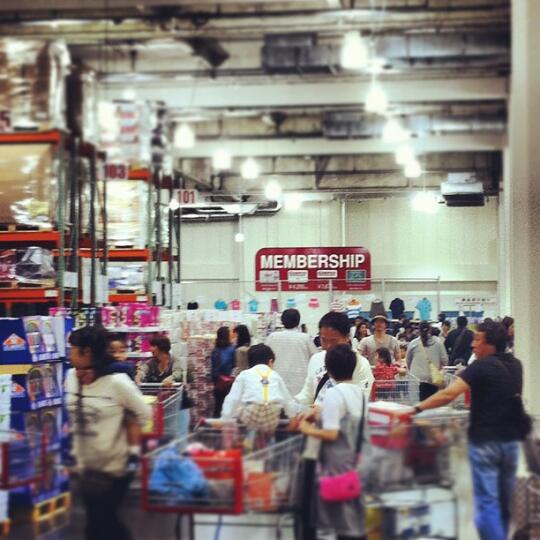 So seeing Costco was cool, yes. (Did you know that you can use your Costco Membership Card anywhere in the world? Kind of wish we had brought ours!)
But just seeing a Japanese Costco was not the real reason why we came here.
Nope, we were here for the Hokkaido Milk Soft Cream. (200 yen)
After all the times Rachael has mentioned it while we record our Miso Hungry Podcast, of course I had to try it.
It was ridiculous. So good. I want more. I can see why she raves about it!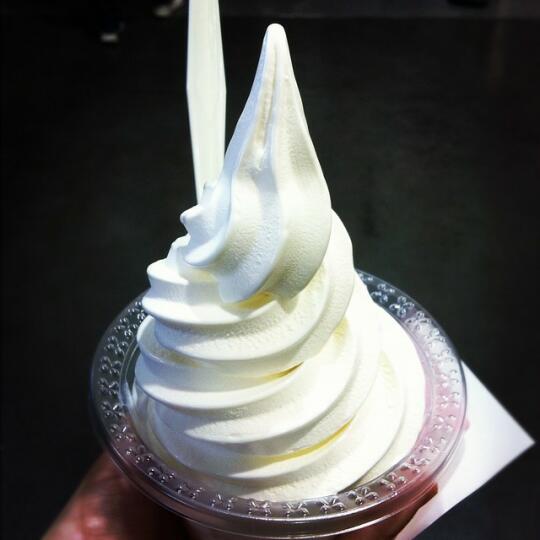 Rachael's girls needed several more potty stops after we left Costco, so we ended up stopping at a 7-11 and picking up a few things to eat later.
Son got a fried rice onigiri, and picked out a couple more things for me that I ate later that night.
Then it was back to Tokyo, for real this time.
The Tokyo Tower looked mystical all lit up in the fog.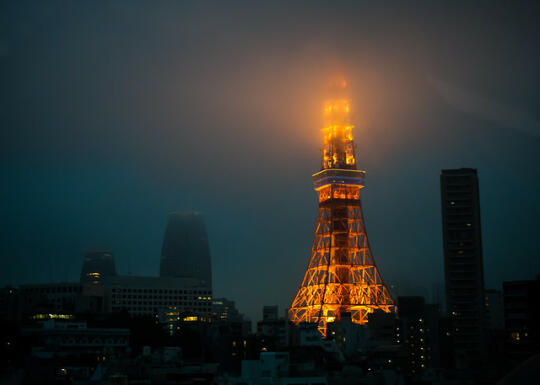 Once we got back, we left Rachael and her family at their hotel (and returned all the now-broken umbrellas they had borrowed from the hotel that morning – the poor umbrellas didn't stand a chance against the crazy Mt. Fuji winds!) then headed back to our hotel to rest for a bit.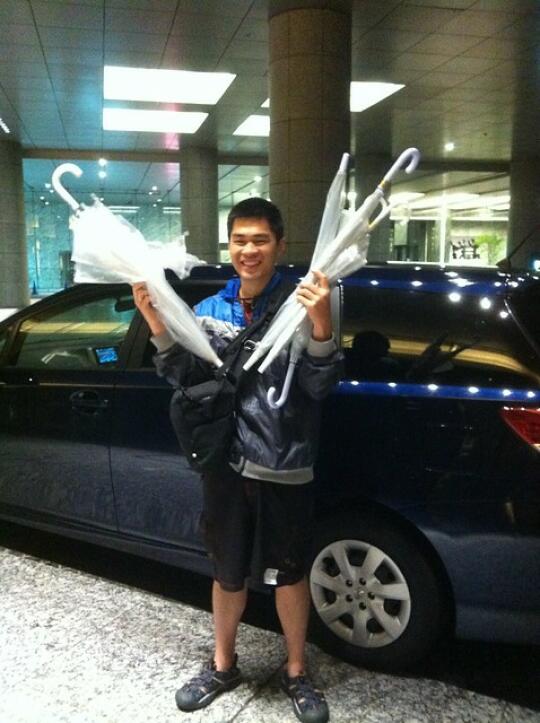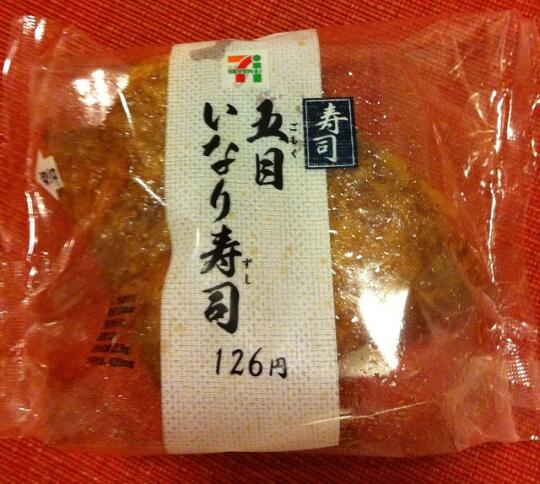 We got into another of the 7-11 purchases – an inari with some sort of mixed rice inside.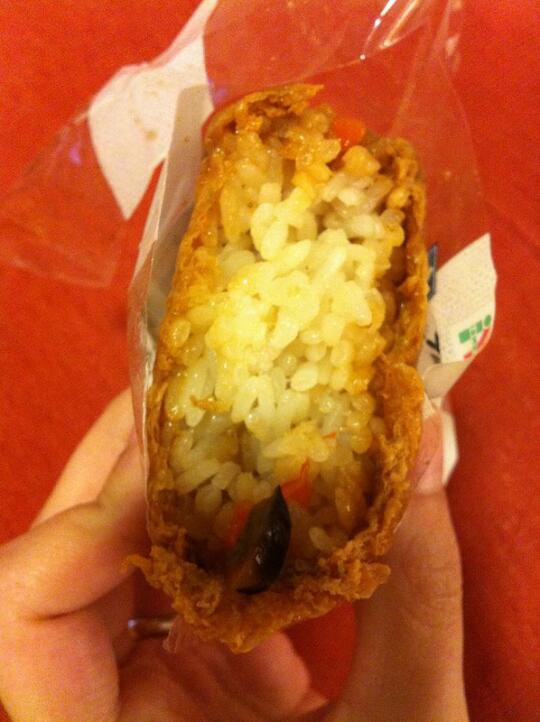 Then we headed out to wander Shimbashi station, looking for something to eat. We had passed this place called Soup Stock several times already, and it always smelled good, so Son decided he wanted that for dinner (I wasn't very hungry by then).
We got a meal that included butter chicken curry, Tokyo borsch, rice, and orange juice. I wasn't too much of a fan, but Son enjoyed it.
And for dessert, a custard-like tart from a nearby bakery.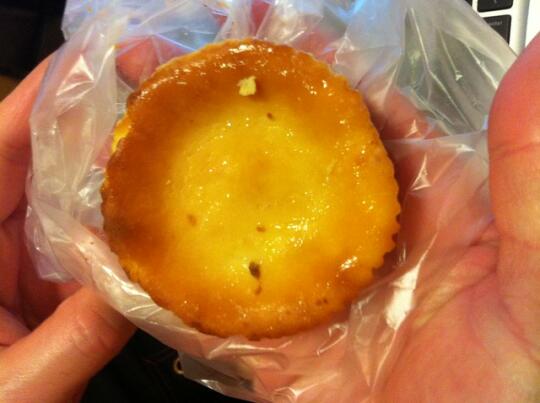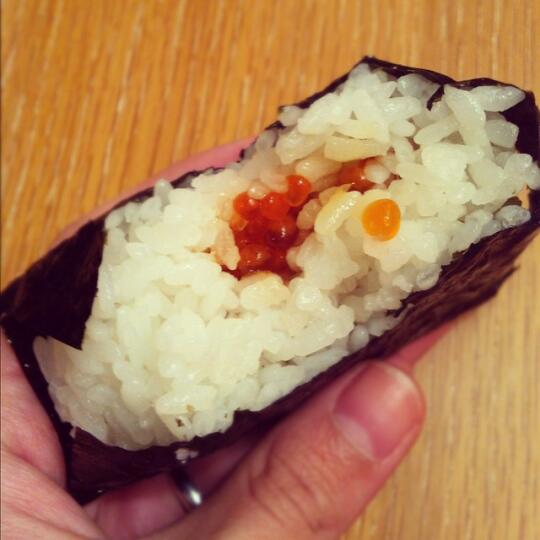 Son got his soup and a yummy custard tart, and I ended up in bed with an onigiri.
Yep.