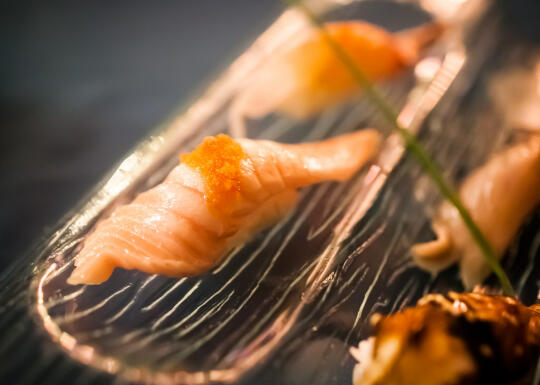 Sustainability is an important food issue these days. But what people don't always realize, is that it can also be a very delicious issue.
Luckily, we have people like Hajime Sato of Mashiko, the lovely people at I Love Blue Sea, and Casson Trenor to show us just how delicious sustainability can be.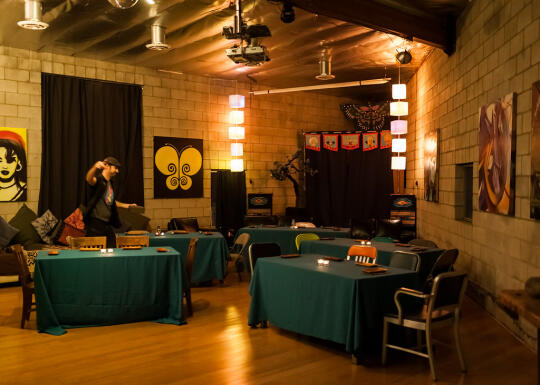 Last week was a perfect example of this. There was an event in Los Angeles – A VIP Mindshare LA Sustainable Sushi Experience with Tataki Sushi at the very cool Project Butterfly Loft that Son, Rachael, and I were lucky enough to get to go to.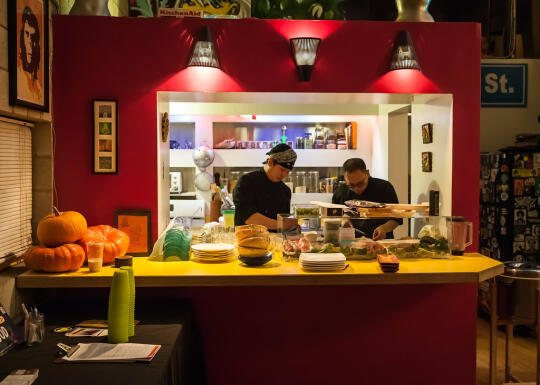 Tataki is a sushi bar in San Francisco… actually, three sushi bars in San Francisco. And now they're looking to open a branch in Los Angeles.
Needless to say, I'm pretty excited about it. A sustainable sushi restaurant in LA? You can bet I'll be there quite a bit… and I'm going to be doing anything I can to help them do well. Want to help? Email me and I'll get your info to Casson.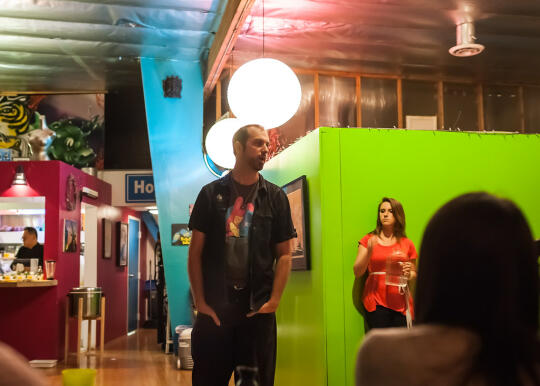 But as much as the dinner was about getting the word out about bringing Tataki to Los Angeles, it was also just as much about the food. And oh boy, was it ever about the food… amazing, delicious, creative food!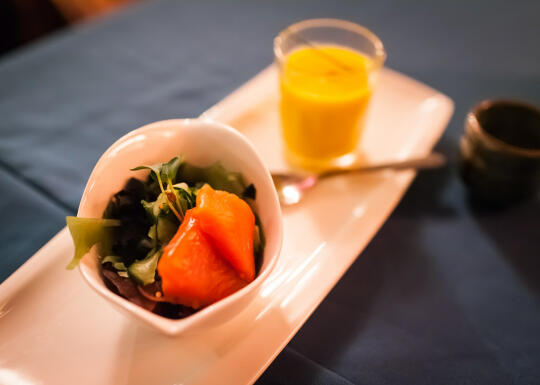 The first course was made up of a pumpkin-carrot soup, and a coho salmon salad that had three types of seaweed in it. The soup had the sort of flavor that seems like a new, different flavor, but you just cannot stop eating it. The seaweed in the salad was a new experience for me – more than your typical wakame seaweed that you find in many Japanese applications. It was texturally fascinating, and the salmon, of course, melted in your mouth.
Coho salmon is generally considered a good choice in terms of sustainability, because of how it is fished – especially when it uses trolling methods (a hook-and-line method that tows fishing lines behind or alongside a boat, which is considered an environmentally responsible fishing method.).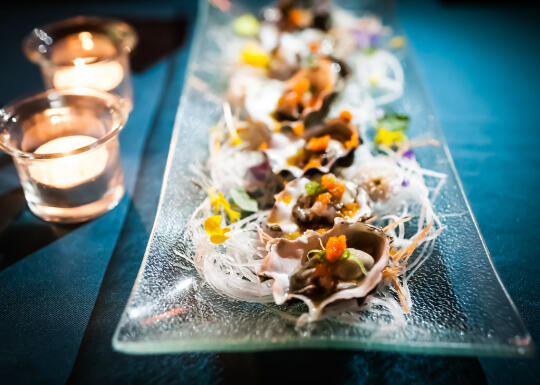 The second of nine courses consisted of Canal oysters, topped with tobiko, basil chiffonade, and a Sriracha ponzu sauce. I only recently developed a taste for oysters – three years ago, at the first sustainable sushi dinner I attended at Mashiko. (It's all coming full circle!) These were delicious. Of course. (There's a good chance I will be trying to make these at home, soon.)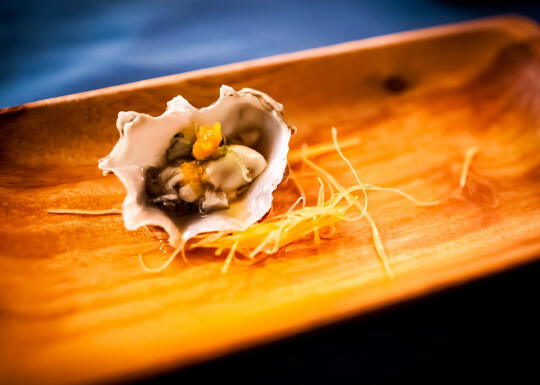 Oysters are one of the best types of seafood you can eat. They are almost always farmed, and according to the Monterey Bay Seafood Watch, most of these farming operations are very well managed – so as consumers we have little to worry about here.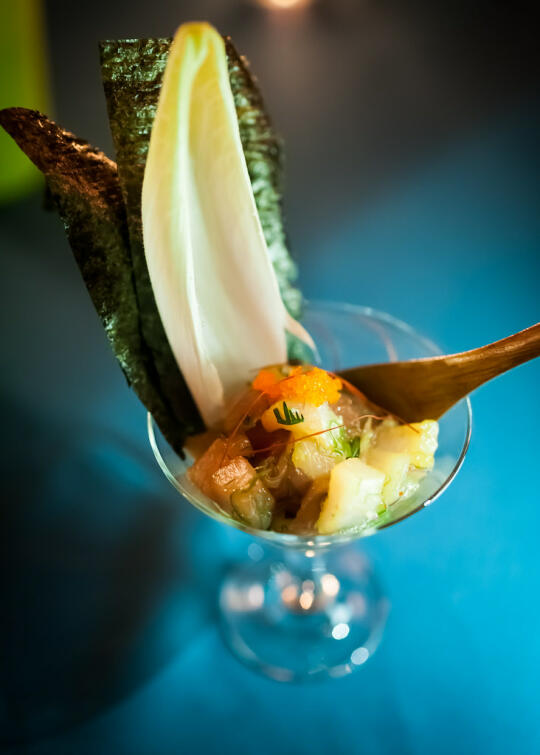 The third course was a Hawaiian-influenced albacore tuna poke, with nori and endive. I really want more of this. I had never considered endive as a pairing for sashimi, but when you spoon a little of the poke onto it and take a bite, it's entirely addictive.
Albacore tuna is a great choice, especially when compared to unsustainable options like bluefin tuna. The albacore tuna is much smaller than the bluefin, and something that Casson constantly says is that the smaller the fish, the better option it is. (Sardines are a great option.)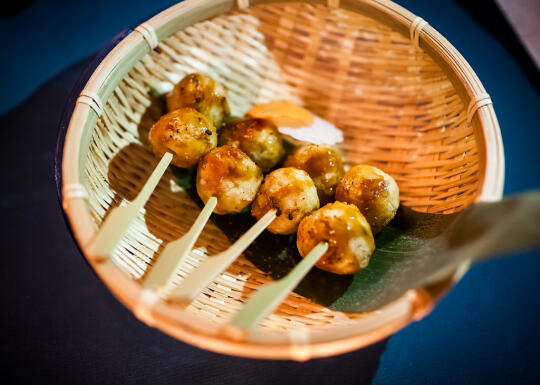 The next course was a vegan tsukune, made of mountain yam, panko, water chestnuts, and bean curd. "But," I'm sure you're wondering, "if it's vegan, then that means there's no fish. How does this fit into a sustainable sushi dinner?"
Part of what Casson and the chefs at Tataki are trying to show is that sustainability is about more than just eating the right fish – vegetables are a vastly overlooked solution. As you'll see later (and as I've mentioned in the past), vegan sushi can be so good, that even meat-lovers crave it.
That goes for these meatballs two-fold. Tsukune are usually meatballs made of chicken, but I'd claim that this vegan version is even better. You have no idea how much I am still craving them. (Casson, when you guys open a LA branch of Tataki, these had better be on the menu!)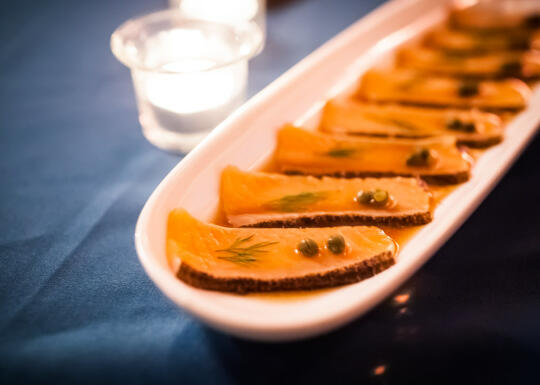 Course number five consisted of arctic char sashimi with dill and capers. Although obviously not a very Japanese dish, it utterly melts in your mouth.
I've been talking about arctic char as a sustainable substitution for salmon for quite a while, and for good reason – it's delicious. And sustainable! Most of the arctic char sold in the US is farmed, and luckily for us, done in closed systems – land-based systems that prevent a lot of the issues that come with open farms.
It wouldn't be a sustainable sushi dinner without a sashimi course, and Tataki definitely delivered. The course included horse mackerel sashimi with ginger and daikon, kampachi, skipjack tuna with mustard and scallions, and hokkaido scallops layered with lemon slices. The skipjack tuna melted me, and in my opinion you can never go wrong with scallops. The horse mackerel and kampachi? Also amazing.
Not surprisingly, horse mackerel, kanpachi, skipjack tuna, and scallops are all good choices when it comes to sustainability.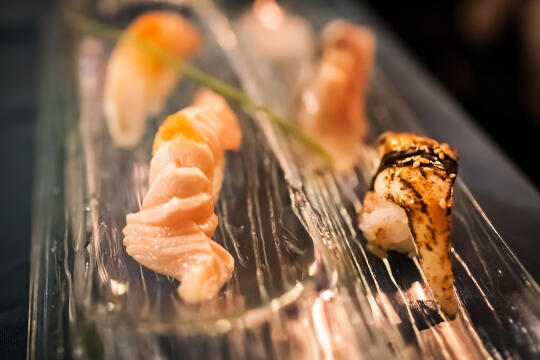 The seventh course had everyone sighing happily. This course consisted of four nigiri, but Casson had very specific instructions about the order in which you were to eat them. Traditionally, you are supposed to eat sushi in the order from the most delicate to the fattiest/most flavorful, and this was no exception.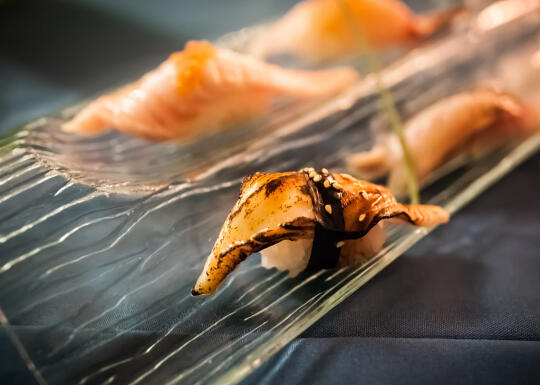 We were instructed to start with the suzuki (striped bass) nigiri, that was topped with tobiko.
Then we were to sample the seared albacore belly nigiri – this was when the room lit up with ecstatic groans. (Although everything was amazing, if I had to pick a single favorite bite from the evening, it would have been this.)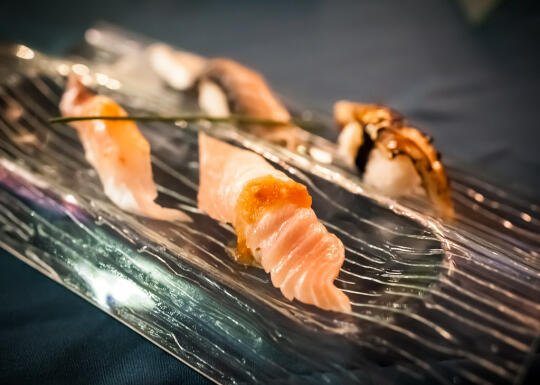 Third of the nigiri we were instructed to eat was the saba (mackerel) mackerel with candied kombu.
Lastly, something that I've made and posted here in the past – Tataki's black cod "faux-nagi". As we know, unagi is a bad choice when it comes to sustainability… the problem is that everybody loves it. So Tataki came up with this black cod-based substitution… try it, and you'll see that it does quite well in place of unagi.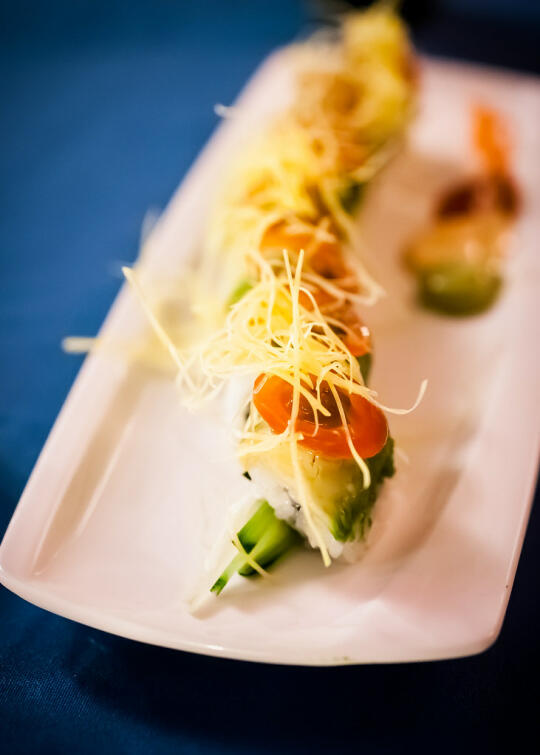 Then we moved on to the (ura)maki sushi course. Or rather, courses. Although this was billed as a 9-course dinner, it really turned out to be more like 12 courses after all the maki rolls!
Like I mentioned before, they started the maki course with a vegan roll – the Reggae Roll. Filled with asparagus and cucumber, and topped with avocado, cherry tomato, and shaved pumpkin, then served with avocado puree, Sriracha aioli, and Sriracha sauce for dipping… it's so flavorful, you have no opportunity to miss the fish.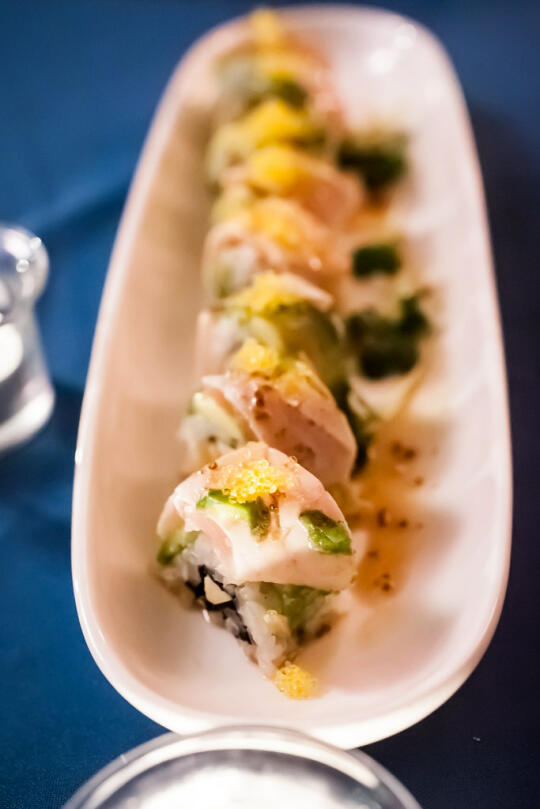 The second of the four rolls was the Golden State Roll – an uramaki filled with scallops, Sriracha, and green apple, and topped with avocado, albacore, masago, and an apple spice reduction. Everyone really liked the use of apple in a sushi roll… and I always, always love anything made with scallops.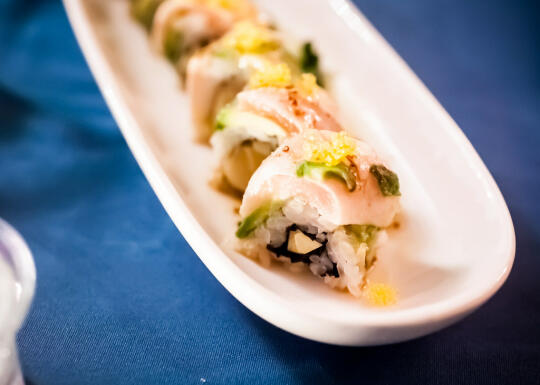 Another concept that Casson speaks of often is the idea that using ingredients that are local is more sustainable than using ingredients that have to be shipped from very far away. Every ingredient in the Golden State Roll is local to California. It's common sense, if you think about it. Local uses fewer resources, and keeps demand for ingredients more spread out (instead of, for example, everyone buying tuna from a single source like Japan).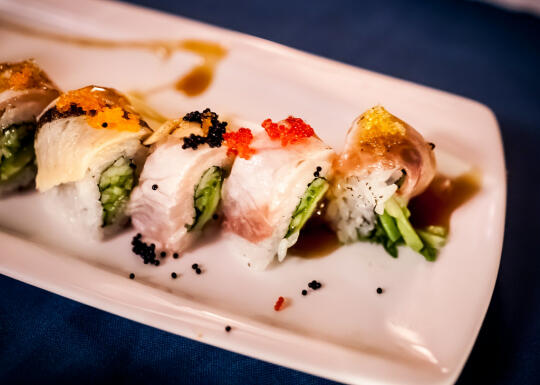 "When you think about the Rainbow Roll, it's pretty much carnage on a plate (in terms of sustainability)."
Casson said this as they brought out the Tataki Roll, and it's true – you often have every sort of popular, unsustainable fish packed on top when you order a Rainbow Roll. So as a sustainable replacement, he offers the Tataki Roll – uramaki filled with avocado, cucumber, and topped with albacore, arctic char, black cod 'faux-nagi', and multi-colored tobiko. All sustainable ingredients that we've already seen, and entirely delicious.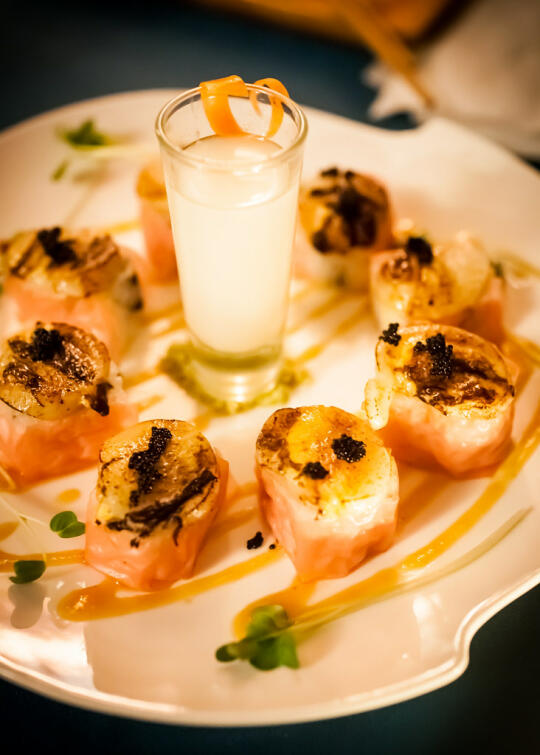 The last of the sushi roll courses was one that, quite frankly, terrified me. They brought it out, and our entire table just sat and stared at it, no one daring to touch it.
"Why," you ask? Well, the name tells all. This is known as the Russian Roulette – a roll with asparagus, scallop, crawfish, sriracha, kewpie mayonnaise, and soy-marinated masago. It all sounds innocent enough, until Casson warned us that one of the pieces had been filled with habanero oil… hence the glass of sake included with the plate.
We all stared at the plate warily, as if it held a poisonous snake. Other tables had already started eating the Russian Roulette, piece by piece. You could tell when someone got the loaded piece of sushi – they would go red in the face, and the room would erupt in a ruckus.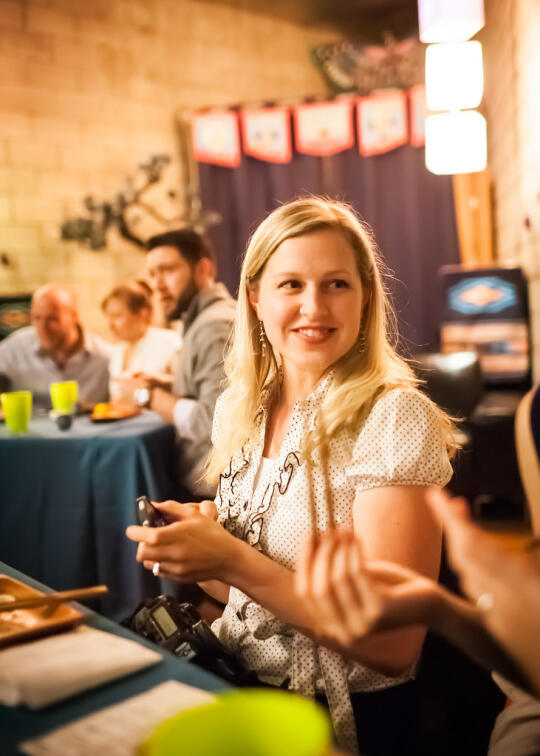 Finally, Rachael was the first one at our table daring enough to reach out and take a piece. We all watched her with bated breath… until she smiled and admitted, "I got it." Not that you could tell – the spice had no effect on her at all. (Have I ever mentioned that she'll eat anything? I'd even venture to say she can handle spicier foods than Son can, and that's saying a lot.)
Needless to say we were all relieved, and were able to enjoy the rest of sushi without the sense of dread that had previously haunted us.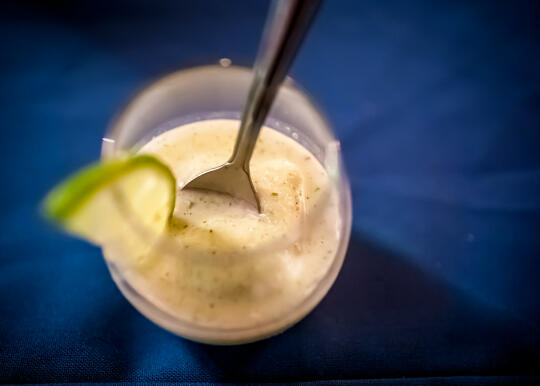 Last course was dessert – a shiso and lychee granita with plum wine and yogurt. To me, it tasted like Vietnam – not a bad thing at all. (Son was convinced it had fish mint in it – a Vietnamese herb that apparently tastes quite similar to shiso.)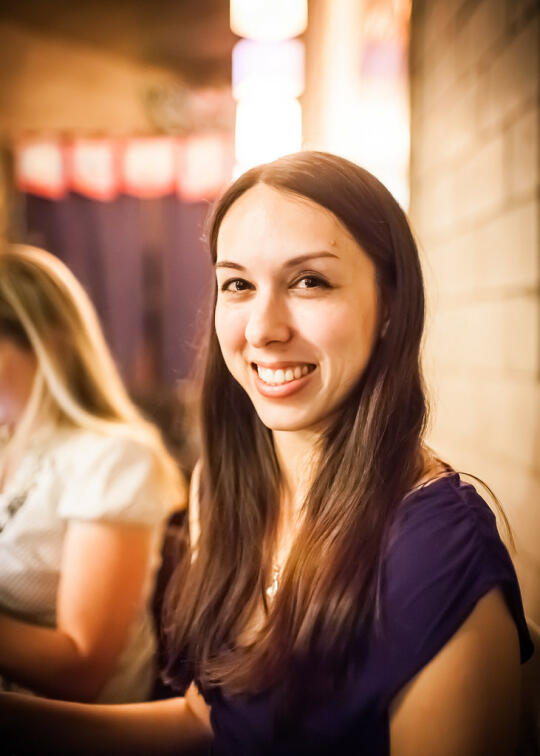 All in all, the dinner event was a grand success. We met a lot of interesting people, ate great food, and Casson gleefully embarrassed me in front of the entire dinner.
I'm really excited about the future of sustainable dining (seriously – bouncing-off-the-walls, dancing-around-the-room excited), and eagerly anticipating the arrival of Tataki in Los Angeles!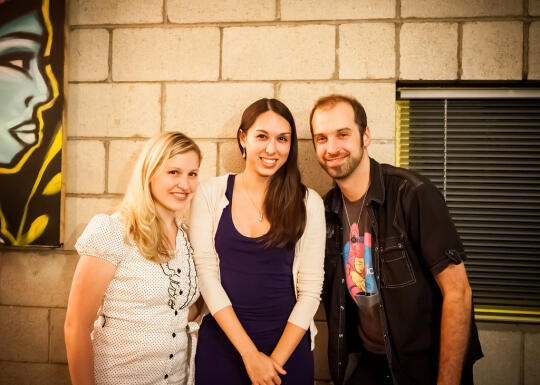 P.S. This is an excellent time to go check out my Miso Hungry Podcast… this week's episode is all about sushi! We talk about this sushi dinner, and also talk quite a bit about the new documentary, Jiro Dreams of Sushi, that I highly recommend all of you go see.