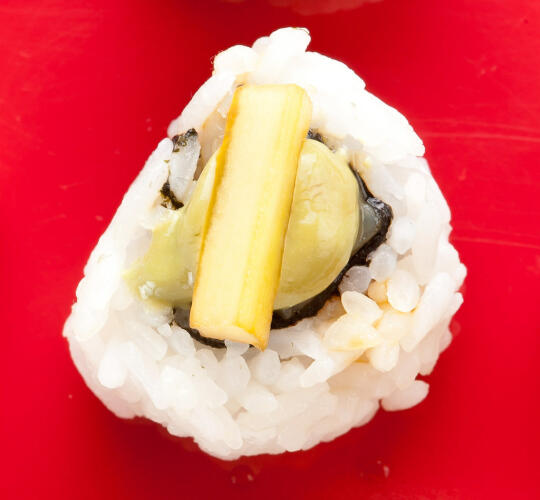 Lately we've been trying to get a little more creative with the things we make here. After I mixed the honey-rice vinegar marinade (inspired by the ingredients list from a package of gari), I tasted it and thought it tasted just like lemon tea with honey.
So what goes better with those flavors than… green tea! But once we tried it, the roll was good, but… missing something. What to add, to give it the oomph it needed?
A few days before I had tried the combination of cucumber slices dipped in shoyu. It's a fantastic combination. Kind of like salt with cucumbers (I've eaten that as a snack… do you too?), except better. Turns out, that was exactly what this roll needed to make it just right.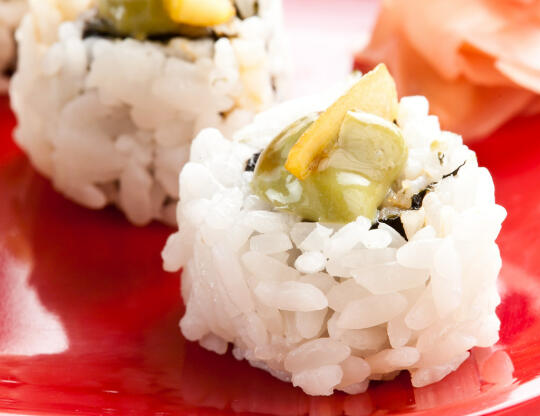 Ingredients
6 sheets nori
1.5 cups sumeshi
1/2 lb sushi-grade tilapia
1 cup rice vinegar
1 cup honey
1/4 cup sour cream
1 tbsp powdered green tea
1/2 cucumber, peeled, seeded, and cut into small sticks
1/2 cup shoyu/soy sauce
Cooking Directions
Mix the rice vinegar and honey until the honey is mostly integrated into the vinegar. Marinate the tilapia in this mixture for at least 30 minutes.
Make the sumeshi.
Mix the sour cream and powdered green tea.
Marinate the cucumber sticks in the shoyu for a few minutes.
Roll the sushi inside-out, using the marinated tilapia as the filling.
After slicing the sushi, top each with a dollop of the green tea sour cream and a shoyu-cucumber stick.
Enjoy!
Coming Soon!
Percent Daily Values are based on a 2000 calorie diet. These values are only estimates based on the individual ingredients, and not meant to replace the advice of a medical professional.