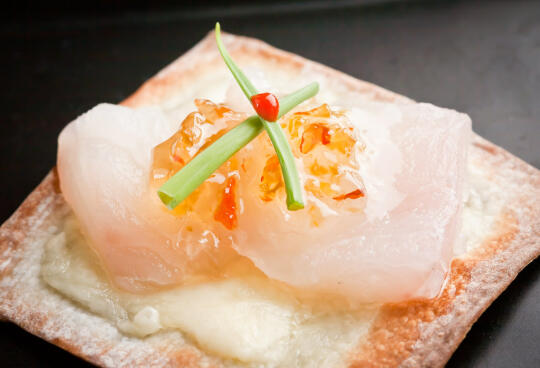 Jalapeño jam.
To the uninitiated, it sounds weird. "Jalapeño jam? Ew. Isn't that… gross?"
I was one of the skeptical ones, before I tried it. Heck, I'm not a huge fan of spicy anyways, so I had a feeling I wasn't going to like it all that much.
Wrong, wrong, wrong. I was so wrong. Jalapeño jam is sweet (I know it's hard to imagine if you've never had it) and has only the faintest hint of spice. It's ridiculously good… especially on nachos. And I hear it's awesome on crackers with cream cheese, though I haven't tried it yet.
So when I was looking through my fridge to see what ingredients I had that might go well with halibut, the jalapeño jam caught my eye. I've used jalapeños with yellowtail… halibut tastes similar to yellowtail… so therefore surely jalapeño will go awesomely with halibut! (Don't you love my logic?)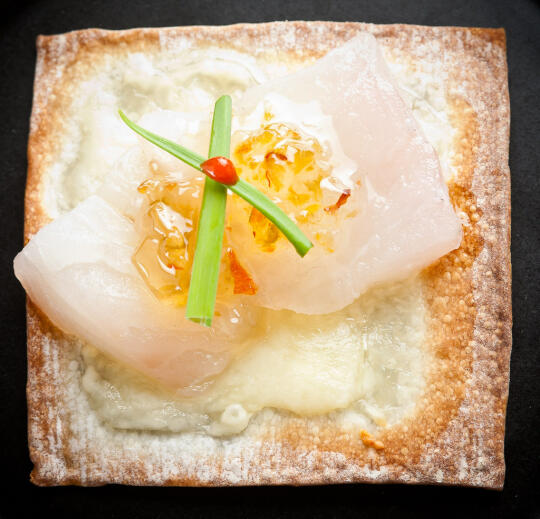 Unfortunately I don't have the recipe for jalapeño jam, as it was a gift to me from a friend whose mother makes it. But if you can find some, or a recipe for it, or happen to get it as a gift from someone? I highly recommend it with halibut. And if you have a good recipe for it… I would love it if you'd share it with us.
Ingredients
4 oz halibut
6 wonton skins
1 oz mozzarella cheese
2 tbsp jalapeño jam
6 chives, cut into halves
1/2 tsp sriracha sauce
Cooking Directions
Bake the wonton skins on a baking sheet at 350°F for 3 minutes. Then top with the slices of mozzarella, and bake for another 2 minutes, or until the cheese starts to melt and bubble.
Slice the halibut thinly.
Top each wonton skin with a couple of slices of halibut, a dollop of jalapeño jam, two chive halves, and a dot of sriracha sauce.
Enjoy!
Coming Soon!
Percent Daily Values are based on a 2000 calorie diet. These values are only estimates based on the individual ingredients, and not meant to replace the advice of a medical professional.