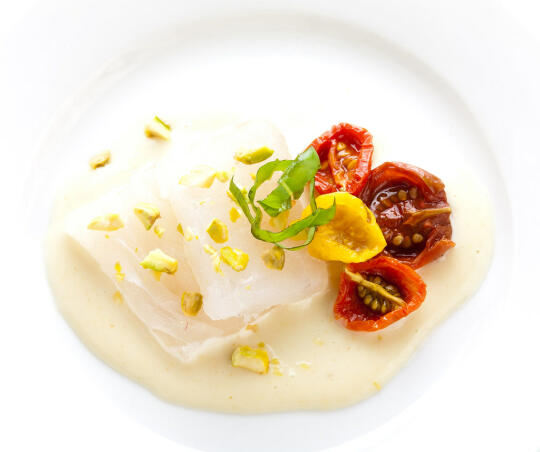 I'm no chef. Certainly not. But I wanted to raise the standards for my sushi, make it something that you look at and really crave.
Oh, and Son complains I make too many rolls.
So I was looking through my kitchen, trying to figure out what the heck we had that could possibly be used to make a really awesome dish with the halibut I got.
Then I saw these tomatoes in the fridge, which had been used as a side for a really amazing sake-steamed black cod dish I made the day before. Hm. Tomatoes… seafood… cocktail sauce! Why don't I make a sort of cocktail sauce, except without the tomatoes mixed in?
(Yes, my mind works in weird ways sometimes.)
So I looked up a recipe for cocktail sauce, then made up my own version, except without the tomatoes blended into it. Just because it looks cooler that way. And… well, this is what I came up with.
It actually turned out very well. Son has fallen in love with the sauce… it goes amazingly well with seafood.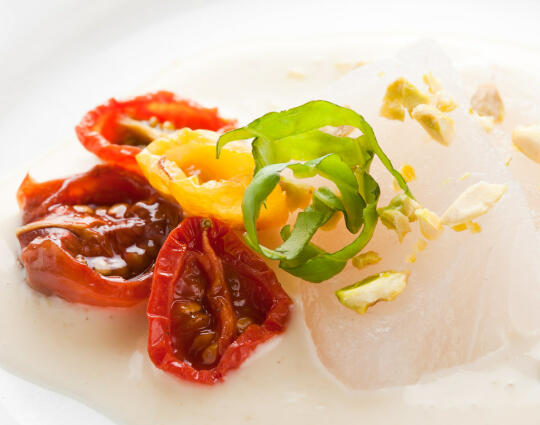 Ingredients
small fillet of sashimi-grade halibut
1/2 cup mayonnaise
1 tbsp rice vinegar
1 tsp wasabi
dash salt
1 tbsp brown sugar
1/4 tsp garlic powder
a few leaves of basil
crushed pistachios
Cooking Directions
Slice the halibut into thin slices.
Mix the mayonnaise, rice vinegar, wasabi, salt, brown sugar, and garlic powder.
Roll the basil leaves tightly, and slice thinly in a chiffonade.
Place a pool of the mayonnaise sauce on a plate. Top with two slices of halibut, and a few roasted tomatoes. Garnish with the basil and crushed pistachios.
Coming Soon!
Percent Daily Values are based on a 2000 calorie diet. These values are only estimates based on the individual ingredients, and not meant to replace the advice of a medical professional.