Happy birthday to you, happy birthday to you… happy birthday dear Sushi Day, happy birthday to you!
Don't worry, I won't actually subject you to my singing. Promise. That would be cruel and unusual punishment, and I'm fairly certain you haven't done anything to deserve such a fate.
Anyways.
Today's Sushi Day's fourth birthday! Can you believe it's been four years already? I'd tell you to go back and revisit some of the very first posts I ever wrote… but some of those are rather embarrassing. And silly. So we'll just stay right here today, okay? 😉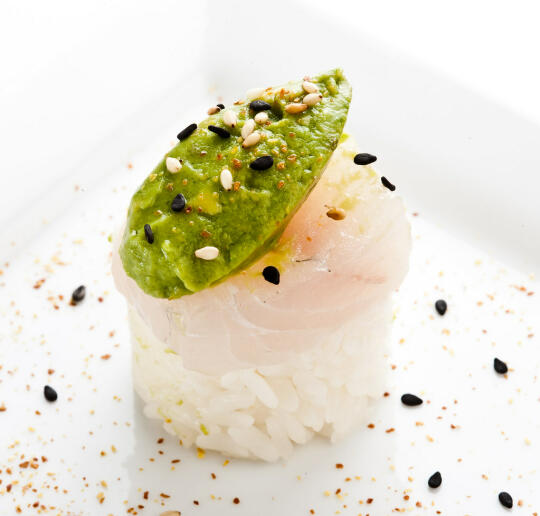 Though it's been four years… well, it's no secret that I've been slacking for the last year or two. Major slacking. As in… I've posted one roll in the last year.
Yeah, that's bad. You know, considering this is a sushi blog and all.
So… in a bout of craziness, I've committed to NaBloPoMo this month. Meaning one post every day, for a month. One recipe every day.
Here's to trying to get back into the groove of posting regularly.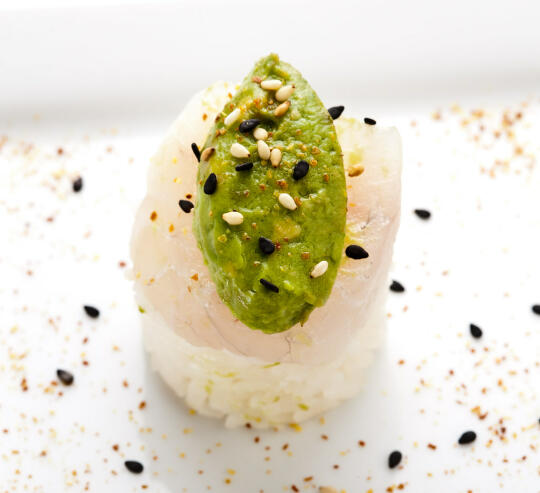 This 'roll' is like a gunkan maki, except without the nori. I used halibut – a sustainable option that tastes very much like yellowtail. If you can find the Pacific Halibut wherever you usually buy sashimi, I recommend it. Or, if you can't find it or can't ensure that it's Pacific Halibut (and not another variety that's unsustainable) then you can also order it from I Love Blue Sea. 😀
Ingredients
sashimi-grade halibut, cut into 1″ squares
1 avocado
2 tbsp mayonnaise
2 tsp lemon juice
big pinch of salt
togarashi
black and white sesame seeds
Cooking Directions
Remove avocado from skin, discard skin and pit. Mash avocado until smooth. Mix in mayonnaise, lemon juice, and salt.
Using a 1″-diameter round cookie cutter, pack in 1″ of rice (about 1/8 cup).
Press the halibut on top of the rice, then remove the cylinder from the cookie cutter.
Top with avocado mixture. Sprinkle with togarashi and sesame seeds.
Coming Soon!
Percent Daily Values are based on a 2000 calorie diet. These values are only estimates based on the individual ingredients, and not meant to replace the advice of a medical professional.