Obviously, this roll is called "Carburetor" because it looks like one. What, you can't see it? No, wait… look at it this way… turn your head just like this… see it now? No? Darn. Oh well, I can't quite see it either. But I'd assume that's why it's named Carburetor.
Meh, who knows. What do I know about cars and engines and such? (The correct answer is, nothing.) It is, however, a delicious roll and very pretty to look at! I got the idea for this roll from the Tex Wasabi's menu.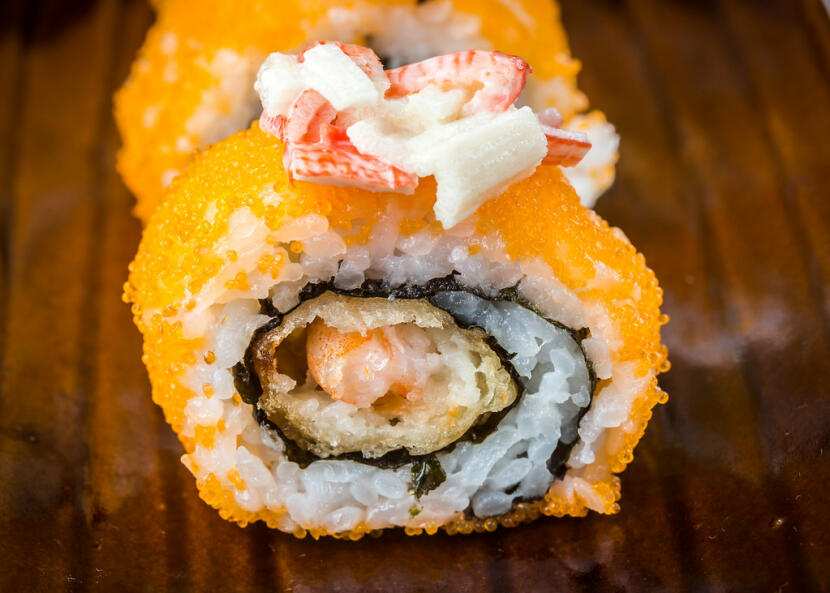 Ingredients
6 sheets nori
3 cups sumeshi
12 pieces tempura shrimp
3 oz tobiko
2 cup imitation crab
2 tbsp mayonnaise
Cooking Directions
Bake the tempura shrimp according to the directions on the package, or make your own.
Remove the tails of the shrimp.
Mix the imitation crab and mayonnaise
Roll the sushi inside-out, using two pieces of tempura shrimp as your fillings.
Roll the sushi roll in tobiko, coating well.
Slice the sushi, and pile a small amount of the imitation crab mix on each slice.