Finally, finally, FINALLY I have gotten around to using raw fish in my sushi! I know, I know, it's been over a year, but can you believe I used to not eat raw fish? Yeah I know blasphemy, right? (It's not my fault… I didn't grow up eating fish because my mom is allergic!) Well don't worry, I have seen the light! Hehe. I now love sushi that uses sashimi… and Son of course is completely addicted. Soooo good!
This is the easiest of all sushi rolls… all you have to do is slice up the raw fish and roll it! Definitely worth it and not a roll to ignore though… it's so good! Sashimi-grade fish can be bought at most Japanese supermarkets. Just make sure you keep it well refrigerated and use within a day of the sell-by date… the longer it sits, the more likely it can grow dangerous bacteria, so be very careful with it! We are lucky enough to have a neighbor who goes fishing on a somewhat regular basis and can vacuum pack the fish immediately after it has been caught, cleaned, and filleted! A shout out to him (although I doubt he reads Sushi Day!)… thanks so much for the fish! (This is beginning to sound like Hitchhiker's Guide to the Galaxy… 😛 )
Yay for the holidays! I'm excited for the upcoming week… well, sorta. I'm excited for Christmas, but as for the rest of the week, it's gonna be bleh. Why, you ask? I. Have. Jury. Duty. Waaahh! Luckilly when I called in I found out that I don't have to go in Monday (which was supposed to be my start date), but I still will be on call for the rest of the week. Poo. This is my first time, and I'm really really hoping I can get out of it and not have to serve until the next time my name comes up. Here's hoping!
Happy holidays to everyone! For those of you who are travelling, have a safe trip!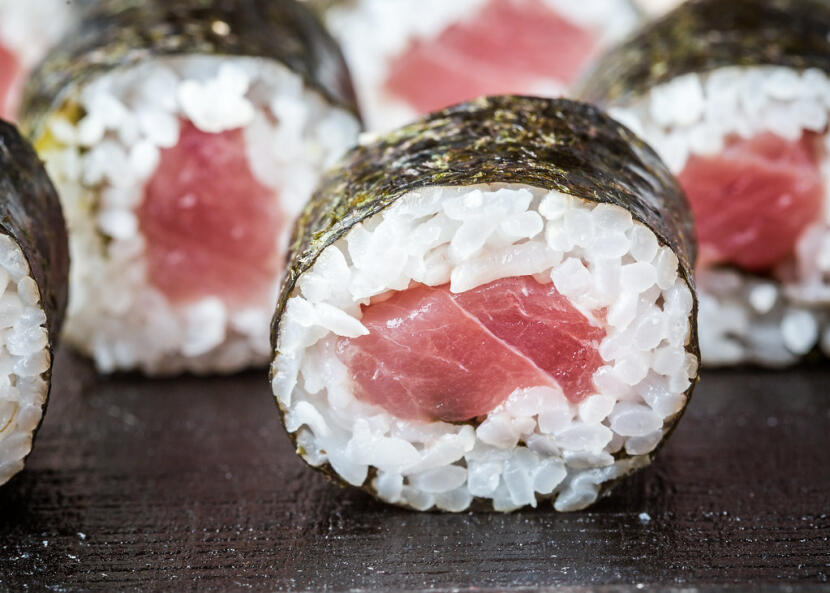 Ingredients
Cooking Directions
Cut each sheet of nori in half.
Using a sharp knife, slice the tuna into 1/8 – 1/4 inch thick slices against the grain of the fillet.
Cut each of these slices in half lengthwise, so they are about 1/2 inch wide.
Roll the sushi, using several slices of tuna as your filling and using only a half sheet of nori and 1/4 cup sumeshi for each roll.