Every year the weekend of Thanksgiving, my Japanese great aunts throw a huge Christmas party. The entire family is invited, so it's a huge day of craziness, fun, and tons of really good Japanese food. I have fond memories of eating sushi and somen salad (somen is a type of Japanese noodle) and watching while all the adults played white elephant. Unfortunately, once I started performing Nutcracker every year the party conflicted with the performances, so I haven't gone since I was pretty young.
I have been craving somen salad for a while now, but I didn't know what it was called so I couldn't ask my mom about it. So of course I was elated when I walked into the kitchen a week ago and smelled the dressing! She put the somen salad in inari packets… just when I thought somen salad couldn't get any better! Believe me… this is heaven!!! I really could eat this the rest of my life… it's pretty light but still makes a good meal, and it's sooooo good! Just try it… I promise that you will love it too!
(Why is my somen salad funny colors? I happened to have some purple sweet potato somen in my pantry, so I used that for the somen salad! It definitely made the appearance more interesting, however I was a little disappointed that it didn't affect the taste at all.)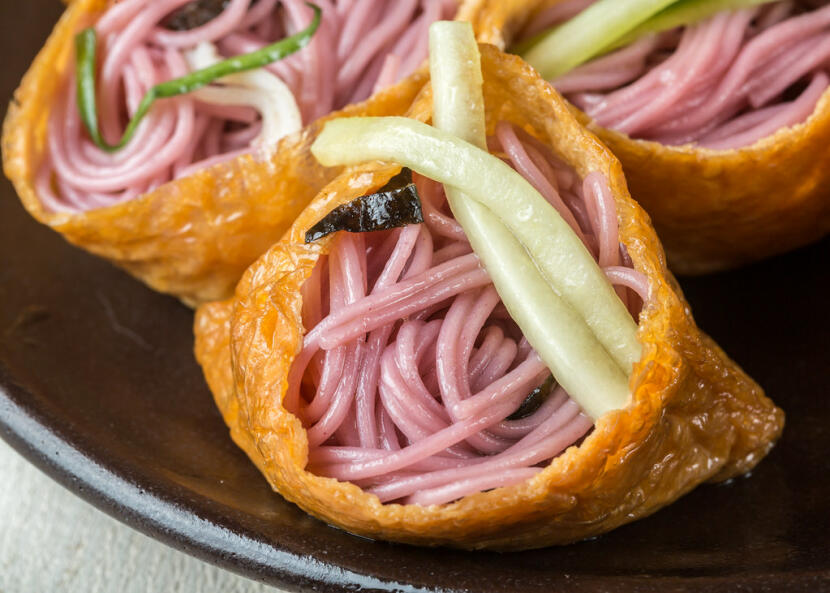 Ingredients
1 package aburaáge
8 oz or 2 bundles of somen noodles
1/2 cup shredded nori
1 small Japanese cucumber, finely chopped (use regular cucumber if you can't find Japanese cucumber)
6 oz imitation crab, finely chopped
3.5 tbsp sugar
3 tbsp rice vinegar
3 tbsp sesame oil
a dash of mirin
Cooking Directions
Break each bundle of somen noodles into thirds.
Boil a pot of water.
Add the somen and carefully stir.
Boil for 3 minutes.
Drain and rinse with cold water.
Mix the sugar, rice vinegar, sesame oil and mirin together in a small bowl.
Mix noodles with nori, cucumber, imitation crab and sauce together.
Prepare the aburaáge, but don't prepare any sumeshi.
Stuff each piece of aburaáge with about 1/4 cup somen salad. Be careful… the somen salad is slippery so it can be a bit difficult to stuff the aburaáge.
Enjoy!