A few weeks ago, Yvo posted a recipe for tuna salad on her blog, The Feisty Foodie. Since I am almost as faithful a reader of her blog as she is of mine (her reviews of New York restaurants always make me want to pack my bags and catch a flight out to New York), I read her post and by the end really wanted some tuna salad. I finally got around to making some (I didn't have any eggs in the fridge, so I couldn't make any for a while), and it is definitely kick er… butt! Yummmm… this recipe is definitely a keeper! When you are making the tuna temaki, don't put too much wasabi in it (omit the wasabi if you don't like spicy foods). I accidentally put too much wasabi on one, which resulted in Son looking like he was crying (Okay, so his eyes were just watering 😛 ). Hehe too much even for him! 😛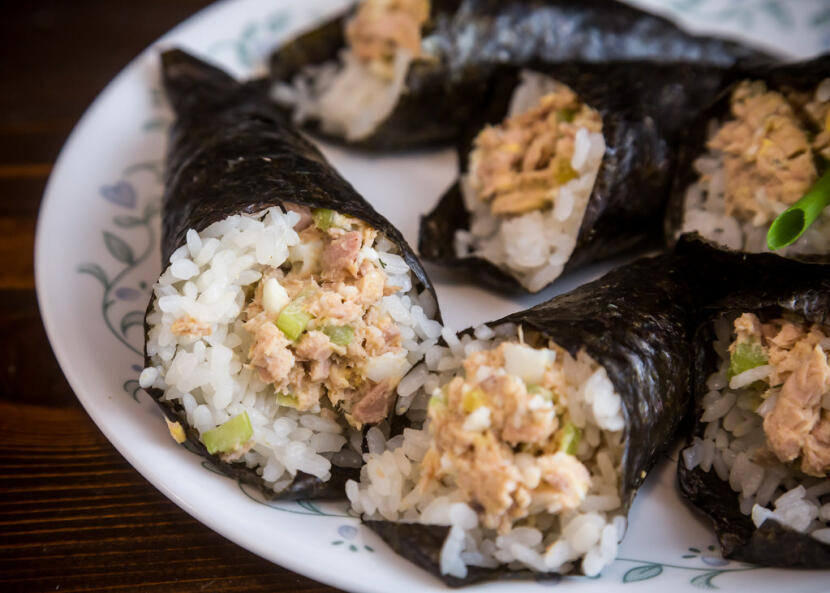 So how are your summers going? I hear that some of you have pretty bad weather where you are… I hope you are managing alright! Here in SoCal, it's not too bad. A little hot sometimes, but nothing a fan and a little AC can't solve. Hope things are going great for you all!
Makes 12 cones.
Ingredients
6 sheets nori
3 cups sumeshi
2 cans of tuna, drained
2 hard boiled eggs, chopped
2 ribs of celery, chopped
1 tbsp pickle relish
1/4 tsp dried dill
1 tbsp dijon mustard
2 tbsp mayonnaise
6 green onions, green portion
wasabi
Cooking Directions
Mix the tuna, hard boiled eggs, celery, relish, dill, mustard, and mayonnaise together. Season to taste with salt and pepper.
When you are rolling the temaki, put a line of wasabi on the rice before you put the ingredients down. Then roll the temaki sushi, using about 1/4 cup of tuna salad and one green onion, broken in half, as your fillings.
Enjoy!