I grew up with my mom making cha-shu. She would make a big batch for dinner one night and we would eat it with ramen, and then eat it in sandwiches the rest of the week. It wasn't until I met Son that I ever heard it referred to by the Chinese name – char siu? Or something like that? The way Son says it sounds like sa-siew, so now I'm completely confused. Don't blame me, I'm Japanese! Hehe maybe some of my Chinese readers can help me out here? Anyways, after making the beef teriyaki for the Banh Mi Sushi and being rather successful with one of my mom's dishes, I decided to make another dish that I grew up with, and it turned out pretty good too! (Of course it wasn't as good as mom's… it's never as good as mom's!)
Now you may think I'm silly, but if you are in the mood to go see a movie, and an animated one at that, you should really go see Ratatouille. You know, the movie with the cooking rat! Hehe Son and I just got back from seeing it, and it was fantastic! Now if only I could cook like that… maybe someday! 😀
Makes 6 rolls, or 36-48 slices.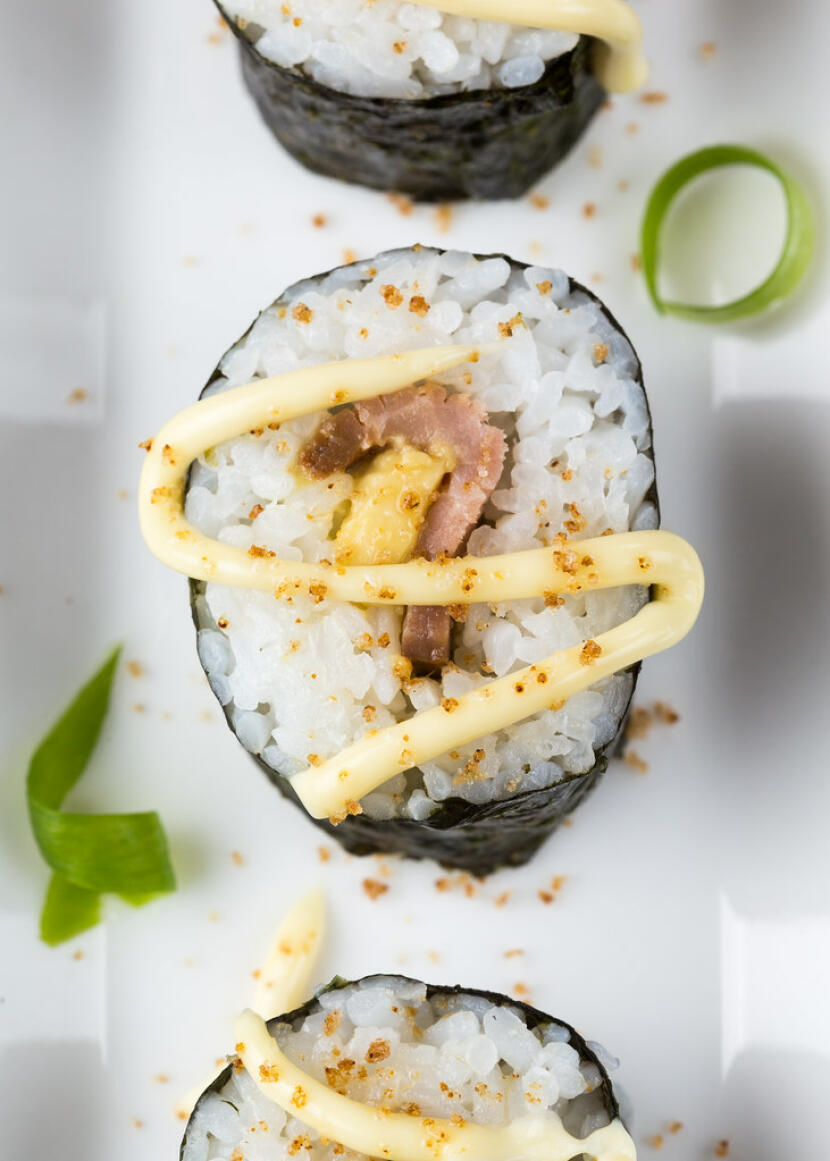 Ingredients
6 sheets nori
3 cups sumeshi
2 lbs boneless center cut pork loin
2 tbsp hoisin sauce
2 tbsp shoyu
1.5 tbsp rice wine (NOT rice vinegar!)
2.5 tbsp sugar
1 tsp salt
1 tbsp ketchup
1/5 tbsp minced garlic
1 avocado
mayonnaise
seasoning salt
Cooking Directions
Remove most of the fat and gristle from pork loin and discard.
Cut meat with grain into strips about 3 inches thick.
Combine hoisin sauce, shoyu, rice wine, sugar, salt, ketchup and garlic in a bowl.
Add meat. Coat well.
Marinate at least 4 hours, or overnight
Preheat the oven to 375 degrees Fahrenheit.
Arrange the pork on a rack (I used a cookie cooling rack) in a roasting pan (or on a cookie sheet). If you want to reduce the mess, line the cookie sheet with foil and also put foil on the rack, using a knife to cut through the foil where the openings in the rack are so the juices and marinade can drip through onto the pan. It's not guaranteed to be entirely mess free, but it should reduce the mess significantly.
Roast for 45 minutes or until the meat is cooked through and the outside is brown.
Slice a piece of the cooked meat into strips, about 1 inch thick.
Cut the avocado in half, discard the pit, slice into thin slices while still in the tough skin, then discard the skin.
Roll the sushi, using one cha-shu stick, a few avocado sticks and mayonnaise as your fillings.
Sprinkle with seasoning salt. Enjoy!