Who would expect to taste sweetness in sushi? Surprisingly, it's possible without making one of those *candy sushi* things with rice crispy treats and fruit roll-ups. (Never tried them, and I'm not sure I want to… have you? If so, are they any good?) The combination of unagi and honey in the roll adds a sweet note to the roll, while the imitation crab and shoyu create a bit of saltiness in the roll. Believe me, it's good!
Son took me to the Getty Museum last weekend. If you are ever in the Los Angeles area, it's a place you should definitely visit. The architecture is amazing, the gardens are gorgeous, and they have this neat little tram thing that takes you from the parking structure at the bottom of the hill up to the top where the museum is. It's awesome to be on the tram and be looking way down at the freeway (the horrible horrible 405) that you just drove up on. Son took a lot of pictures, so if he ever uploads them, I'll definitely post a link. 🙂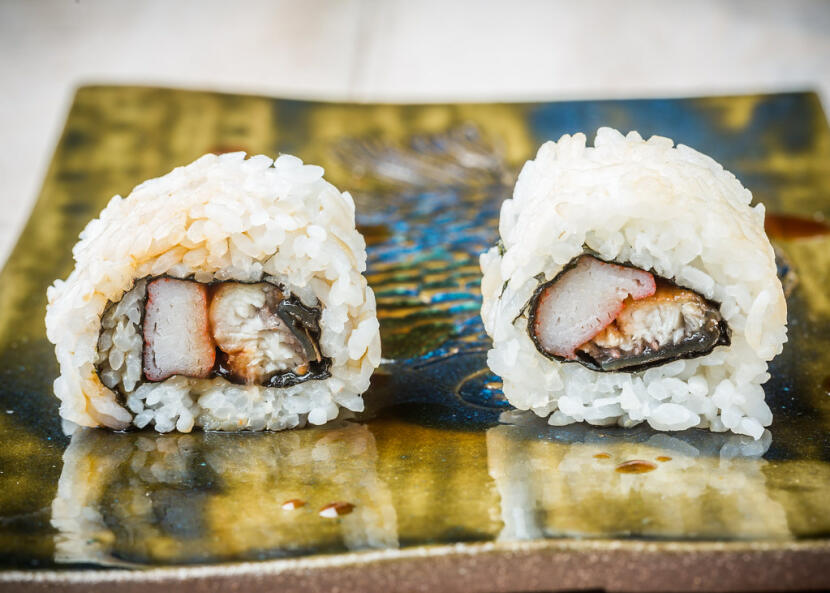 Makes 6 rolls, or 36-48 pieces.
Ingredients
Cooking Directions
Cook the unagi according to the directions on the package.
Slice the unagi into thin strips, about 1/2 inch wide.
Roll the sushi, using unagi and imitation crab as your fillings.
Mix equal parts of shoyu and honey, and drizzle over sushi. Enjoy!