According to Son, this roll "tastes like a seaweed-wrapped burrito". It's a good roll, although I think it's better to expect the taste of a burrito rather than the taste of sushi. Dimora e-mailed me the idea for this roll… although I changed a few things, I think her version looks much better!
When you make this roll, be ready to make a mess! It is VERY messy! Son described this to be "like a burrito with no cover on the butt". 😛 In other words, the ingredients have a tendency to squish out the open ends… so be careful! Also, Dimora recommended putting the beans and the sour cream in ziplock bags and cutting off one of the corners, then squeezing them into the rolls. I didn't do this the first time around, but I really recommend it, as it made it much easier to have even amounts of the ingredients in the roll, and it's less of a squishy mess.
Of course you could also do what we did… make one maki roll… then use the rest of the ingredients for burritos! Yum! 😉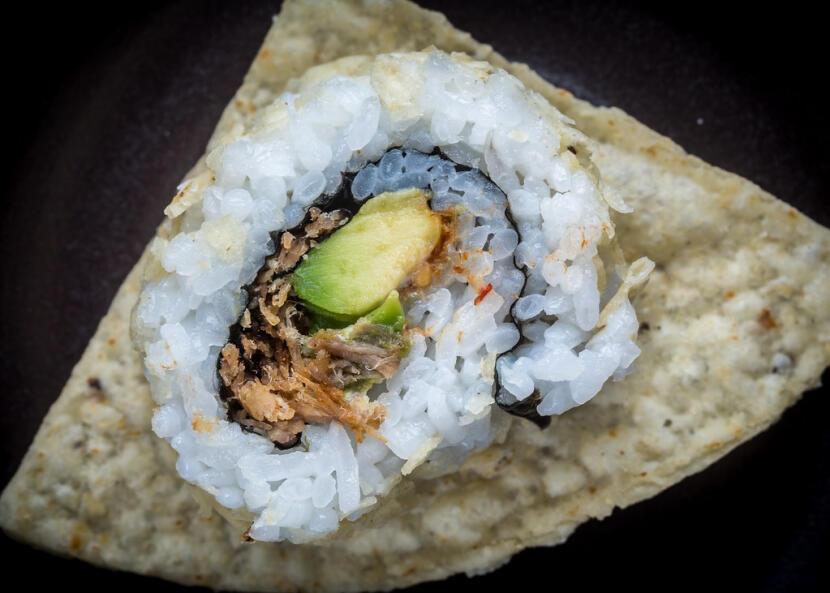 Makes 6 rolls, or 12 pieces.
Ingredients
6 sheets nori
3 cups sumeshi
1 bag tortilla chips
1 large avocado
1 can refried beans
8 oz sour cream
shredded mexican cheese
salsa
store-bought or homemade carnitas
Cooking Directions
Crush the tortilla chips.
Cut the avocado in half, discard the pit, slice into thin slices while still in the tough skin, then discard the skin.
Warm up the carnitas and refried beans as instructed on the packages.
Spread the rice on the nori, then sprinkle the crushed tortilla chips on top of the rice, pressing them into the rice so they stick.
Place the refried beans, salsa, and sour cream inside individual ziploc bags or squeeze bottles, and snip off a corner of the bag to make piping bags.
Roll the sushi inside-out, using refried beans, salsa, avocado, sour cream, shredded cheese, and carnitas as your fillings.
Enjoy!