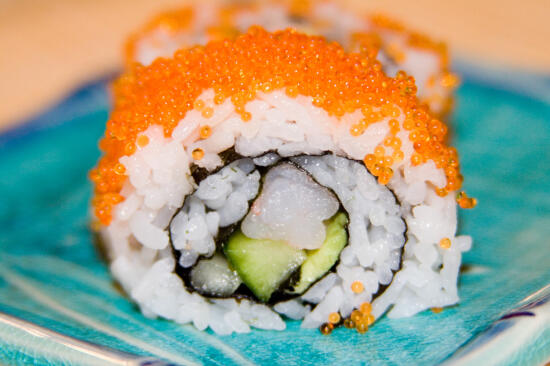 This roll is similar to the California Roll, using shrimp instead of imitation crab. It's really good, and the tobiko adds a nice splash of color to the roll.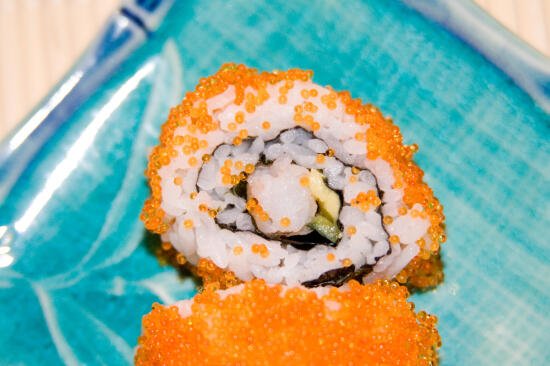 By the way: If you have never eaten tobiko before, beware! Son had the most fantastic expression on his face when he bit into it and the tobiko started popping in his mouth (I should have gotten a picture! 🙂 ). Hehe they do pop in your mouth, so don't be too surprised!! 😀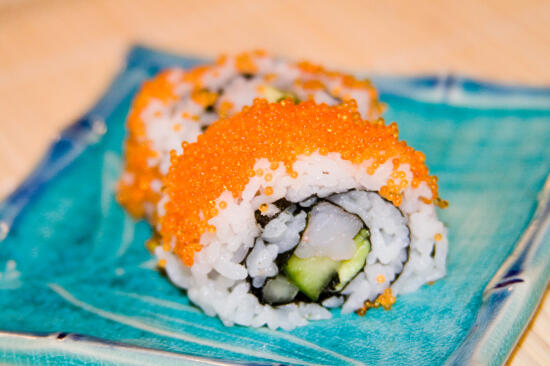 Look for your sushi ideas posted soon (I'm making them tomorrow! 🙂 ) Happy Holidays everyone!!
I got this roll from the Sushi Chart.
Makes 6 rolls, or 36-48 pieces.
Ingredients
6 sheets nori
3 cups sumeshi
1 small avocado
1 small cucumber
36 small shrimp, with the tails cut off
1 cup tobiko (tiny orange flying fish eggs)
Cooking Directions
Slice the avocado and cucumber into long, thin slices.
Roll the sushi inside-out, using avocado, cucumber, and shrimp as your fillings.
Before cutting the sushi into pieces, spoon the masago over the sushi roll to coat (you can use more or less masago depending on your preference). Now cut the sushi into 6 or 8 pieces.