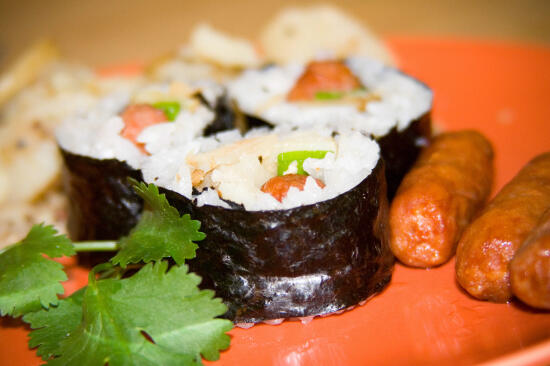 Sausage and potatoes. Sounds like a completely normal dinner, but would that really taste that great in sushi? Well, we tried it, and it does! But you ask, how did we come up with this? Leftovers! (Which is, by the way, a GREAT way to come up with sushi ideas!)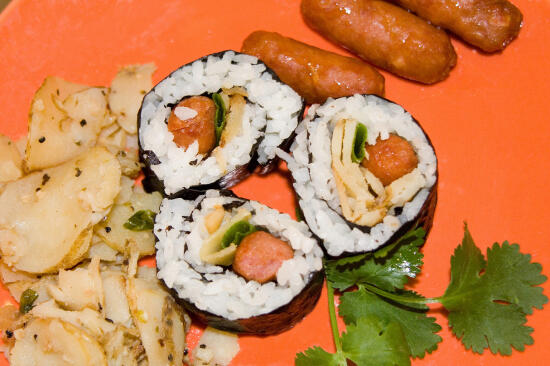 A couple of months ago, I had applied for a free sample of the potato skillet thing from Betty Crocker… after which I completely forgot about them. Then a couple of weeks ago, my free sample arrived in the mail! I bought these cute little mini sausages at the grocery store. I had made the potatoes the night before, so put them both together, and yum yum yum!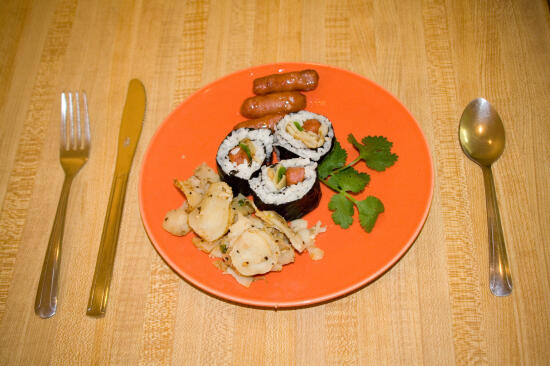 Makes 6 rolls, or 36-48 pieces.
Ingredients
Cooking Directions
Cook the potatoes, according to the directions on the box.
Roll the sushi, using about 1/3 cup potatoes, 1 stalk of green onion, and 4 sausages as your fillings.
Serve with ketchup (or whatever you prefer with your sausages and potatoes). Enjoy!